Hawaii: In Real Life ~ Honolulu Gourmet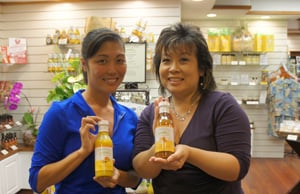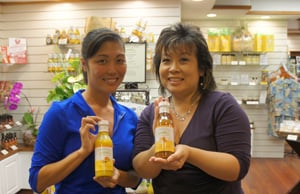 Do you ever try to shop just for local products, but find that you have to drive to various stores and farmers' markets to get everything you want? Jill Miiko Lee, who sells her own Honolulu Gourmet label items at farmers' markets around town, noticed that it was inconvenient for people to do this, not to mention they have to hit the markets at the right time and day.
With this in mind, she recently opened a store in the Pacific Beach Hotel to make her products — and items from other local vendors — available every day, in one place. Some things you will find are Buddha's Cup coffee, Madre Chocolate, Adobo Loco hot sauce, Kahuku Farms sauces and salts, and of course, Honolulu Gourmet dressings. She even has healthy, fresh-made items in her refrigerator case for people who just want to consume the products instead of making things … she is, after all, close to the beach, so you could make your own little picnic.
We went to her store to check out what she carries and to see how convenient it is for locals. She completely validates parking with a minimum $20 purchase and is open from 6 a.m. to 10 p.m. daily, so you could get your surf snacks in or grab last-minute omiyage, anytime. Here, take a look:
We talked story some more to find out how she got started, and talk about more of the items she has. Click here for more at HawaiiIRL.com!
Here are a few photos of what she carries in the store: