Hawaii: In Real Life ~ holiday hot chocolate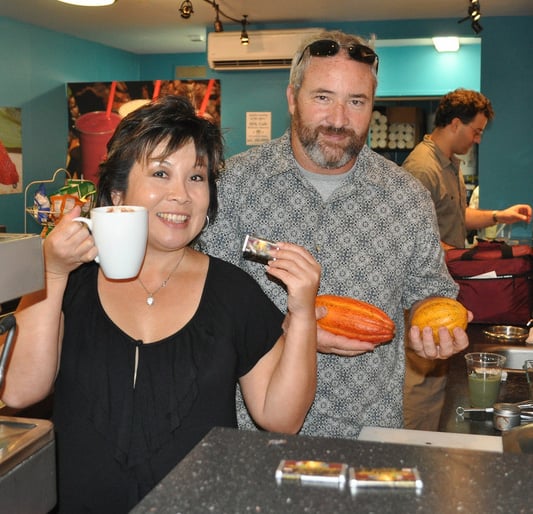 I was at a tweetup recently at Blue Hawaii Lifestyle's Bishop St. store, and they were experimenting with Waialua Estate Chocolate to make new drinks.
Derek Lanter then demonstrated how easy it is to make hot chocolate from scratch, either using a bunch of different ingredients or simply using one of Melanie Boudar's spicy chocolate bars. The chocolate, of course, is all local.
Since you are in control of the ingredients, you can make it as rich or sweet or spicy as you want. Spicy hot chocolate? Hmmm. I know that sounds a little strange, but it actually tasted wonderful. And on cold nights in rural Oahu, I'll bet the spice goes down extra warm.
I was having a Martha Stewart moment, so Derek agreed to show me how to make it myself, instead of using commercial powdered chocolate. The video below will show you how to make a drink to warm your holiday spirit.
========
You can read all of Melissa's blogs at www.nonstophonolulu.com/urbanmixplate. Follow Melissa on Twitter @Melissa808, on Foursquare as Melissa808, or email at Melissa@nonstophonolulu.com.
My recent blog posts:
Vegas, here I come!
Hawaii: In Real Life~building a gingerbread house
Tweets from the road: Marathon 2010
What's up with the knee high socks?
I want a Bit of Sugar!
Terry's Place and the Underground Chefs
What's your passion?
Hawaii: In Real Life at Padovani's Chocolates
Black Friday aftermath
Happy Thanksgiving
Introducing Hawaii: In Real Life