Hawaii: In Real Life ~ Haute Confectionery Boutique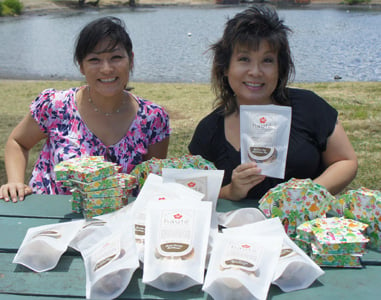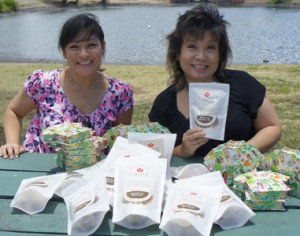 The next time you're headed to the mainland and realize you've forgotten to get a couple of local gifts for friends, don't fret … well, not if you're on Hawaiian Airlines. You now have another omiyage option that will appeal to people of all ages: Cookies from Haute Confectionery Boutique.
Elizabeth Hata Watanabe (yes, of the Y. Hata family) has a baking business and just launched some of her cookies on Hawaiian Airlines' mainland flights. If you're hungry or short on gifts, you can buy her coconut shortbread, macadamia chocolate chip, or kakimochi cookies right on the plane! Actually, that's the only place you can buy these three cookies, as they are exclusive to the airline's in-flight program.
Since you may not be friends with Liz on Facebook, I should tell you that Haute Confectionery Boutique is not just locally owned, her products are painstakingly made in Hawaii. I can see Liz posting online late at night, baking and packing these cookies herself. There is a lot of sweat equity in this product, and hopefully you can taste it the next time you fly.
We talked story some more with Liz, asked how she got her cookies onboard, and — most importantly — tried her cookies on camera, so you can see what they look inside (and see which ones are crunchiest). Visit HawaiiIRL.com to see more!