Hawaii: In Real Life ~ Gangnam Style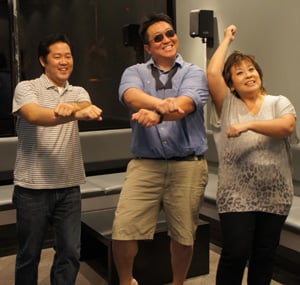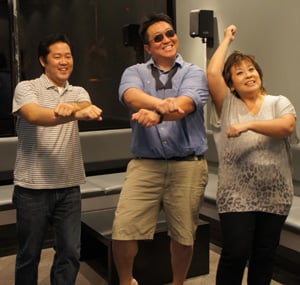 By now, you've seen the viral music video by PSY, the K-Pop star who created a catchy Korean rap and an even catchier dance. There's a ton of parodies out there, not to mention it's so huge that PSY was featured on The Ellen Degeneres Show and MTV's Video Music Awards. But do you know how to do the dance?
I tried practicing at home and couldn't do it. Marvin Nitta (@TheImpulsiveBuy) tweeted that he wasn't able to do it, either. As we were tweeting our dilemma, Myong (@Honhiguy) chimed in that he does it all the time at the karaoke bars, and could teach us. Sign me up!
We headed to Nocturna Lounge, where we could use a private karaoke room and not look foolish in front of others (never mind that we look foolish to the entire world, thanks to the world wide web). Myong brought his rhythm, his bowtie, and a bad Korean accent. But we learned the moves…I think.
If you want to learn more about Gangnam Style (as reported by Myong) and get to know our own Korean sensation, visit HawaiiIRL.com.
If you are one of the last people in America who hasn't seen this video yet, here's the famous dance seen 'round the world.