Hawaii: In Real Life ~ Fresh on the Rocks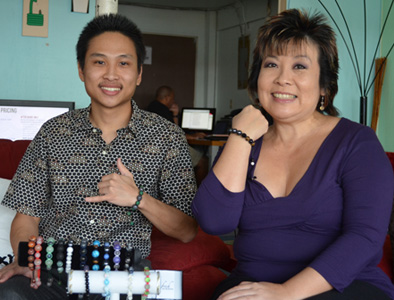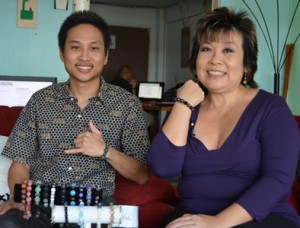 Can you believe we're starting a new year soon? Since people are always looking for ways to change or enhance their luck, love, finances, or energy to start the new cycle, I figured I'd show you a trendy accessory for men and women that's made by a local guy: Fresh on the Rocks shambhala style bracelets.
Shambhala (also spelled shamballa or shambala) is a is a mythical kingdom hidden somewhere in inner Asia, according to Tibetan Buddhist tradition. Over time, shambhala gradually came to be seen as a Buddhist Pure Land, a fabulous kingdom whose reality is visionary or spiritual as much as physical or geographic. This version of the Shambhala myth reached the West, where it influenced non-Buddhist as well as Buddhist spiritual seekers — Madonna being the most famous American shambhala practitioner.
One of the elements of this religion is their shambhala bracelets, which apparently are used like rosary beads or Buddhist prayer beads. The shambhala myth, combined with Western celebrities' interest in it, gave rise to the bracelets as fashion items, particularly in the hip-hop world. Swap out the beads with gemstones that allegedly hold specific powers, and you've got a huge mainstream market.
We sat with Mitchell Chun of Fresh on the Rocks, who makes these bracelets locally and sells them online and through the spas at the Trump Waikiki and the Kahala Resort, to find out more about his company and this fashion trend.
To see more photos of Fresh on the Rocks bracelets, visit the Facebook page. You can also see the bracelets he showed us close up, here. To learn more about the company, visit HawaiiIRL.com.