Hawaii: In Real Life ~ Fresh Catch
The fourth annual Hawaii Ocean Expo takes place this weekend at the Blaisdell Exhibition Hall, the big event for ocean enthusiasts of all ages. The expo will feature activities, displays, educational demonstrations and more, but the tastiest part will be the annual poke contest, sponsored by Fresh Catch.
Get this: It's free to enter, and they provide the ahi (if you enter the tako or vegetarian category, you need to bring your own). If you win, you get an Alaskan fishing adventure package for two courtesy of Alaska Airlines worth $7,000. It's open to anyone, which means home cooks can enter, but you need to bring your creativity to the table. They're looking for something above and beyond the basic shoyu/limu/inamona dressing.
Reno Henriques knows a thing or two about judging poke; he's been preparing seafood for years and owns the two Fresh Catch restaurants in Hawaii — one on Waialae, and one in Kaneohe. His poke is made daily, and often made to order. I first learned about him through my friend Lena Hanson (@LenaHanson), who would have him customize orders for her dad.
We finally caught up with him to talk about the Hawaii Ocean Expo and his poke contest. (No boobies were shown in the making of this video.)
In the next segment on HawaiiIRL.com, we go into the kitchen with Reno to watch him make a special chipotle poke created by Guy Fieri of "Diners, Drive-Ins and Dives." We taste that and a couple more amazing plate lunches featured at Fresh Catch that I'm still dreaming about. In fact, as soon as I come home from Japan, I'm getting a salmon plate.
In the meantime, if you want to enter the poke contest, download the entry blank here.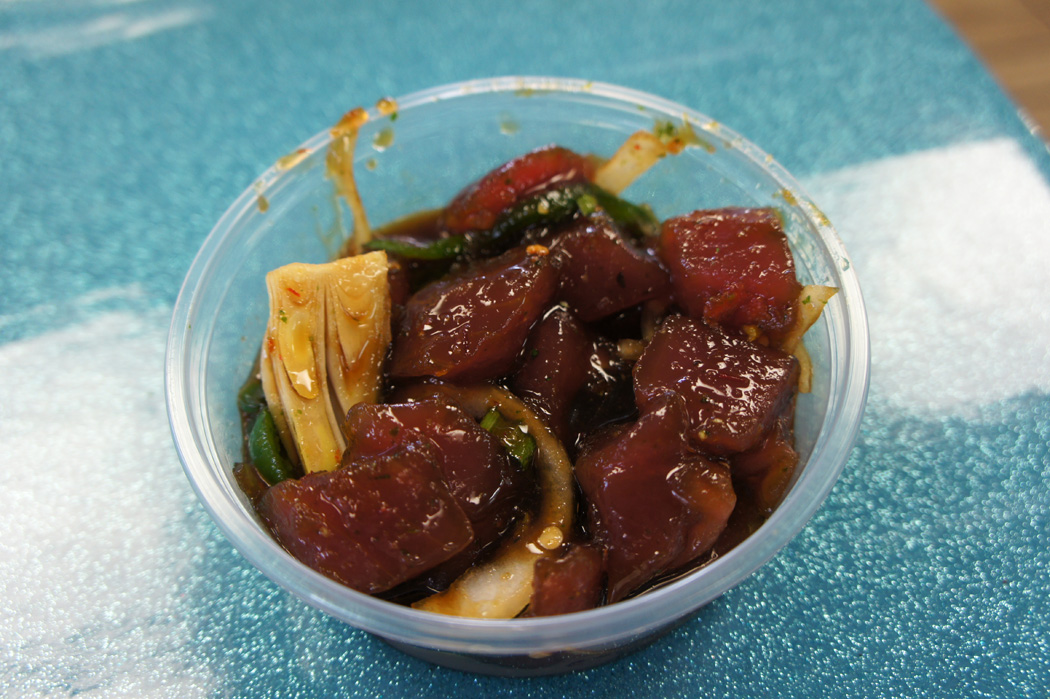 The Fourth Annual Hawaii Ocean Expo
Blaisdell Exhibition Hall
Saturday, April 21 from 9 a.m. – 7:30 p.m. and Sunday, April 22 from 9 a.m. – 5 p.m.
General admission is $7, children 6-12 are $3 and children 5 and under are free