Hawaii: In Real Life ~ Frank Abraham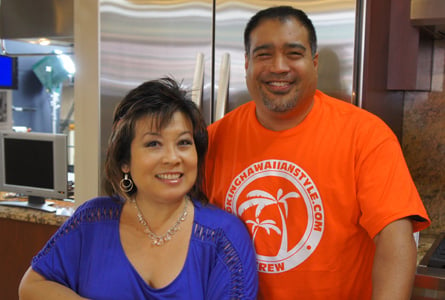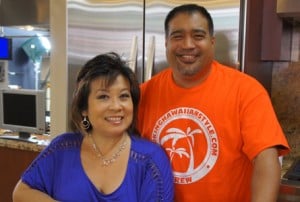 If you're into cooking local food — especially if you've moved away from Hawaii and miss it — you're probably familiar with Frank Abraham's website, "Cooking Hawaiian Style." Since moving to the mainland 30 years ago, he found he missed local food and gathered recipes for himself and others. And, since he's a computer geek, he created a nice website to serve as a hub for those recipes.
The website is beautiful — go check um, go — with a well-organized index of more than 5,000 recipes by contributor, ethnic cuisine, main ingredient, and special diet needs. Frank has also added videos, hosted by Lanai Tabura, featuring local celebrities and chefs, like Nicole LaTorre, Melveen Leed, Radasha Hoohuli and Onda Pasta. Where possible, he uses local products.
Well, he's taking his site to the next step and is launching a show on OC 16, on October 7. He was in town recently shooting shows featuring Olena Heu, Wally Amos, Titus Chan, Richie Butuyan of Elena's Filipino Foods, comedian Kaleo Pilanca, comedian Augie T., Mahealani Richardson, Morris and Chris from Hula Baby Biscotti, Raymond Noh of NOH Foods, Aunty Bea Pacheco (former Miss Puerto Rico), and Adam Tabura (Lanai's brother) of the Aloha Truck. Between filming segments, I got to sit with Frank and talk about the show. Watch the video and see how we are connected:
We talked some more (while eating one of the featured cakes made on the show) about the show, what they're making, and how the show came to be. Click here to see more from Frank Abraham, then check his show out on OC 16 on October 7!