Hawaii: In Real Life ~ Foodland's new edamame flavors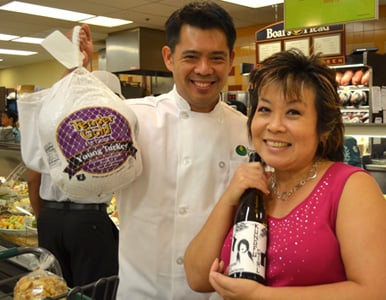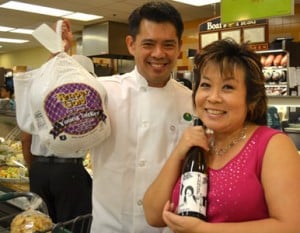 Looking for something different to bring to the next tailgate or holiday party? Foodland (@FoodlandHI) has added new soybean sauces to their poke case — so now, instead of the same old edamame pupu, you can snack on something that has a little more flavor and/or kick.
Foodland now has four flavors of soybeans in their poke case: classic garlic; garlic black pepper, which is a nod to the famous black pepper crab in Singapore; Thai curry, which infuses the spices and flavors of Thai cuisine; and black bean, reminiscent of the local favorite, black bean clams.
We visited chef Keoni Chang, the brains behind the creations at Foodland, to find out more about these new items. It was the first time we'd met and I don't think we're related, but @Parkrat The Cameraman was cracking up at how similar our… attitudes… are.
Watch this hilarious video to see how the soybeans taste, and how you can get two pounds free between now and Thanksgiving.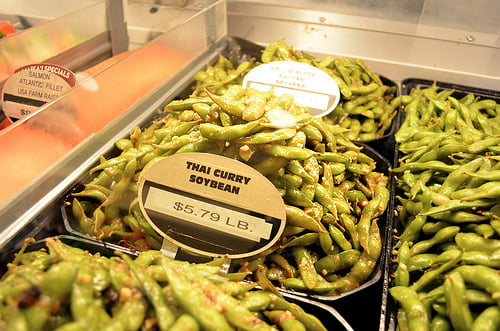 My favorite? Probably the Thai curry, since it was the most complex and left a lingering buzz in my mouth that had me hankering for more. But you can't go wrong with these sauces, no matter which one you choose. Click here for more photos from our visit to Foodland Market City.
While we were in the store, chef Chang gave us some tips on how to prepare for Thanksgiving. When and how do you thaw your turkey? What's the deal with stuffing? And what are some recommended wine pairings? (I actually bought all the wine he profiled.) Visit HawaiiIRL.com to get the scoops on Thanksgiving!
For more information on Foodland's specials and to see their blogs, visit www.Foodland.com.