Hawaii: In Real Life ~ Flair bartending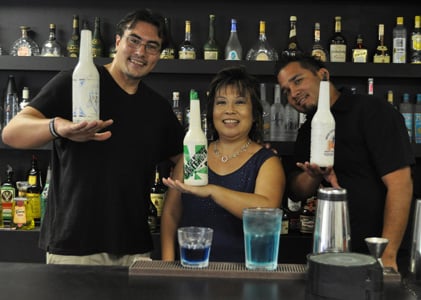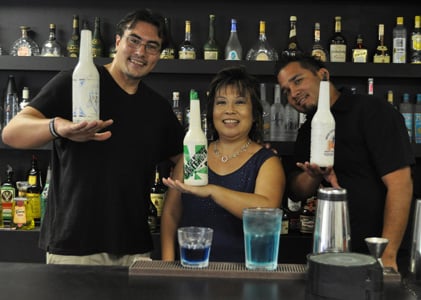 People love flair bars, places where the bartenders dazzle the customers with extreme feats of juggling and balancing bar tools and liquor bottles while making drinks. There's a kind of glamour and mystique to the people who make serving a cocktail an art and entertainment.
Well, now you can learn how to be a flair bartender, yourself. Starting tonight, Aug. 15, the Bartending Academy of Hawaii is offering flair bartending classes on Mondays and Wednesdays from 5 to 7 p.m., with "practice days at the park" from 12 to 6 p.m. (available at the students' convenience). The two-week course is $350, which includes class time and class materials (including cocktail shaker, practice bottle, spouts and other items) and is taught by Kimo Mulder, Justin Keane, and Moses Gomez — local-born flair bartenders who have competed nationally and internationally.
I got to watch these guys in action and wondered if they could even teach a klutz like me how to flair. Mulder and Keane took me under their wings and showed me a couple of basic moves as we made cocktails.
Is that cool or what? If you'd like to learn to be a flair bartender, call the Bartending Academy of Hawaii at 808-942-2233 for more information.
Want to see more? Mulder and Keane show me some fancier moves (while being interviewed, no less!) on HawaiiIRL.com. Check it out!