Hawaii: In Real Life extra ~ Na Kane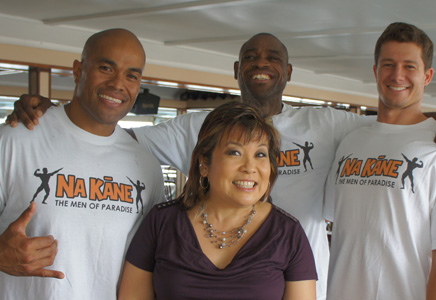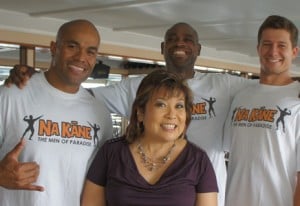 Many of you are familiar with Chippendales, the Thunder From Down Under, and other similar male revues. Well, there's a new show in town, but what makes it different from the others?
I headed over to the Alii Kai Catamaran at Pier 5 to catch "Na Kane – The Men of Paradise" as the guys rehearsed for their big debut on Friday. Turns out, one of the owners, Dave Abrams, is a former Chippendales dancer himself and understands there's a science behind the art. It's not just a bunch of meatheads jumping up on stage, wiggling around shirtless as frenzied women stuff dollar bills into their G-strings. He and his choreographers — who are from Las Vegas — craft a production based on post-show surveys taken for years from women who come to see them. The costumes and dances follow a carefully thought out fantasy designed to excite the audience, not make them cower in shame (if you've ever been to a badly executed bridal shower, you know what I mean).
Best of all, the guys in the show are all local. Dave and his chief choreographers, Shawn Dean and Missy Cochran, selected men who were not just fit and good looking, but exuded an approachable confidence that would make them even more attractive to watch. Some of them have dance experience, some of them only have Polynesian dance experience (which is okay, since there is a Polynesian number in the show), and some have no dance experience at all. Since neither Dave nor Shawn had experience before dancing with Chippendales, they understand working with their performers from the ground up. "The main thing is they are willing to learn, and they leave their egos at the door," Dave says.
Here's a quick look behind the scenes with Shawn as he explains what you'll see in the show:
I also got to talk to two of the dancers (one with experience, one without) to talk about what their experience has been like. And yes, one of them gets shirtless, but you'll be amazed at what he does. Visit HawaiiIRL to see more!
UPDATE: Na Kane – The Men of Paradise has moved. They now perform at the Pacific Beach Hotel's Paradise Theater on Fridays and Saturdays. Doors open at 7:30 p.m. and the show starts at 8. For tickets call 808-222-8666.