Hawaii: In Real Life ~ Eki Cyclery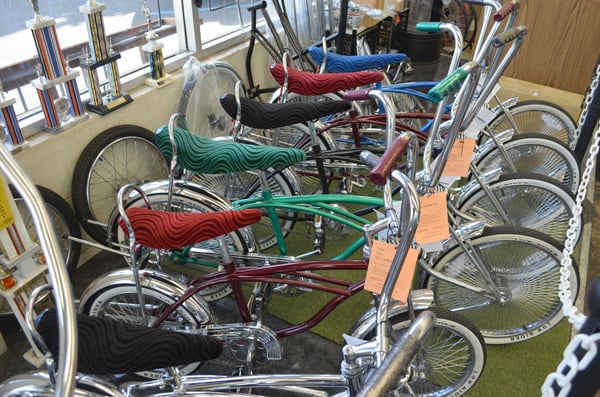 In this day of entrepreneurship, we're used to hearing success stories about startups and the rise of new industries. What about older businesses that have weathered the economic storms for generations?
Malibu Shirts in Waikiki Beach Walk is a company that features a lot of retro clothes and accessories; with the exception of the PanAm bags, I think all of their items are from old-time Hawaii companies.
Once a month until May, Malibu Shirts will be featuring such iconic local businesses in a promotion called "Hanabata Days." You can meet the people who are now behind these historic spots and talk story with them about their ongoing success, products, connection to the visitor experience — and maybe share some hanabata days memories.
This Sunday, January 22, from 4 to 5 p.m., the featured business is Eki Cyclery. Now, there's a blast from the past! They're 101 years old this year, and still going strong. We visited with Jayne Kim, who is the youngest daughter of founder Toichi Eki's youngest daughter, to do a little talk story on our own.
If you miss this talk story session, you can always check out their store at 1603 Dillingham Blvd. You can also meet and greet owners from other Hawaii businesses at Malibu Shirts:
February 12 ~ Ted's Bakery
March 18 ~ Aoki's Shave Ice with surf legends Ricky Gregg, Peter Cole, and Rabbit Kekai
April 15 ~ Primo Beer
May 13 ~ Presentation with the PanAm Aloha Chapter and the Pacific Aviation Museum
July 15 (extra in the series) ~ Book signing with Anna Trent Moore, author of "Increments of Fear," about surf legend Buzzy Trent
To see some of the pictures we took at Eki, click here. We also talked story a little more with Jayne to hear more about the secret to their success and some trends in bikes at HawaiiIRL.com.