Hawaii: In Real Life ~ Eggs 'N Things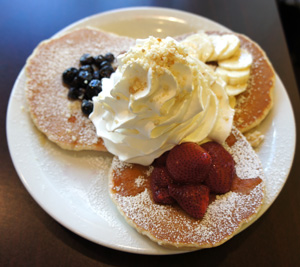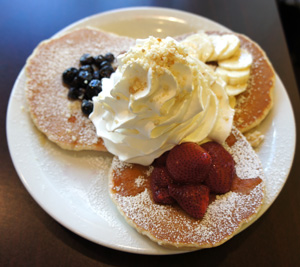 If you've lived in Hawaii a long time, you remember the original, wildly popular Eggs 'N Things on Kalakaua Avenue (which actually originated on Ena Road in 1974). Back in the 1980s, it was open from 11 p.m. all the way through the night and morning to 2 p.m., then closed for the dinner crowd. It was perfect for both tourists seeking breakfast and, more importantly, the clubbing crowd — especially since it was located so close to The Wave. Yeah, you know what I'm talking about, Pam Davis.
In 2008, the Kalakaua restaurant closed, but reopened shortly after on Saratoga Road with new owners — the Fukunaga family sold to Japanese investors, which made sense due to the location and the throngs of Japanese visitors comprising 70 percent of their audience. Last year, the restaurant opened in the Waikiki Circle Hotel to help alleviate the one-hour wait and to give tourists another breakfast option at the other end of Waikiki (you now only have to wait 40 minutes).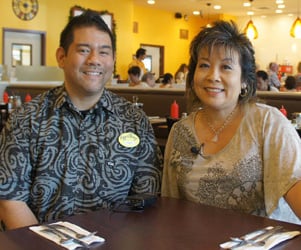 This week, Eggs 'N Things (@EggsNThings) opened its third location on Piikoi Street, which is expected to attract more local residents back to the breakfast spot they remember. It's no longer a haven for clubgoers, as it's open from 6 a.m. to 10 p.m. on weekdays and until midnight on weekends, but you can go at normal mealtimes and, best of all, parking is free and convenient. I remember having to sit elbow to elbow with people when I ate at their Waikiki restaurant, but now there's more than enough space for you and your kids. Also, they've got most, if not all, of the same popular items that you may remember from Kalakaua Avenue, plus some new things — like the acai bowl.
We checked out a little media preview yesterday to get a sample of their eggs … and things.
By the way, that ham chop that Cory Mitsui (@MitsuiInsurance) ate really was a winner. Stacy Yuen and I each took a bite off-camera and exclaimed, in surprise, "Oh, it really IS good!" Mahalo to Toby Tamaye (@AtMarketing) for the invitation — yes, it's good enough that I can put it back into the Fodors guidebooks.
We sat with Damian, one of the managers at Eggs 'N Things, to talk about the restaurant and some new things they have in store. Visit HawaiiIRL.com to see more!