Hawaii: In Real Life ~ Chris Kajioka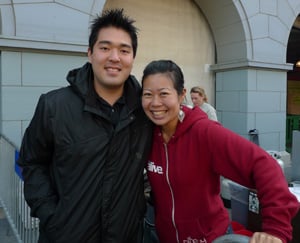 Hawaii foodies rejoiced when Iolani grad Chris Kajioka — who was once the chef de partie at Thomas Keller's four-star Per Se in New York — returned home as the chef de cuisine at Roy's Waikiki, only to mourn his departure for San Francisco at the end of last year. The guy isn't even 30 yet, but is recognized as a creative force in culinary circles … and as a super nice guy.
As a chef, he's highly motivated: He's passionate about his work as sous chef at Aziza, gunning for Michelin stars and bringing his skill and creativity to the table while working with the myriad of seasonal ingredients California has to offer. I didn't get to meet him the night I ate at the Moroccan-inspired restaurant, but I feel like I did through his work, and it was a transformative meal.
He's got a laid-back exterior, but a highly-caffeinated interior intensely bubbling with ideas on food. Thoughts about eating food. Thoughts about creating food. Thoughts about shopping for food. It's no wonder, then, when he initially set up interviews at restaurants in San Francisco, he got eight interviews and eight job offers.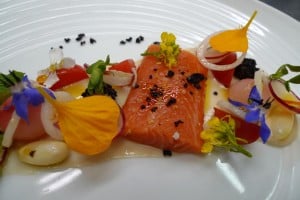 You would think that someone that driven would be intimidating in person, but he was quite the opposite. When I did get to meet him IRL, my Twitter stream lit up with Hawaii chefs and foodies who were excited that I had the opportunity to do so. On my last evening in San Francisco, I dined solo at the Ritz Carlton's Dining Room, where Chris started his career. When the staff found out I knew Chris, they all came over to talk about how much they love him. One waiter had never even worked with Chris, but because people still fondly talk about him, he knows all about him.
Many chefs are like scientists, since they work with the chemistry of different ingredients to ensure it all works on the palate. Chris brings creative genius to the kitchen to give each of his dishes flair, aesthetics, and amazing flavor. I got to watch him plate one of Aziza's signature appetizers and learn about the elements that go into that one dish.
Pretty cool, huh? If you want to taste this Hawaii boy's food, visit Aziza at 5800 Geary in the Richmond District (also known as San Francisco's second Chinatown). They'll be moving closer to downtown San Francisco, closer to Quince, so be watching for that in the coming months.
I sat with Chris to talk about what he's been up to and life at Aziza. To see the rest of his interview, visit HawaiiIRL.com.