Hawaii: In Real Life ~ Chart House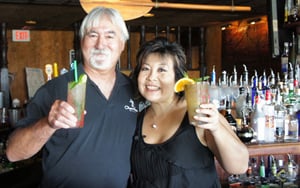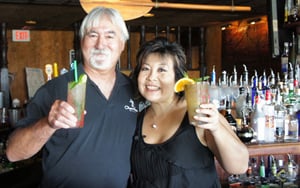 I've been working with the Chart House (@ChartHouseHI) for a while now, and found that their Facebook fans are a little different from other restaurant fans. Yes, they love the food, drinks, live music, and the view, but nothing — and I mean, NOTHING — generates more excitement than photos of their head bartender, Guy Maynard.
When I first met him, I couldn't believe the gruff, stoic bartender was the guy, I mean, Guy, that everyone raves about. He scowled at me as I tried to take a photo of him behind the bar; the one that ended up on Facebook is one of him working, not looking at the camera, not smiling. And yet, that one garnered a ton of responses and likes within four minutes: "Hi, Guy!" "Love you, Guy!" and the more common, "I want a Guy Tai!"
I had to talk story with this Guy, myself, and it turns out, he's actually quite a character. Not many people know that back in the day, he started entering classic bartending contests because the championship purse paid a lot of money. He entered one and won, which started him on the contest circuit — in which he won 15 in a row. I'm sure his skill had a lot to do with it, but Guy would show up at these competitions dressed in costume to match the theme of the event or the drink. He even goes so far as to grow his hair out when the outfit calls for it.
We hung out at the bar recently to watch Guy in action, making his famous Guy Tai and finding out why it's so special. (I was going to post the recipe, but it turns out you can't replicate it at home, as they make their own proprietary blends of syrups, fresh juice mixes, and more.)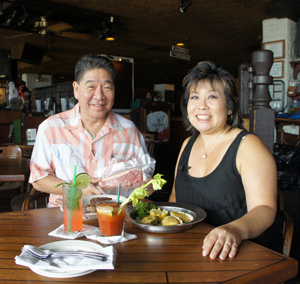 We also sat with Scott Okamoto, Chart House's general manager, to see what's popular on the menu. I didn't realize that oysters Rockefeller is rarely served in Hawaii, so we tried theirs. More importantly, they're bringing in local grass-fed beef and New Zealand wagyu for their more carnivorous customers, and even I was surprised that it melts in your mouth. Visit HawaiiIRL.com to see the food, and see what else we had to drink.