Hawaii: In Real Life ~ Capoeira Besouro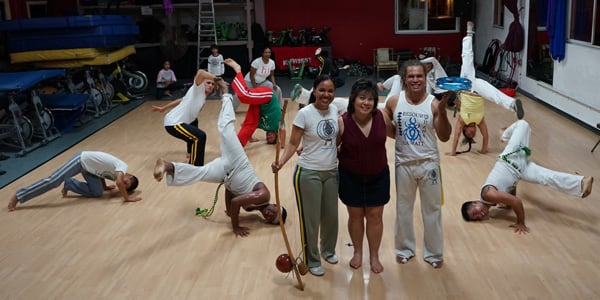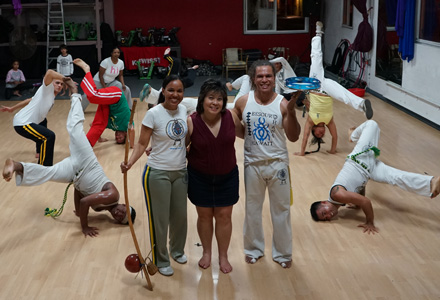 Several years ago, I went to Rio de Janeiro for Carnivale and, while on Copacabana Beach, saw some young people in groups taking turns doing an acrobatic dance in a circle. It was unlike anything I'd ever seen, since it combined dance and martial arts moves with somersaults. Turns out, they were practicing capoeira, which is a Brazilian martial art.
Capoeira is now practiced all over the world, even here in Hawaii, so we went to one of the class facilities in Kakaako to see what it was all about and how people can learn it. When we met the people of Capoeira Besouro Hawaii, we learned that it was developed in Brazil by African slaves. Since they weren't allowed to practice martial arts, they mixed in dance moves and music to disguise their real actions, and capoeira was born. (It is also known as N'golo, or "zebra dance," a kind of dance where the participants use their feet to kick the head of their opponents, which is similar to how a zebra moves.)
If you take classes from Capoeira Besouro, it's more for fitness rather than fighting, but you also learn Brazilian culture and some Portuguese as well. You can drop into classes at any time, and they have students as young as two years old — so experience is not necessary. They also just started classes in Kaneohe, for our friends on the Windward side.
Here's a look at Capoeira Besouro Hawaii and a quick demo:
We had the class do a couple of more involved demonstrations for us. Really cool stuff! Visit HawaiiIRL.com to see more. For more information on Capoeira Besouro Hawaii and how to take classes, click here.