Hawaii: In Real Life ~ Caked Las Vegas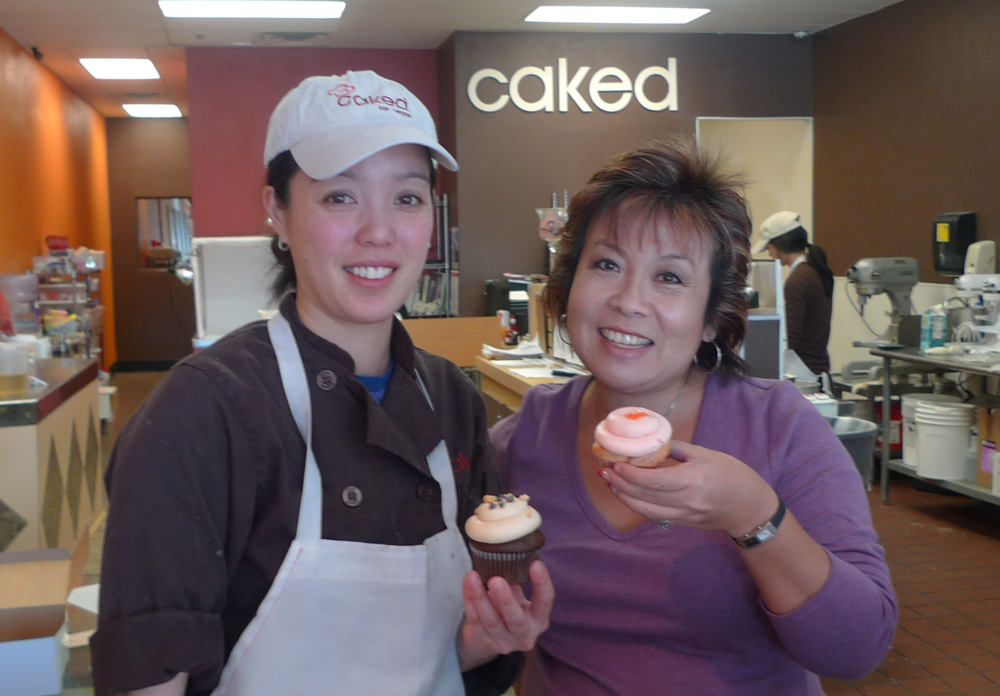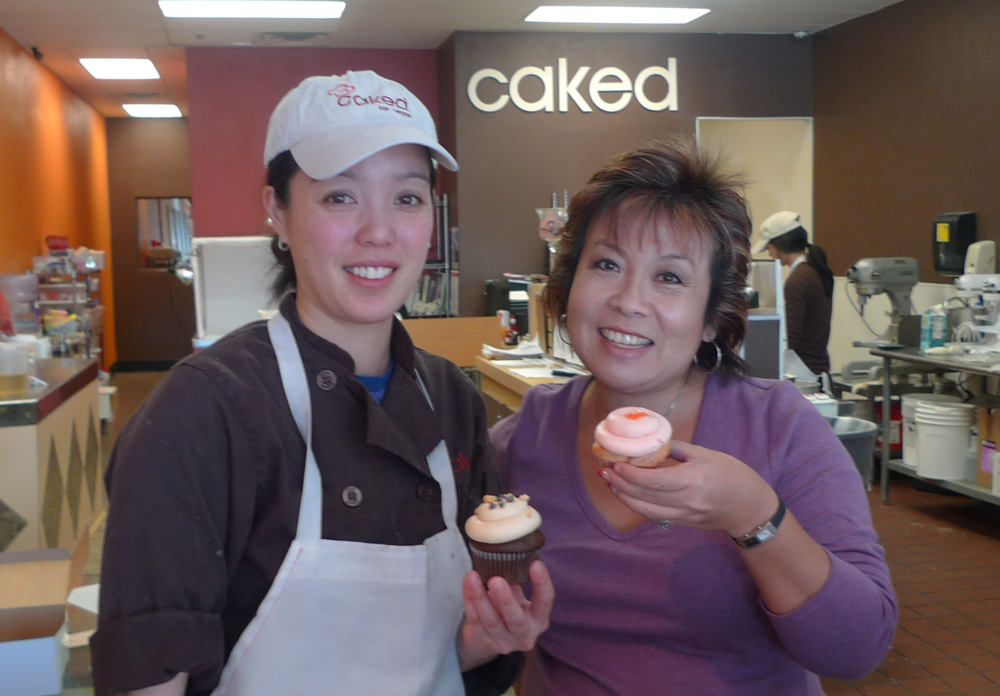 We love to support our Hawaii peeps when they open businesses on the mainland. When our Twitter friend Brad Tada (@tadasauce) told us about his cousin's bakery in Las Vegas, we made the perilous drive out to Caked just to meet Carolyn and try her cupcakes. (OK, well, it's perilous if I'm driving.) It's not just a bakery, it's a retail shop that sells sweet-themed shirts, accessories, and of course, Brad's Bit of Sugar jewelry and ornaments.
Caked has only been open since February 2010, but many people already know Carolyn for gorgeous, custom-made special occasion cakes — not just the usual hatbox-style layers, although she does a lot of that. You can check out the full gallery of specialty cakes on her website, since there are too many to profile here. Get ready to be wowed at her talent!
In true IRL fashion, we had to do a video and wanted to get a demo of how she works. She was in a rush and was working on an actual client cake, so there was no way I could get in there and possibly muck it up! Check it out:
Here are some shots of me, Julie Yoneyama, and Ed Morita sampling her cupcakes. If you decide to visit Caked, this is a good preview of their take-home products.
Caked
If you want to see more episodes of Hawaii: In Real Life, visit the website here.
Disclaimer: Air & hotel were provided by
Boyd Vacations Hawaii
for an assignment for InsideOut Hawaii.
========
You can read all of Melissa's blogs at www.nonstophonolulu.com/urbanmixplate. Follow Melissa on Twitter @Melissa808, on Foursquare as Melissa808, or email at Melissa@nonstophonolulu.com.
My recent blog posts:
A taste of Hawaii in Vegas
Dinner and dessert at Caesars Palace
New Year's Eve at Serendipity 3 in Las Vegas
Vegas: The day of the food coma
Vegas: Visiting the M Resort
Breakfast of champions: The Cracked Egg in Vegas
Vegas: A fun day on the Strip
Welcome to Vegas, baby
Where I'd tell the Obamas to eat
Hawaii: In Real Life ~ Midori-dori
Vegas lucky charms
Hawaii: In Real Life ~ holiday hot chocolate
Vegas, here I come!
Hawaii: In Real Life~building a gingerbread house
Tweets from the road: Marathon 2010
What's up with the knee high socks?
I want a Bit of Sugar!