Hawaii: In Real Life ~ Big Brothers Big Sisters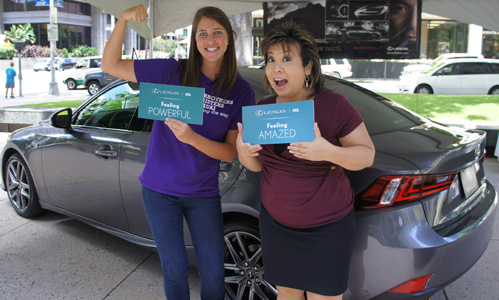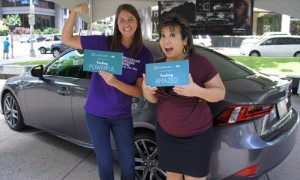 If you're reading this on Wednesday morning, there's some fun things happening downtown today in Tamarind Park. Servco Lexus is launching their 2014 IS 250 this week, so they have it on display for you to see, touch, sit in — everything but drive. To add to the fun, they printed up placards that say "I'm feeling…" and have some words that may express how the car may make you feel.
Go to the park today from 11:30 a.m. to 1:30 p.m., take a self portrait with the car and the cards, and post to your social media channels with @ServcoLexus and #FeelingLexus, and you'll be entered to win prizes. The grand prize is a $150 gift certificate from Heaven on Earth, plus Servco Lexus will make a $200 donation to Big Brothers Big Sisters Hawaii (@BBBSHawaii) in your name. Of course, if you just want to make a donation to Big Brothers Big Sisters, they will be near the car, as well.
Since you can't take a spin this car, you can go to the dealership, and when you take your test drive you will be entered to win tickets to the Hawaii Food & Wine Festival "Love of the Land" event.
Holly of Big Brothers Big Sisters Hawaii talked story with me about today's event, their partnerships with Servco, how they serve the community, and another upcoming fundraiser:
Want to know more about the organization, how you can be involved, and some touching success stories? Visit HawaiiIRL.com for more!