Hawaii: In Real Life ~ Aloha Tricycle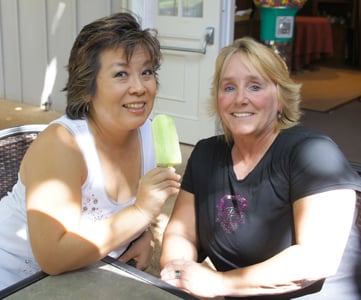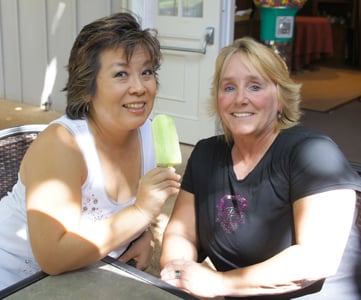 I was at the Green House the other day when John Garcia showed me a poster for a party happening this Saturday, April 7 to launch a "Green River" popsicle. Wait, what? The beloved drink, which has sparked debate on Twitter and has its own Foursquare list, now comes in popsicle form? After all these decades in hot Hawaii, why has no one else thought of this?
Kathy Sills of the Aloha Tricycle (@AlohaTricycle) created this frozen treat, and after I posted an Instagram of John's poster, people went wild. (Hey, Droid users, follow Melissa808 on Instagram and you can see the photo, too.) The good news is, you can try this new popsicle, and more, at the Green House this Saturday from 3 to 7 p.m. Here are the details of the party and the popsicle.
(I figure Ed Morita doesn't read my blog, so he won't know about Kathy's plans for his popsicle, as mentioned at the end.)
Kathy said the popsicle I ate was made with Malolo syrup, but on Saturday, there will be Green River pops made with Harders, as well. Why? Visit HawaiiIRL.com to find out, and learn more about Aloha Tricycle's popsicles. Or just come to the party on Saturday, April 7, from 3 to 7 p.m. at The Green House.