Hawaii: In Real Life ~ Allen Hess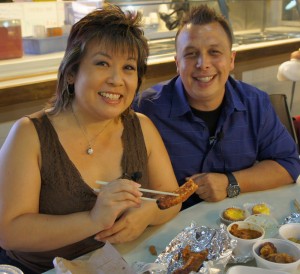 If you know the Big Island, you know Allen Hess (@ChefAllenHess) as a longtime chef there who had been at Merriman's before owning his namesake Waimea restaurant, Allen's Table. He recently joined the Mauna Lani Bay & Bungalows as the Chef de Cuisine of the Canoe House, and has put some of his signature touches on the menu.
The Neighbor Islands, being mostly ag land, have an easier time than us urban Oahuans in bringing a larger variety of farm-to-table items to their diners. Visiting local farmers and ranchers to select the best possible ingredients is part of Hess' daily routine. Where possible, he makes menu items in-house, such as sausages, patés, dry-aged meats sourced from Hawaii Island beef producers, and, most notably, his house-smoked and cured bacon, seasoned with peppercorns, cloves and nutmeg.
Hess embraces a "slow food" take on Hawaii Regional Cuisine, inspired by Hawaii's plantation era — so much, that in 2010 he was selected to represent Slow Food Hawaii at the annual Terra Madre conference in Torino, Italy. Terra Madre gathers sustainable food producers, farmers, chefs, educators and activists from around the world to connect and share their stories and traditions, in addition to determining innovative solutions for keeping small-scale agriculture and sustainable food production alive and well.
Hess recently visited Oahu, so we caught up with him in Chinatown to hang out, eat, and get to know him better. Make sure you watch the whole video to find out what the September dining special is!
We wanted to find out what else is going on with Hess, the Canoe House, and the Mauna Lani Bay Hotel. Visit HawaiiIRL.com to see more!