Hawaii: In Real Life ~ 3 Ladles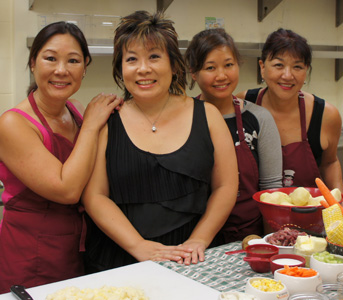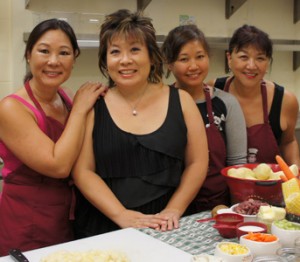 There's soup, but no nazis here: 3 Ladles (yes, ladles, not ladies) are three sweet women serving up hot bowls of goodness. You may have seen this soup booth when you go to the farmer's markets around Oahu, or the last few Eat The Street events. Did you ever wonder what their story was? I did.
Turns out, the three ladies — from left, Terri, Janelle, and Loreen — worked in the same office. Although they're very different in backgrounds, they found they all loved to cook soup … and loved sharing it. In October 2010, they launched their business, and started selling their soups at the Mililani farmer's market.
Initially the company was named "Three Ladies," but while sharing their story with friends, the name of the business was mispronounced as "Three Ladles." That's a cute play on words, right? So of course, the name stuck.
Since each of them has their own style and taste, 3 Ladles doesn't have a specialty per se. You'll find a good variety of soup each week that reflects each ladies' personality. You will, however, find a common denominator: They use as many local ingredients as possible.
They're going to be at Eat The Street: Pork Fest this Friday, and will have a selection of pork-themed soups. We barged into @3Ladles kitchen as they were prepping so we could get a preview of what they're making.
But wait, there's more! That was just one small preview. Visit HawaiiIRL.com to see some of the other soups they're making. Or just visit them at Eat The Street this Friday, to taste for yourself. Save me some chowder!