'Hawaii Five-O' Recap: 'Pahele'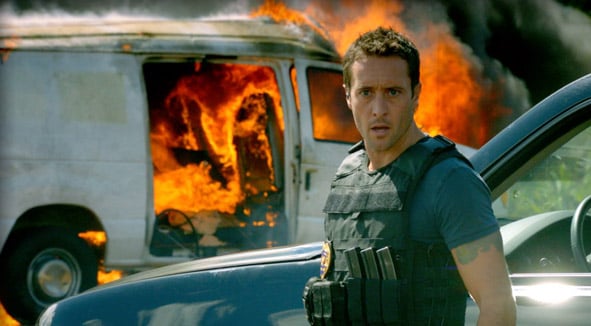 Now this is the kind of "Hawaii Five-0" episode I like! No silly plots and playing dress up, just a lot of suspense and action. The show returned after a week hiatus with a busload of private school kids taken hostage. While it first appeared that the kidnappers were after a large ransom from their wealthy parents, their demands were actually for the 5-0 team, who recently apprehended one of the men along with $80 million in cocaine. Throw in a big explosion, a shootout at a concrete plant and also another clue into the Wo Fat mystery, and I was glued to my TV set.
Here's a look at The Good, The Bad and The Weird.
The Good
Danno wearing a tie again. I like my favorite New Jersey cop nicely dressed.
Jay Katsu – That's an awesome character name. I'd like to see someone named Terry Burger next episode.
"Is that him?" – McGarrett. "Not unless he's wearing a Willie Nelson disguise." – Danno.
5-0 should send Kono into the interrogation room more often. She always gets better results. I'm sure there are lots of guys willing to tell her anything she wants.
The return of Cary Hiroyuki-Tagawa. No matter what character he plays, he's always such a badass.
It was so refreshing to see the 5-0 guys get played by Castillo. I loved the twist a la "The Usual Suspects," one of my favorite films.
"Book em Danno." is back!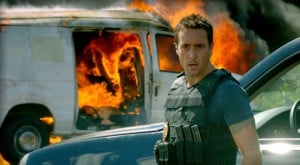 The Bad
Can we have an episode where McGarrett doesn't end a phone call in the first scene with "I'll be right there?"
Why send a long wordy text when you're in trouble? Just dial 911, leave the phone on and they can trace the call. Right? Or have I watched too many movies?
"I hate heroes." – Good looking terrorist lady. Was that a shot at Masi Oka (star of former TV show "Heroes"), who didn't appear in this episode? Didn't miss him at all, by the way. But I did miss Kamekona.
Were they really trying to dig the truck out of that 100 foot high dirt pile by hand?
The Weird
Officer Westin's running. Very weird. Very elbow-y.
Speaking of Officer Westin… She sure did know how to turn that large dirt conveyor off very quickly.
Speaking of operating large construction machinery, Chin Ho sure was mighty proficient with that large loader! What, do these guys build houses during their time off or something?
That school teacher hugged McGarrett for just a tad too long after getting rescued, don't you think? I immediately thought of Kate Winslet in "Titanic" – "I'll never let go!"
I also loved the twist at the end with Joe White. I kind of always figured that he was more than he appeared to be. I can't wait to find out who Shelburne is and what his/her relationship is with the McGarrett family, Joe White and Wo Fat. This show is definitely getting interesting again!