'Hawaii Five-O' Recap: 'Kupouli `Ia'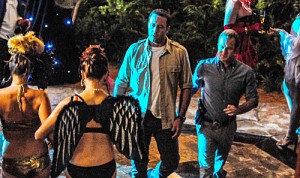 I'm normally not a fan of holiday-themed TV episodes, as their storylines are usually irrelevant to the overall arc and characters act out of character for the sake of shoehorned holiday elements. Fortunately, last night's Halloween-themed episode of "Hawaii Five-0" kept the eeriness to a minimum and stayed faithful to the show. Combine that with some welcome guest stars and a smart plot, and this Halloween episode of "Hawaii Five-0" was almost spook-tacular.
Here's this week's look at The Good, The Bad and The Weird.
The Good
I haven't been a fan of Max playing dress-up in past seasons and upon first glance at his Halloween costume, I thought he was dressed up as Cleopatra. But when he revealed he was dressing up as a Keanu Reeves character each year, and that this year's costume was from "Little Buddha," I had to give mad props. I want to see him dressed as Johnny Utah next year.
Always a welcome sight to see Dennis Chun as Sgt. Duke Lukela. Can we just make him a regular already?
No dialogue in that scene of McG and Danno in the party limo van, but it was still the funniest scene of the show.
Hey, it's Roger Dorn! (Corbin Bernsen)
"No way dude. That's all you." – Hospital worker to Chin when he was too scared to open up the drawer in the morgue. His line delivery was hilarious.
It's nice to see Max hooking up. His character works best in small doses, but I was glad to see him have love in his life (Rumer Willis). Good to see even the geeks can score.
"Maybe you don't pay such close attention to me." – Danno to McG, sounding a little sad that McG doesn't know he's claustrophobic.
Hey, it's the Drift King! (Brian Tee) I wouldn't mind if his role as a Yakuza boss became a recurring one.
DJ Qualls also made a memorable guest appearance (there were a lot this episode). He did a great job, although I still remember him best for this: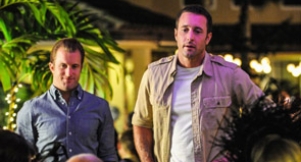 The Bad
Was Max's girlfriend supposed to be in a costume? If she was, I couldn't recognize it. It looks like she was just wearing a red dress.
Why are there high school kids trick-or-treating?
So the supposed zombie doctor attacks people at a midnight showing of "The Rocky Horror Picture Show." The attack gets called in, 5-0 arrives at the crime scene, the doctor and his victims get taken to the hospital, and then 5-0 discovers that he was at a party earlier. It must be around 3 a.m. at this point, and the Halloween party is still going strong when 5-0 gets there. I give those guests lots of credit for their energy. At that time I'd either be passed out in the bushes or taking a slightly drunk girl home, but she'd only let me take her to her door and not actually into her apartment.
I miss Kono. Please let her rejoin the team already.
The Weird
Oh, so leaving phone messages with just heavy breathing is not cool? Noted.
Speaking of heavy breathing, I too suffer from claustrophobia. Tight spaces spook me. I once even had a hard time breathing on a hike when the foliage was too dense and I couldn't see the sky for about an hour. Or maybe it was just because I was fat and out of shape.
What is going on with Max's hair? He's looks like Toshiro Takashi from "Revenge of the Nerds."