'Hawaii Five-O' Recap: 'Kupale'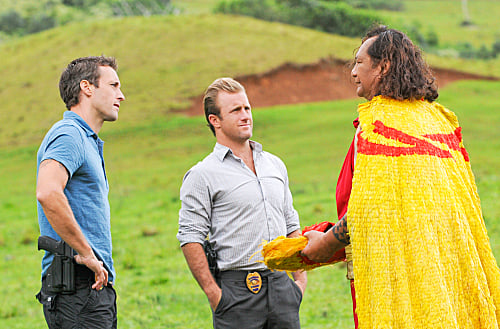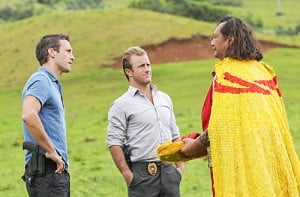 What do you get when you combine a Major League Baseball player, an Olympic skating champion and 100 Hawaiian warriors dressed only in malo? No, it's not the start of a bad joke… but the start of a pretty bad episode. "Kupale," the latest episode of "Hawaii Five-0," is one of the more random and pointless episodes yet, complete with an outdated and predictable plot. The story of an interisland shuttle being opposed by environmentalists may seem fresh for mainland viewers, but for locals, it's just a tired story that doesn't want to go away.
Here's this week's look at The Good, The Bad and The Weird.
The Good
Shane Victorino's cameo as a pharmaceutical employee on a team building exercise. The "Flyin' Hawaiian," a major league All-Star and World Series champion, did a great job of trying to motivate one his fellow employees to participate. I hope this leads to future cameos by more local athletes. Sid Fernandez, Michelle Wie and Konishiki would top my list of "wants."
Elvis Presley's "Rock a Hula" being played in the opening scene. Yeah, it's a cheesy song from a cheesy film, but it's the King, and you gotta love the King.
"You have your aneurism face. Why?" – Danno to a stupefied McGarrett who comes home to a smoke-filled house.
Lots of Hawaiian words dropped on the audience today. I bet a blow from a leiomano would hurt like crazy.
Al Harrington guest starring again as Mamo. The actor from the original "Hawaii Five-0" TV series is always a welcome sight. The show definitely needs more local talent like Harrington in supporting roles.
"These men wouldn't hurt anyone. They're doctors, teachers, engineers." – Mamo. Yay, score one for the engineers. I knew we'd be respected and recognized by a TV show someday.
The return of Autumn Reeser as Bishop Museum hottie Dr. Asano. She's a great actress, and it seems like she will become more prominent in future episodes as Danno's love interest. Too bad it may be short lived, since I hear that she'll be joining the cast of a pilot show on ABC.
"I'm happy when I'm not around you." – Danno. "That's a lie too. You love me." – McGarrett. Can never get enough of the bromance between these two.
The return of "Book em Danno."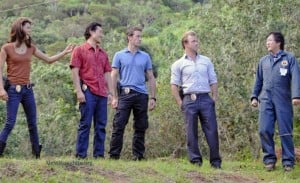 The Bad
Even deep into the second season, Grace Park still can't pull off the pidgin. In fact, none of the cast can. I think it's time to give up on them getting it right. Her delivery of the word "brah" was cringe worthy.
Yet another rich house in Kahala. Mainland viewers must think that Kahala is the only place to find a decent house and the rest of the island is grass shacks.
Apolo Ohno's cameo as Seth Burgess, a Hawaiian warrior re-enactor. Sure, he looks local enough, but I just didn't see the point of his appearance. He has no local ties and it was a character of minimal significance, so why bother? I'd rather the part went to a real local actor.
Hmm…an interisland commuter ferry is threatened to be shut down by environmentalists due to the lack of a thorough environmental impact statement. Sound familiar? What is this, 2009?
The Weird
The Hawaiian warrior re-enactors talking on their cell phones after being forced to stop by 5-0. Where were they keeping them? In their malo? Good luck having children.
Next week, it's Danno's real life daddy James Caan! Now that's a cameo!