Hawaii Five-O Recap: "Kamae'e"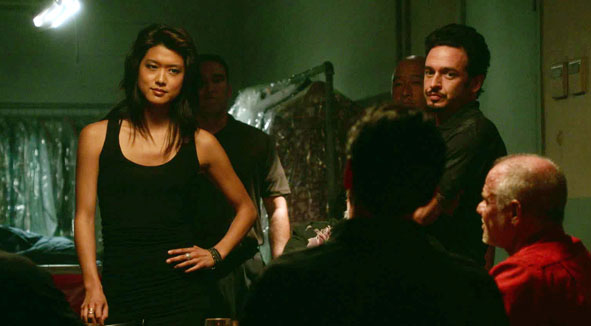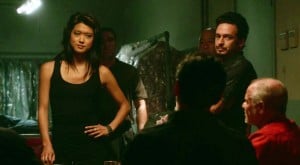 After a silly episode last week, it was good to see "Hawaii Five-0" return to form in Episode 3. Titled "Kamae'e," the crew tracked down the deaths of a Navy Seals team and the show featured what we love — cool action, humorous banter and whodunit mystery solving. Guest stars included Terry O'Quinn returning as Joe White and William Baldwin debuting as an ex cop who wants to recruit Kono for his underground vigilante team. Here's this week's look at the Good, the Bad and the Weird.
The Good
Kono with her little black dress. Every girl needs one.
"Why are you dressed as Inspector Gadget?" — McGarrett. Personally, I was thinking Carmen Sandiego.
Terry O'Quinn and Daniel Day Kim in the jungle together again. Who else felt nostalgic for "Lost?"
I've never seen anyone disarm a trip wire like that. That was pretty cool.
"Some haole. They all look alike." — Pakalolo farmer played by the Oceanic cable commercial guy
Aloha Maid juice plug
The skydiving rescue scene was simply awesome, despite the physical improbabilities of it. Greatest save ever!
"Time to shut up?" — Danno. "Roger that." — Joe White
The Bad
Manoa Falls looks a lot like Waimea. Still, it looks like a great place to take a date, feel her up under water then discover a dead body. That's so where I'm taking my next first date. Imagine the stories we could tell our grandkids.
"What's the cause of death?" — McGarrett. Hmm, how about that large bullet hole in the head right in front of you?
I think that was the latest appearance for Danno in an episode. I almost forgot about him. Almost.
I wish they didn't have the characters visit such cheesy places. Hula Room? Tiki Bar? Umbrella drinks? Ugh. It just perpetuates stereotypes mainlanders already have of Hawaii.
I like the new girl (Lauren German), but I miss Kono in action with the team.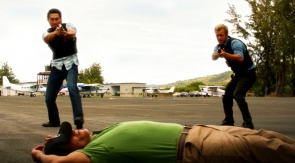 The Weird
What did McGarrett say was Hawaiian for "bottom's up?" I didn't catch it. Sounded like "kole momona" or something like that. People I drink with usually say, "Pound em!"
Car banter with new girl and Danno is not the same as Danno and McGarrett.
Is a pakalolo farm really worth millions? I'd start a potato chip factory right next door.
Kono not returning your calls, Punahou lab guy? Don't worry, we've all been there.
Whenever I see Billy Baldwin, I always think of two things — "Fair Game" and guy that married college crush Chynna Phillips.
Favorite Tweets
"Kono is hot now. Maybe she'll seduce a lucky guy to fit the 'bad girl' image…*Raises hand to volunteer*" – @UHPics
"Ho, you don't mess with a man's weed" – @tomboylefilms
"Haole people, don't get mad, you can't tell us Asians apart either…" – @neilyamamoto
"Why is Kono logging in from home, they going track her isp, she should coffice at Yogurstory" – @MichaelDChing