'Hawaii Five-0' premiere and episode recap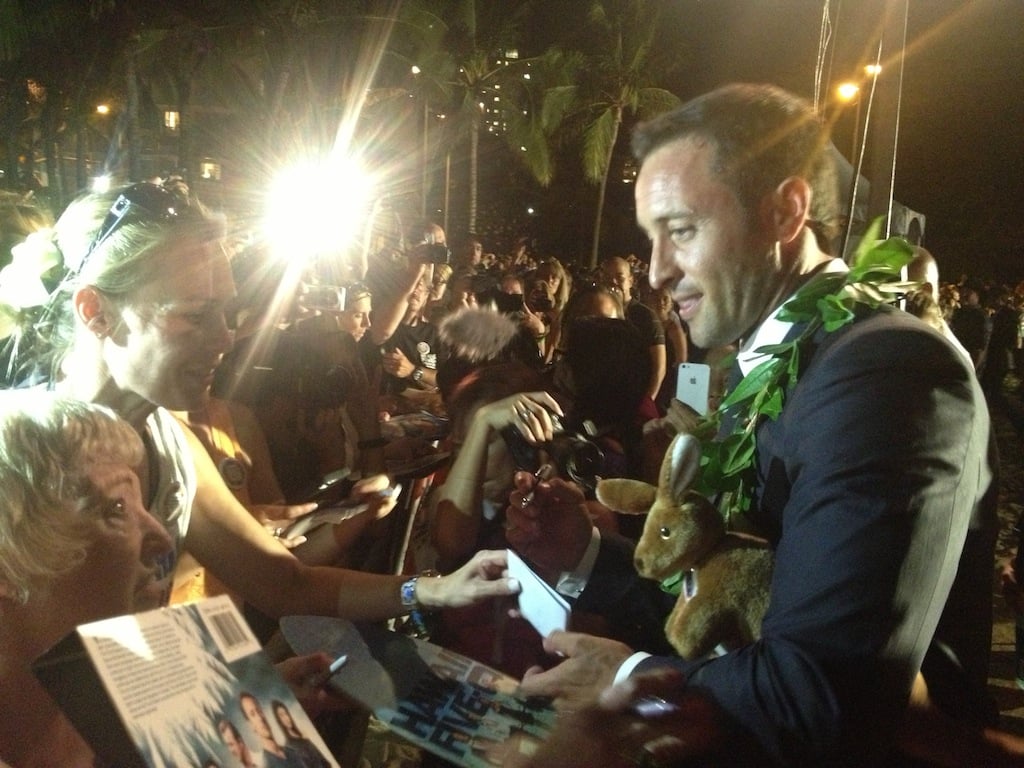 "Just when I thought I was out… they pull me back in." – Michael Corleone in "The Godfather: Part III"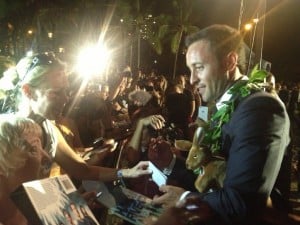 Readers of my "Hawaii Five-0" episode recaps know I've become disenchanted with the show. The writing had gone downhill, characters were needlessly forced on audiences, and stories began to border on the absurd. So I was all ready to write the show off, especially with its move from Monday to Friday, assuming this season would likely be its swan song. Well, if last night's season premiere proved anything, it's that this show can still kick serious ass.
The evening began with a huge Sunset on the Beach premiere. Thousands from all around the world gathered to get a glimpse of their favorite stars and watch the season premiere. This was my very first real red carpet experience, and I'll admit I was excited to be face-to-face with the stars. As the cast approached one by one, I tried to think of original questions, but I'm sure they'd heard it all. Still, it was lots of fun. Some of them, shockingly, even knew of my blog, and that was a total trip. I felt proud and (slightly) self conscious of all the sass and negativity in some of my recaps. Nevertheless, everyone I interviewed was cordial and offered good insight into their roles.
Producers Peter Lenkov and Alex Kurtzman said they hoped the move to Friday nights would help them to capture a larger audience for the show. When I asked Chi McBride if his character, SWAT Captain Lou Grover, would be on the show for long, he said he packed a lot of clothes for his stay in Hawaii. And although Alex O'Loughlin didn't have much time to answer questions, he assured he was going to "kick the s— out" out of Wo Fat this season. Cool…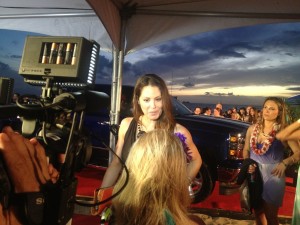 Daniel Dae Kim gave me my most memorable interview. Not only did he share his favorite Korean restaurants (So Gong Dong for soondubu, Yuchun for naengmyun and Budnamujip), but he also told me he read my episode recaps. He even called them "snarky." As soon as I started to feel a bit uncomfortable, he told me to keep writing my recaps the same way. Don't worry, Daniel, I wasn't going to change my style, but I appreciate your support!
The premiere episode began with a recap of last season's finale, and not only did it not disappoint, it totally made me a fan of the show all over again. "Aloha Kekahi I Kekahi" is the type of "Hawaii Five-0" episode that got me excited about the show in the first place. The action was amazing, the drama was intense and even the comedy worked. Shown on a big screen with no commercial breaks, it was like watching a highly polished action flick. I hope that this episode is a sign of things to come in Season 4.
First, here are scenes from last night's premiere:
And now, here's my recap of The Good, The Bad and The Weird. (Spoilers ahead)
The Good
The opening action scene where McG helps Wo Fat to break out of prison is superbly done. It definitely kicks off the show with a bang.
McG fans will get to see him shirtless very early in the episode.
Good to see local actor Dennis Chun in a very prominent role. I hope he appears in every episode.
Chi McBride is a welcome addition as the SWAT captain who looks like he'll be butting heads with 5-0 for a while.
Kamekona has a nice comedic moment with a police academy student.
That gunshot through the guy's bullet wound was pretty cool.
Nice to see Chin Ho with his trusty shotgun again.
"This isn't the mainland. This is Hawaii. We do things differently around here." – McG. Damn right we do!
"Freaks and Geeks" star Martin Starr returns!
There was this one stunt at the Aloha Stadium parking lot that made me go "holy crap!" when I saw the way a stuntman's body flailed after a car crash. I hope that guy's okay.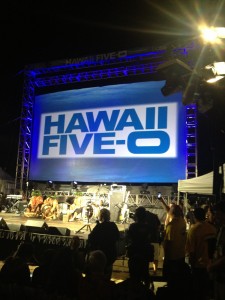 The Bad
Nothing. This episode was near perfect. And I'm not just saying that because Daniel Dae Kim could be reading this.
The Weird
"LOST" alum Henry Ian Cusick makes a guest appearance, but it was really odd to hear him speak as a Latino instead of a Scot.
It's probably not the best time to talk about girl problems when your partner is administering CPR to a dying man.
So, it finally dawns on McG that his ties to Wo Fat may be closer than he'd like. I sincerely hope not and that the writers are just faking us out.
Bonus from the red carpet: interviews with the stars and the producers.