Hawaii Belly Dance Convention 2015 Shimmy Showcase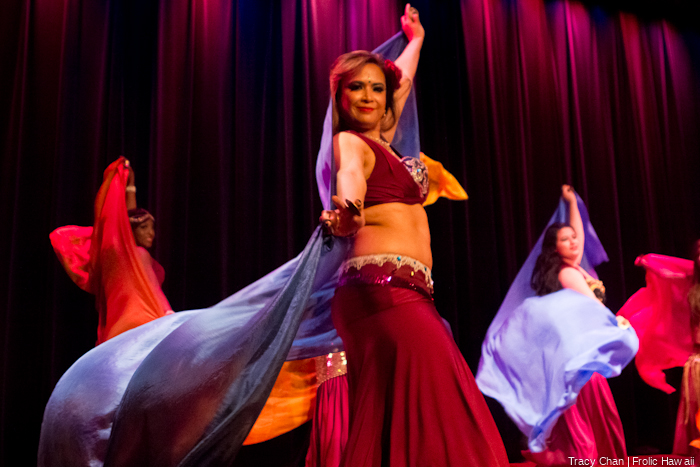 The 11th annual Hawaii Belly Dance Convention kicked off Friday night at the Honolulu Museum of Art's Doris Duke Theatre with a back-to-back showcase of belly dance performers from around the world. The first show featured a family-friendly series of performances that gave the audience a look at traditional belly dance forms and costumes. The second show, which was 18+, had a more modern twist and explored the alternative and sensual side of belly dancing, crossing over into tribal belly dance, burlesque and concept performances.
Featured visiting performers included Moria Chappell, a tribal fusion belly dancer from Washington DC; Shahrzad, an Oriental belly dancer from Virginia; her rhythm partner Marshall Bodiker; belly dance royalty Princess Farhana from Los Angeles; Andrea Aranda from San Francisco; and award-winning androgyne-identified performer Draconis from Texas.
A gala cocktail reception preceded each show, featuring tapas, spirits, henna art by Hau'oli Henna and DJs Native Girl and Rhombus.
The Hawaii Belly Dance Convention, organized by dancer Malia Delapenia and a staff of volunteers, is held annually starting on the second weekend of October and features visiting performers and instructors hosting five days of seminars, a gala showcases, parties, a guided nature tour and more.
Here's a schedule of events over the next few days:
Saturday, Oct. 10 from 8 a.m.-6:15 p.m.
Shimmy with Aloha Seminars and Middle Eastern Marketplace at the Neal Blasidell Suites
Sunday, Oct. 11 from 8 a.m.-7:30 p.m.
Shimmy with Aloha Seminars and Middle Eastern Marketplace at the Neal Blasidell Suites
HBDC VIP After Party and meet & greet: 8 p.m.-midnight
This dance party on Sunday night is a fun finale to the weekend. Held at BAR 35 at 35 North Hotel Street. 21+; no cover.
Monday, Oct. 12 from 10 a.m.-3 p.m.
Day of Hawaii Beach Activities on historic Waikiki Beach hosted by Waikiki Beach Services
HBDC Reflection and Q & A with visiting artists: 5 p.m.-7:30 p.m.
Ong King Art Center
For more information and tickets, please visit hawaiibellydanceconvention.com.
Here are some photos from Friday's Shimmy Showcase: "Essence" and "Reveal" shows.