Haute Filipino menu at Chef Mavro's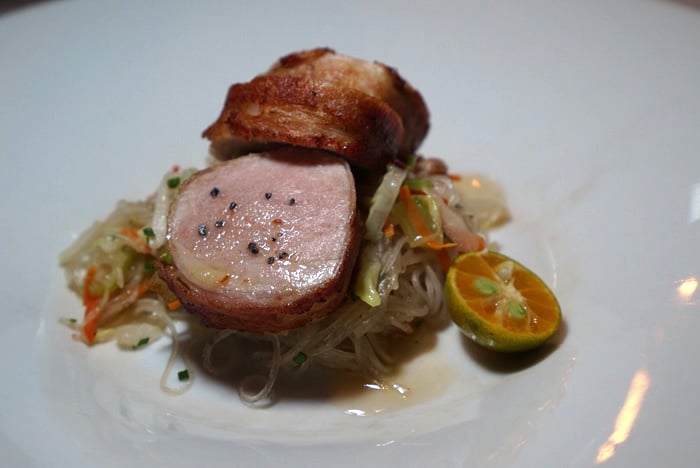 San Francisco food blogger @TheDapperDiner proclaimed that this is the year Filipino food gets recognized as the most hip and trendy cuisine, and he's probably right. You've seen it featured in mainstream media, from street food to fusion to elevated plates.
You don't see it as much in Hawaii, though — we have such a huge Filipino population that most of the diners tend to prefer traditional preparations. Or, do they just not have enough exposure to contemporary or out-of-the-box twists?
Local boy Jose Calpito was doing an externship in at the Venetian in Las Vegas when Chef Mavro called to invite him to return as pastry chef in 2014. They're always experimenting with new flavors and concepts in the kitchen, so one day they decided to take Jose out of pastry and put him back in the savory mindset, using the homestyle flavors of his Filipino heritage. (He is also an accomplished line cook.) Chef Mavro, Jose, and Chef de Cuisine Jonathan Mizukami headed out to Elena's Filipino Restaurant in Waipahu and polished off 12 assorted dishes that Mellissa Cedillo recommended (including dinuguan!) for research and development.
For the next few weeks, you can enjoy a special four-course menu created by Jose at Chef Mavro's. He's put a French twist on each of his dishes and has used some of the finest ingredients to elevate his comfort food. It's $107 per person, and wine pairings are $67 extra. You can also still get Chef Mavro's regular menu during this time.
Haute Filipino menu at Chef Mavro
1969 S. King St.
808-944-4714