Hard-core natto: Get ready to feast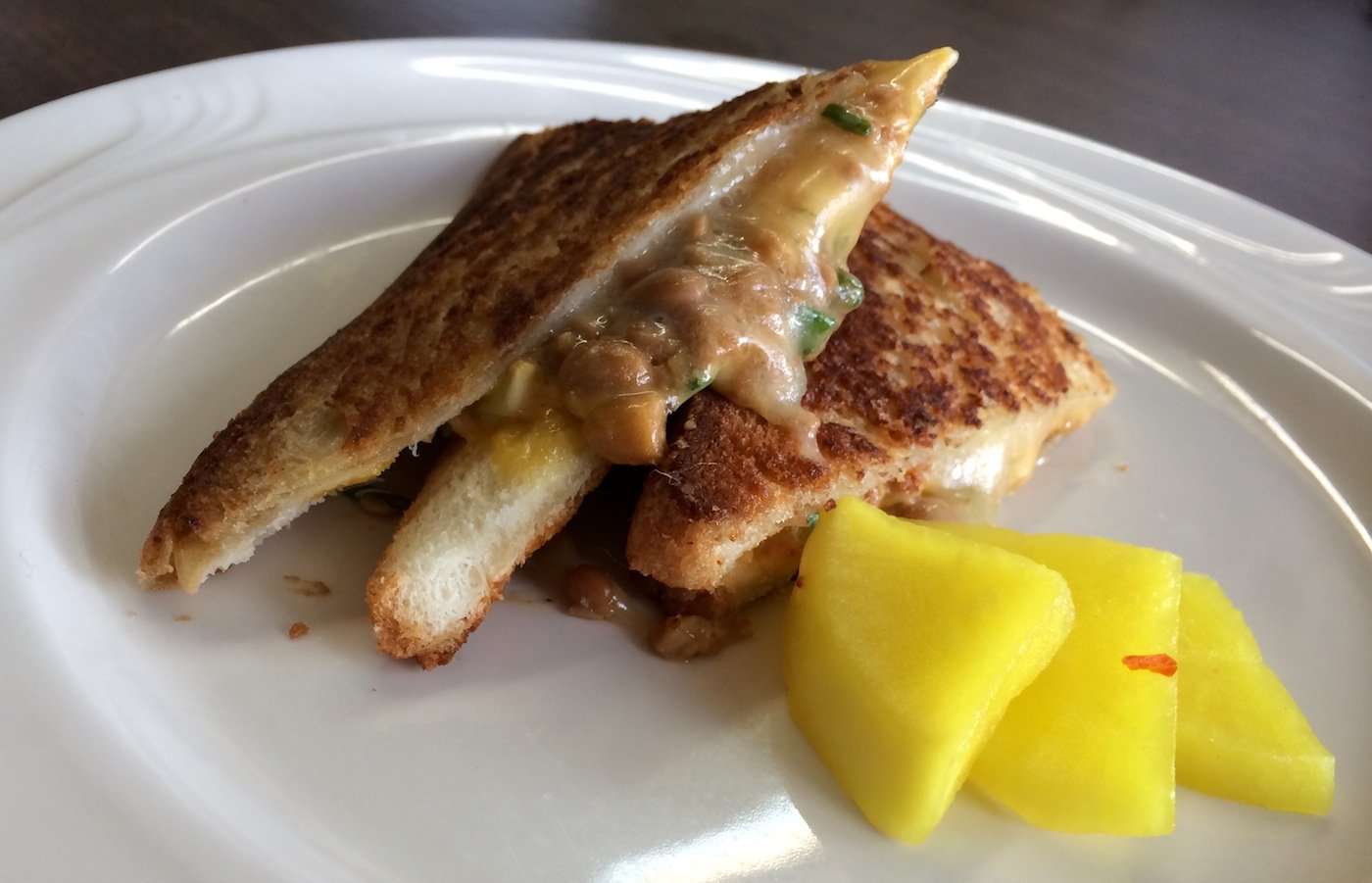 UPDATE, 7/4: The Hard-Core Natto Dinner is SOLD OUT.
At long last, dinner. Hard-core natto, this year's Natto Day* feast by Ethel's Grill, happens Sunday, July 13. And if you've ever been to Ethel's Grill, you know a little of what to expect: deceptively simple, lip-smacking, soul-satisfying, no-frills food. Think diner style. Think mounds of natto.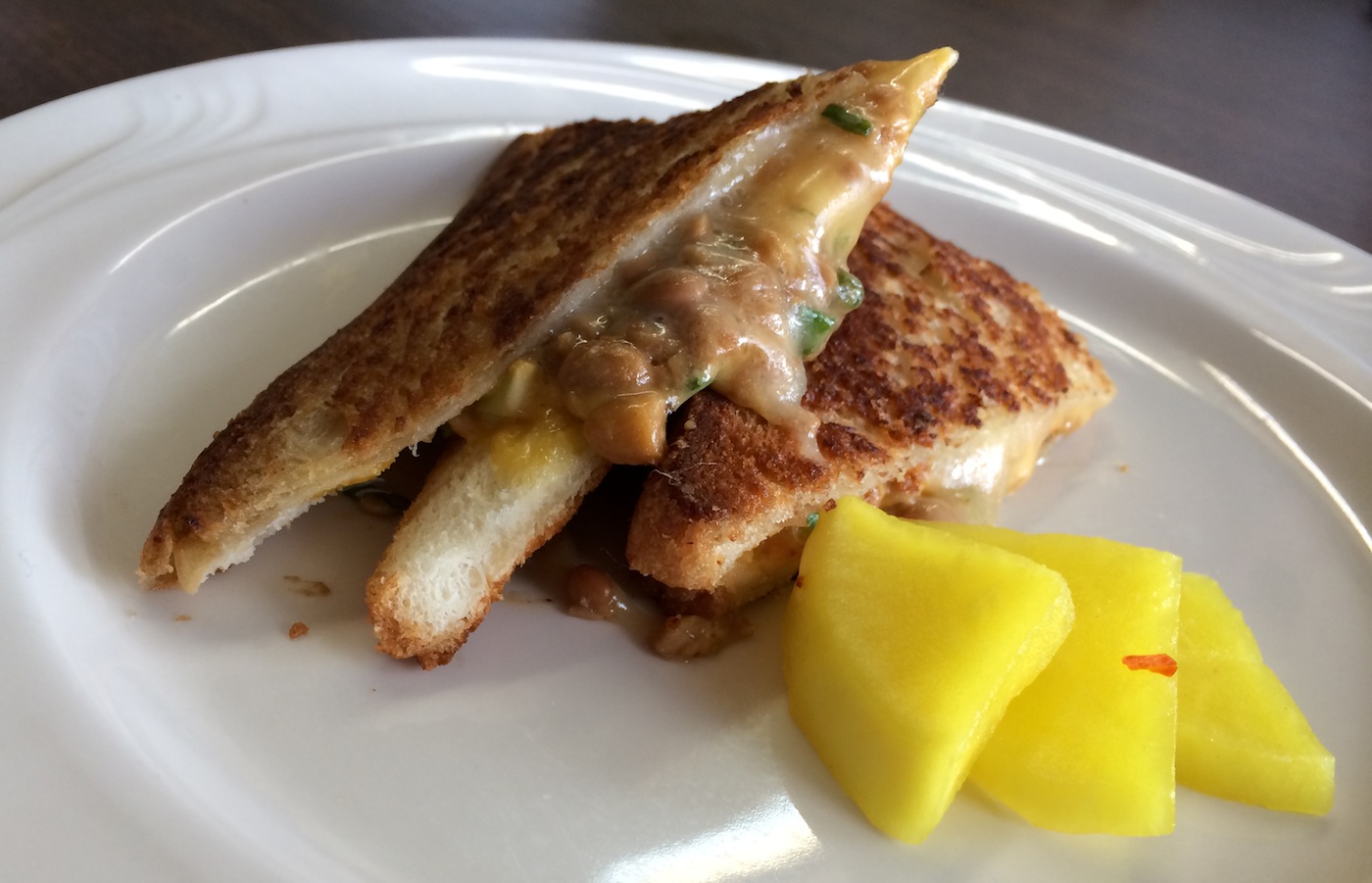 Here's the first course, a natto grilled cheese sandwich that was the only dish chefs Robert and Minaka Urquidi would divulge details about: Natto mixed with shoyu, Coleman's mustard and green onion, plus Havarti and Kraft singles cheeses sandwiched between Saint-Germain white bread toasted with parmesan mayo butter.
Drooling yet? Here's the full menu:
Natto grilled cheese sandwich
Crispy natto gau gee
Ethel's Grill natto green salad
Natto roast pork kim chee
Natto flan
"I wanted to keep it simple, and our style," says Robert. "But with a lot of natto. Oh yeah. There's gonna be a lot of natto."
Because natto has a certain, uh, quality, takuan and other pickles will appear with every dish to cut through the flavor and slime.
Hard-Core Natto Dinner
Sunday, July 13 at 6 p.m.
Pig and the Lady
81 N. King St.
Cost: $35 pp (does not include tip)
Parking: Street or municipal garages on Smith below King and on Maunakea below Hotel
Order tickets here
A couple of notes: This dinner is for natto lovers only! There will be no other food. Those who don't-won't-can't eat natto will go hungry.
And Pig and the Lady has a full bar with beer, wine and sake. Mixologist Kyle Reutner is creating several specialty cocktails (natto cocktails?), including a Guinness cocktail. On this Sunday, there will be Guinness. If you do BYOB, please be aware that Pig and the Lady's normal corkage will apply, and that's $25 a bottle.
One last thing: Don't show up at Ethel's Grill on July 13. You'll be lonely — Ethel's is a little too cozy for Honolulu's raving natto appetite, so Pig and the Lady is generously providing the space.
Any questions? Please post them in the comments. If not, I'll see you July 13!
* Natto Day is actually July 10, because 7-10 can be pronounced na-to in Japan, where people love their puns. And here's a shoutout to Scott Pang and Greg Sekiya of the Facebook Natto Day — July 10! group, whose shoutout to me for help organizing feasts celebrating the stinky bean resulted in all the delicious slimefests you see in the thumbnails below.