Happy hour for happy oceans
Join Surfrider for an Ocean Friendly Pau Hana and statewide restaurant initiative with The Traveling Plate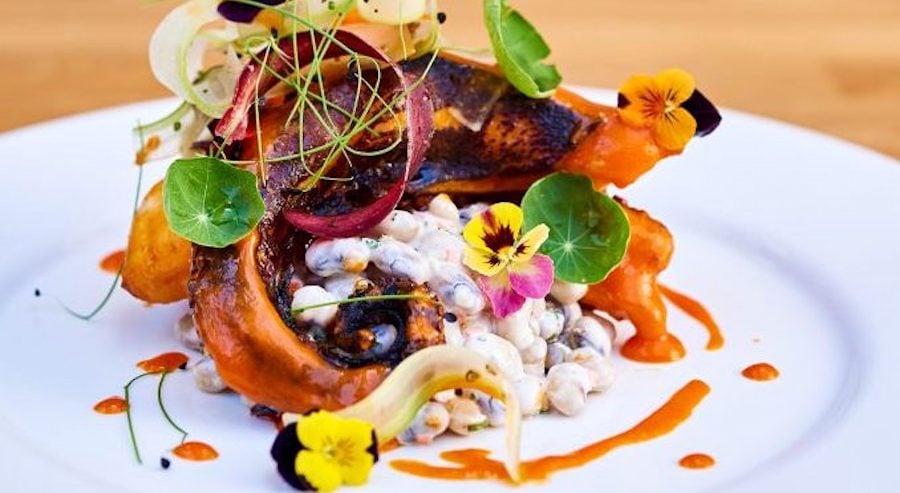 Do you love the ocean? Do you love to eat? If you live in Hawaii, I'm taking a wild guess your answer is yes.
Why not combine your love for both and join Surfrider Foundation Hawaii this month?
First, mark your calendar and head to Herringbone on Wednesday, Aug. 14 from 5:30-7:30 p.m. for an Ocean Friendly Pau Hana. If you haven't been to Herringbone's happy hour yet, it's one of the best in town — and worth driving into Waikiki for.
Attendees can enjoy happy hour specials like Two Buck Shuck (fresh raw oysters on the half shell for half the regular price), yellowtail crudo ($15), local fish tacos ($11) and my personal favorite, the buffalo octopus ($11). Specialty cocktails like A Berry Good Time and White Negroni run only $8, wine is $6 and beers are just $5.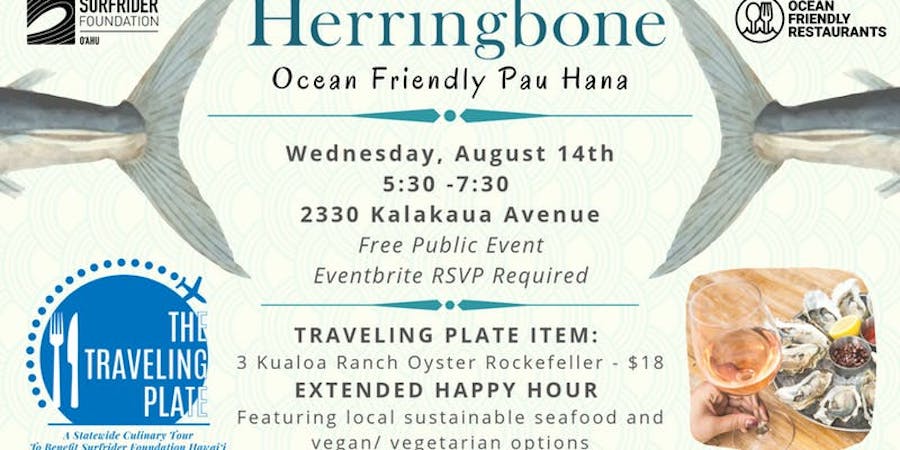 As a bonus, you'll connect with ocean-loving members of the community. RSVP is requested here.
Part of a monthly series, Ocean Friendly Pau Hanas make it easy to support clean oceans by eating at certified Ocean Friendly Restaurants. These restaurants have committed to reducing plastic waste and implementing eco-friendly practices.
The best part? Proceeds from Ocean Friendly Pau Hanas benefit Surfrider, the non-profit organization known for protecting our island's precious beaches and coastlines. Full disclosure: I've been a Surfrider volunteer for years.
If you can't make it to Herringbone on Aug. 14, you can still eat out for the cause the entire month of August.
Surfrider Foundation has partnered with The Traveling Plate on a statewide Ocean Friendly Restaurants dining promotion. During August, you can visit 100 restaurants across four Hawaiian islands and order the Traveling Plate dish. Some of the restaurant highlights on Oahu alone include The Pig & The Lady, The Nook, Artizen by MW, Senia, Kalapawai Cafe and Deli, and Kona Brewing Co.
For a full list of participating restaurants in Hawaii, visit travelingplatehi.com.
Ocean Friendly Pau Hana at Herringbone Waikiki
International Market Place 3F
2330 Kalakaua Ave.
Waikiki
797-2435
Free validated one-hour parking at IMP with $10 minimum purchase, next three hours are $2 an hour