Happy hour at bill's Sydney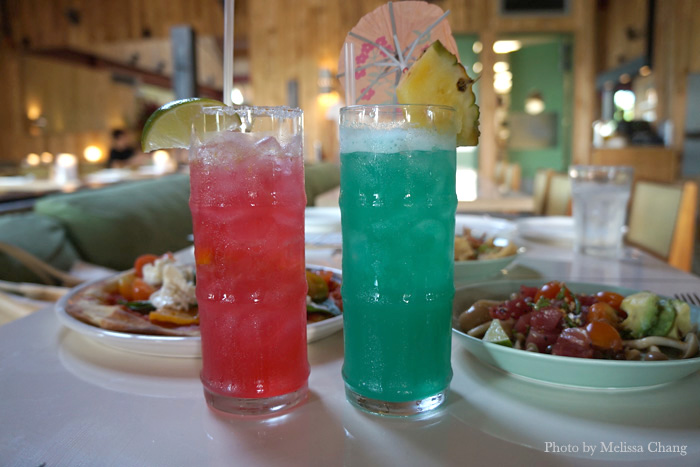 We love our happy hours in Hawaii! Dining out can be expensive, and sometimes eating a little earlier can save us money while we have things that we might not normally make at home.
One of the new happy hour spots is bill's Sydney in Waikiki, which recently started their daily specials running from 3 to 6 p.m. During that time, you can get selected food and drink items for just $6 each; pizzas for $8 to $9; premium well spirits and selected wines for $5; Kona Brewing draught for $3 and Kona Brewing bottles are $4. That's a pretty good deal for Waikiki, especially the signature cocktails. Here are some of the things we tried at their recent happy hour launch, in case you're thinking of snack time in the area:
The cocktails are kitschy and colorful, but no less refreshing. The pink drink is the hibiscus margarita, which was hands down everyone's favorite. It's made with el Jimador tequila and fresh hibiscus lime sour. The other is a Blue Hawaii, made with flor de cana rum, Tito's homemade vodka, lemon, pineapple, and bols blue curaçao.
Photographer Kelli Bullock is always taking photos of me, so I thought I should get a shot of her as we enjoyed the new happy hour menu. She's holding a hibiscus margarita and my 1953 mai tai is in front of her, as are the poke, Korean fried chicken, and tomato-basil pizza with mozzarella ($8).
The poke was actually my favorite. After all, who can't whack a whole plate of poke themselves? This fresh plate of ahi is mixed with avocado, pickled shimeji mushrooms, sea asparagus and sesame seeds.
I liked the Korean chicken — who doesn't like fried chicken? It's a little sweet and spicy, and nicely crisp.
I only got a bite of the goat cheese with rosemary flatbread, as one of our table mates declared it his favorite and boom! it was gone. But of course, this is best for people who like goat cheese.
The grass-fed junior burger (slightly larger than a slider) was nicely meaty and moist, and as you can see, it was quite cheesy. This comes with a single serving of fries.
One of my other favorites was the calamari, which was tender and crispy, with a nice spicy-sweet sauce and garnishes.
Another signature pizza is topped with pepperoni, zucchini, rocket (also known as arugula), lemon and mozzarella ($9). It's a nice combination of spicy and salty with fresh bright and bitter flavors. It's a little messy, though, so be aware of that if you are on a date.
Overall, it's a nice option for happy hour in Waikiki. If you go, get a table on the lanai so you can people-watch from a distance.
To see all of my photos, including the happy hour menu, click here.
bill's Sydney
280 Beachwalk Ave.
808-922-1500