H Mart opens first Hawaii store and food hall
America's largest Asian market opened its doors to waiting crowds in Kakaako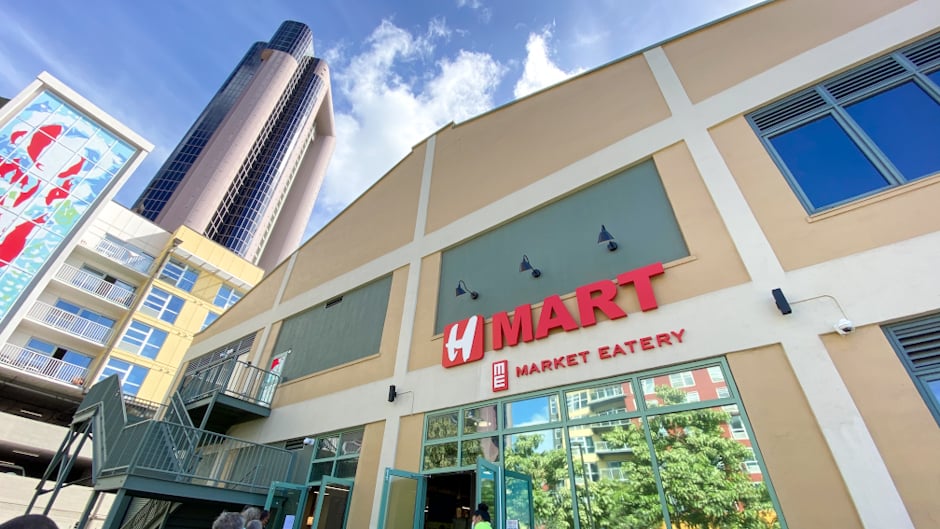 Hoping. Praying. Dreaming. Answering the anticipation of Asian food fans and halmonis waiting for America's largest Asian grocery chain to arrive in Hawaii, H Mart opened its doors at 9 a.m. today, May 28, to a socially distanced line that wrapped around the store. Three years in the making, H Mart Kakaako marks a notable addition to Hawaii's food scene and is one of the best positive happenings in recent months.
On the ground floor is a modern market packed floor-to-ceiling with just about every Asian ingredient imaginable. The bent is distinctly Korean with swaths of pepper pastes, sesame oils, dried seaweeds, honey butter chips, banchan side dishes and frozen dumplings for miles. You'll also find one of the largest selections of global instant noodles with many ethnicities represented – I spotted mie goreng, seafood laksa, tonkotsu ramen and nuclear hot chicken noodles in one pass. Other highlights include ready-to-cook foods, live seafood, houseware and meats cut for various preparations including Korean barbecue.
Upstairs in the Market Eatery, eight local vendors including Kahuku's famous Giovanni's Shrimp and Waipio's Black Sheep Cream Co. have debuted their Honolulu locations. The food hall will open for dine-in service June 5 with other restaurants across Oahu. The bar will boast some of the coldest beers on tap with kegs located directly behind the wall.
Parking is on the street or validated in the Our Kakaako retail garages at Salt or The Flats at Puunui apartment building behind H Mart. The first hour is free and up to three hours are validated for a dollar each.
Note: There is a similarly named market doing business as H Mart Super Market in Kalihi but it is not related to the official H Mart chain of stores based in Lyndhurst, NJ.
H Mart Kakaako and Market Eatery
458 Keawe St
Kakaako
Daily 9 a.m.-9 p.m.