Our Guide: Tropical Farms of Hawai'i Tour
We head to Windward O'ahu to find a little tour that was a ton of fun for a local family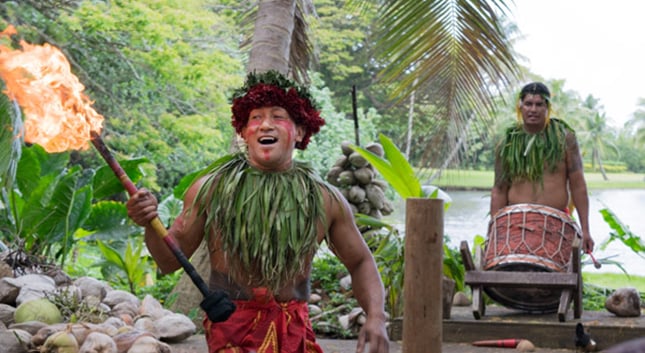 Photo: michele aucello
Where: Tropical Farms of Hawai'i, the Macadamia Nut Farm Outlet
Who: A family of four, kids ages 8 and 10 years.
When: Sunday afternoon.
Length: Two hours and we could have stayed longer.
If you make a list of typical family-favorite stops, Tropical Farms of Hawai'i probably won't rank anywhere in the top 10. But this outlet, tucked away on the Windward side, proved to be a fun place for both adults and kids.
It starts at the Outlet. The mainly retail space is free and offers samples of more than a dozen flavors of the rich nuts as well as Kona coffee. But the kids' favorite activity was out in back. Everyone is welcome to grab macadamia nuts from a huge bin and crack them open. You just put the nuts on the logs, grab a provided rock and watch the shells fly. The resident chickens love chasing down the pieces that end up everywhere. My kids tried to get the baby chicks to eat from their hands. We noticed the "Do Not Feed the Chickens" sign a little too late, but no one seemed to mind. While the kids are cracking, you can browse the many local products for sale including several inexpensive items and food products that would make cute souvenirs. We saw some items priced as low as a dollar. Play visitor and buy a fresh coconut for $5, they'll open them for you in front of your eyes, and browse the little shacks with selling items made from pearls and coconuts. It's quite touristy but in a very friendly, local way.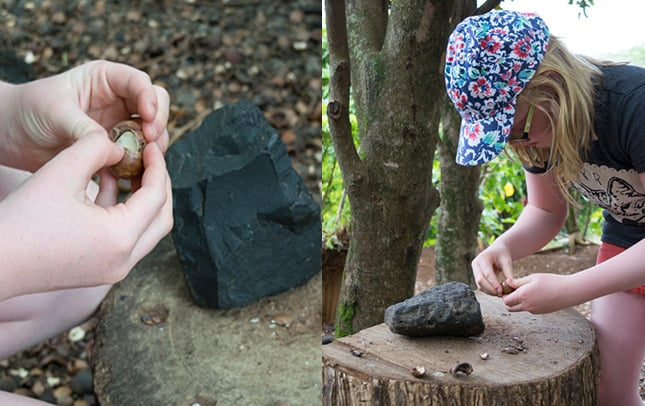 But the big thing we were there to check out was the tours. Ali'i Tour's daily schedule offers guided walks at 11 a.m., 1 p.m., and sometimes, 3 p.m. You will need to arrive at least 15 minutes before your scheduled time. We got there half-an-hour ahead of time and found the kids had plenty to do. They even wanted to return to crack more macadamia nuts once the tour was done.
You can purchase tickets on site, just keep in mind it is first come, first served. On Mother's Day, we had no trouble getting a spot.
The Tour
We boarded the green buses and headed out the "jungle". The 10-minute drive takes you through the plants around the Tropical Farms buildings. Our guide Tama was great – he struck a balance between being informative and humorous. The kitschy jokes kept the adults chuckling while he added in factoids about everything from edible versus inedible banana plants to different types of ginger, lilikoi vines to wild hibiscus, cacao trees and more. We grow many of these plants at home, but we still felt we learned something.
Once you arrive at Coconut Village, we were ushered into a rustic amphitheater for a small show. Tama and other performers played drums, demonstrated how to open and husk a coconut (of course, we got free tastings of the coconut meat and fresh milk) and even showed us how to start a fire. The flame he created from two pieces of wood then lit a stick for a quick fire dance. It is clearly meant for tourists, but we enjoyed the humor, audience participation and information.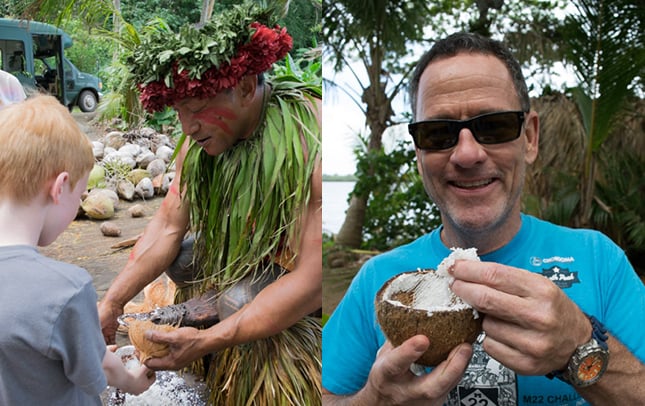 We boarded the bus and drove through the grounds where many movies and tv shows have been filmed. After about 5 to 10 minutes, we ended at the Molii Fish Pond where Tama took us on to a boat and told us more about ancient Hawaiian fish ponds, menehune and the Ko'olau mountains.
The tour took an hour and a half, but we were all engaged the whole time, no whining or wiggling from the kids. Even the youngest would enjoy an afternoon spent here. We also agreed the money was well worth it.
Our Tips
1. Visit on a weekday, if possible. We stopped by on a Sunday and had a ball. But some of the staffers say that is a quiet day because some of the performers are at their other job, working luaus. The staff is full up during the week.
2. Eat before you go. There are several snack items there but nothing substantial.
3. Wear sunscreen. Most of the tour is outside. We went on a cool, cloudy day but that might not always be the case.
4. Stock up on mainland gifts. We found T-shirts, accessories, ornaments, and lots of food for lower than ABC Store prices.
5. Visit the bathroom before the tour. The restrooms at the Outlet store are weathered but clean and they're the last ones you'll see for an hour-and-a-half.
Overall Pros: Good clean fun off the beaten track. Keeps everyone occupied for hours. Free samples, free samples, free samples. Interactive and hands-on.
Overall Cons: Out-of-date website doesn't provide all the information. $50 for a family of four.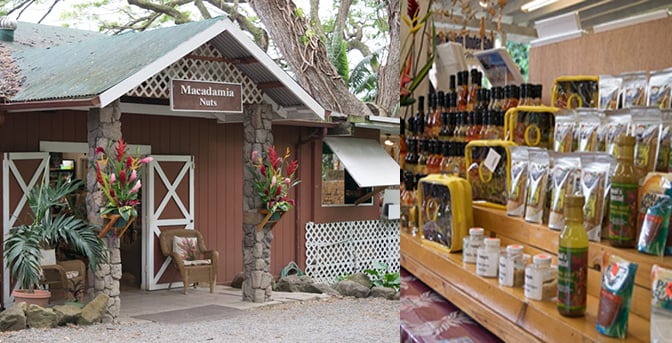 Tropical Farms of Hawai'i, the Macadamia Nut Farm Outlet
49-227A Kamehameha Highway, Ka'a'awa, Hawai'i, 96744
237-1960
Ali'i Tours: 358-9729
General admission is $20 for adults, $15 for kama'āina and military. $10 for kids 5 to 12 years. Kids 4 years and under are free.