Guide to Rice Fest 2015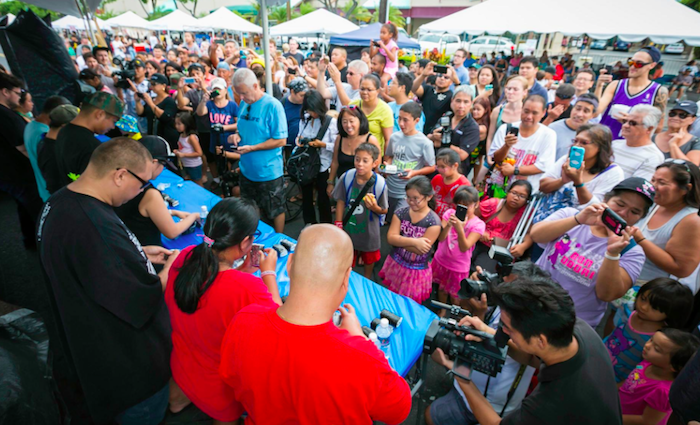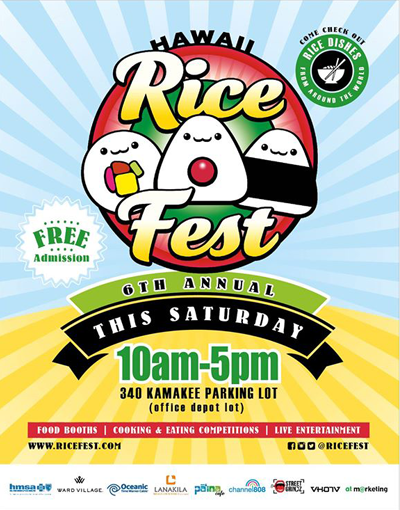 Rice Fest 2015 marks the sixth annual festival celebrating Hawaii's beloved food staple. Join other rice lovers in the Office Depot parking lot at Ward Village on Saturday from 10 a.m. till 5 p.m.
There will be tons of food (featuring rice, of course), activities, live entertainment, a Riceipe competition challenging some of Hawaii's chefs to make their best rice dish (I get to be a judge this year) and Spam musubi and poke bowl eating contests. Bring bags of brown rice or cash donations for Lanakila Meals on Wheels, the beneficiary of Rice Fest.
If you would like to enter the poke bowl eating contest (3 p.m.) or the Spam musubi eating competition (4:30 p.m.), registrations will be accepted at the event on a first come, first served basis.
The Parking
Behind Office Depot, access from Queen Street
Ward Village parking structure (T.J. Maxx and Nordstrom)
Ward Entertainment Center parking structure
The Schedule
10:00 a.m. Rice Fest begins with host Brudda Bryan from 94.7 KUMU
10:05 a.m. Jody Kamisato & the Ukulele Super Kids perform
11:00 a.m. Honoka & Azita performance
11:00 a.m. Meet & Greet with OC16's Suzui Ohana (Ultimate Japan) and Kutmaster Spaz (Dis N Dat TV) at the Oceanic booth
11:30 a.m. Entertainment by Heart & Soul
12:00 p.m. Riceipe Cooking Competition
1:00 p.m. Cooking Demonstration with Chef Mavro's George Mavrothalassitis and Cooking Hawaiian Style's Lanai Tabura
1:00 p.m. Meet & Greet with OC16's Davey D (Overdrive Live) at the Oceanic booth
1:30 p.m. Taiko Drumming Performance by Somei Taiko
2:00 p.m. Kanile`a `Ukulele Presents: Vaihi
2:45 p.m. A word from our beneficiary: Lanakila Pacific
3:00 p.m. First Annual Paina Cafe Poke Bowl Eating Competition
3:30 p.m. Traditional and Modern Tinikling Filipino Bamboo Dance performance by the Tekniqlingz Crew
4:30 p.m. 6th Annual SPAM® Musubi Eating Competition
5:00 p.m. Pau
The Food (and more)
Aloha Pops: Japan Ichigo Daifuku Pop
Aunty Nee's Kitchen: Southern Dirty Rice
Beyond Burgers: Okinawan Taco Rice
Channel808: * Brown Rice donations accepted here
The Fish Lady: Japanese Mochiko Fish
Flavors of the World: Spanish-inspired dish
Girls Who Bake: Filipino Bod-Bod
HMSA/Well-Being Hawaii: *** Brown Rice donations accepted here
Hawaii's Fried Musubi: Hawaii SPAM Musubi
Hula Shrimp Truck: Hawaii Shrimp Loco Moco
Il Gelato: USA Caramel Rice Puff Gelato,Tahitian Vanilla, Dark Chocolate, Strawberry Lemonade, Caramel Rice Puff Milkshake
Kuuipo's Lunch Wagon: Thai Coconut Rice with Coconut Mochi Crunch Shrimp
La Roux: Southern Boudin Balls
Lanakila Pacific: * Monetary and brown rice donations accepted here
Local Stop: Hawaiian Loco Moco, Pastele Stew, Kalua Pig Cabbage
Mega Load Burgers: Italian Risotto Crab Cake with saffron, Sicilian Arancine, Seafood Risotto with Wild Mushrooms
Milk Tea Hawaii: Horchata Boba
Mobile Gamer Guys: Games & Entertainment for the keiki.
Nani Kore: Japanese Bacon Wrapped Mochi with Dark Chocolate Sriracha Ganache, Pork Belly Kimchi Fried Rice, DIY Crab and Tobiko Sushi
Nosh: Brazilian Feijoada, Portuguese Sausage, Ham Hock, Bacon, Pork Ribs, Pao de Queijo
Oceanic Time Warner Cable: *** Brown Rice donations accepted here
Paul's Poppers: Thai Sticky Coconut Pandan Rice and Mango Popper
The Pig & the Lady: Vietnamese Pho
Smokin' Wings and Things: Filipino Adobo Shrimp Fried Rice
The Thirsty Coconut: Filipino Halo Halo
Three B's Catering & Takeout: Puerto Rican Gandule Rice with Pastele Lumpia, Tostones, Pastele or Pastele Stew
VH07V Apparel: Official 2015 Rice Fest Shirts will be sold here. * Brown Rice donations will also be accepted here.
Wow Wow Lemonade: Genmaicha Lemonade