Guide to Night Market August 2013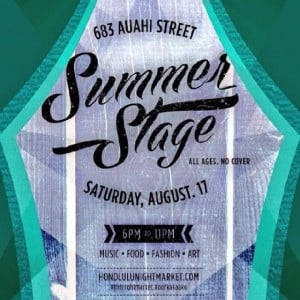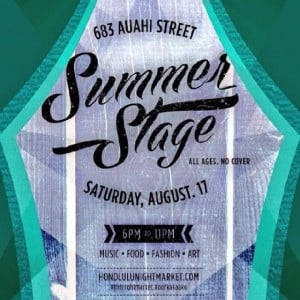 There's no better way to celebrate the final weeks of summer than an evening under the stars with food, fashion, music and art. This month's Honolulu Night Market spotlights the performing arts, with live performances by Manoa Valley Theater, Diamond Head Theater, Paliku Theater, St. Louis High School, Kamehameha High School, Branch Studios and 24/7 Danceforce.
What: Honolulu Night + Market
When: Saturday, Aug. 17 from 6 to 11 p.m.
Where: Auahi St. between Keawe Street and Lana Lane
Admission: FREE
Parking: On-site and street parking, including Eat the Street lot one block away at 555 South St.
Connect: #ourkakaako #hnlnightmarket @ourkakaako (Instagram)
Here's a rundown of the food retail, fashion and entertainment.
The entertainment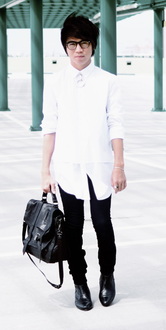 This month's fashion show, running from 8-8:30 p.m. on the main stage, will be styled by the talented, young Honolulu stylist Geremy Campos.
Entertainment lineup on the Main Stage:
7-7:30 p.m. – Diverse Art Center (featuring Tahitian and hip-hop dance numbers by both kids and adults)
8-8:30 p.m. — Fashion show styled by Geremy Campos
8:30-9:45 p.m. — Music theater productions by Manoa Valley Theater, Diamond Head Theater, Paliku Theater, St. Louis HIgh School, Kamehameha High School, Branch Studios, 24/7 Danceforce
10-11 p.m. — Live music by Stinkeye (Led by Broadway actress and local girl Chloe Stewart and featuring songs from the rock musicals "Tommy," "Jesus Christ Superstar" and "Rock of Ages, along with '80s and '90s rock songs.)
Other entertainment
Smoke at CoXist (A monthly event at 331 Keawe St., with sophisticated, alternative music by the Honolulu DJs from Kitchen Music Society. Outside CoXist, in a roped-off area, cigars and full hookah service will be available.)
Art by Artery, Osta Lang, Art Truck, The Artery, Two Crows, Kahanu Fang and 808 Urban
The food
Pinch of Salt shopping (more vendors to be added):
Andy South
Armed & Dangerous
Bamboo Sky
By Chari
Fabric Illusion
FWERDGEAR
Gillia
Londyn Empire
Mikinola
Pure Joy Adornments
Lei Chic vendor Cassandra Rull
The BASE Project
TreeHouse
VH07V Apparel