Guide to Amazing Hawaii Comic Con 2016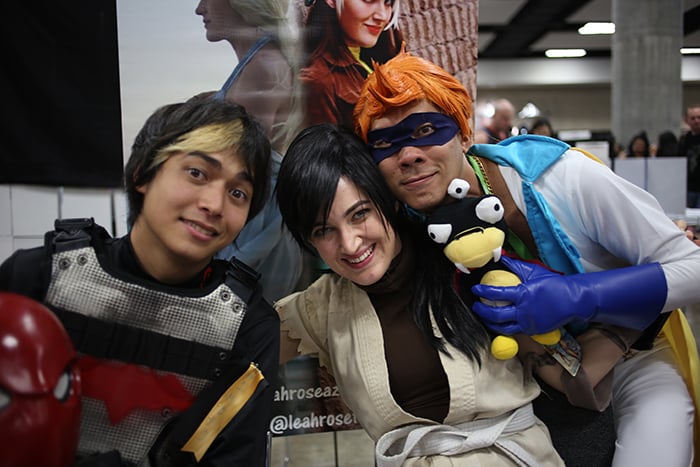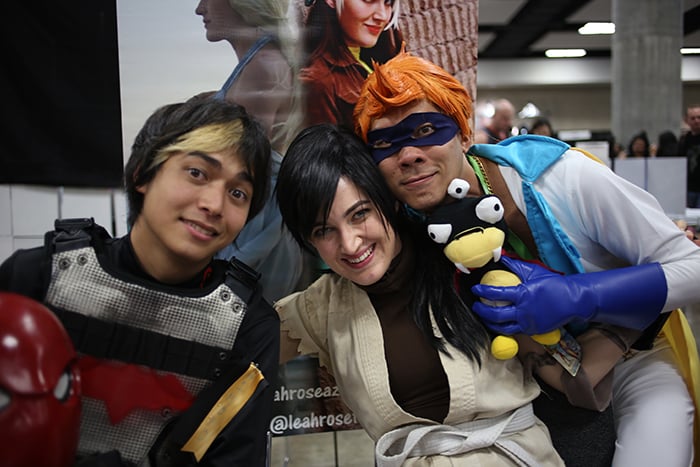 Once again it's back: the incredible Amazing Hawaii Comic Con! Not to be confused with the other comic convention in Hawaii. Or the other anime conventions in Hawaii. It can get confusing, which is why we're here, to help guide you through the tumultuous currents of the local geek and otaku pop culture scene.
Talking about Amazing Hawaii Comic Con, you would think the main focus would be on comics and you would be right! However, that doesn't mean that there isn't something for anime fans. No, not blasphemy, not sacrilege: The twain do meet.
When I attended the first Amazing Hawaii Comic Con, I expected to see the usual suspects from anime conventions. Instead, I found myself in a sea of comic book fans, cosplayers and aficionados who didn't come out for anime conventions, but made the effort for this one. It's that amazing.
With that said, fellow Frolickers Will Chen, Amanda Stevens and I present this roundup of what we're excited to see at the Hawaii Convention Center this weekend. (Will is also super excited about all the artists and writers coming for personal meet-and-greets.)
FRIDAY
Ask a Super Saiyan — 5 p.m., Panel Room 1
You've heard of someone, seen a video or tried to do it yourself (when no one was around): Become a super saiyan! Many of us grew up watching Dragon Ball Z and its iterations of martial artists from space who shoot fireballs at each other while powering up into their ultimate forms. Masterminds Goku (Sean Schemmel) and Vegeta (Chris Sabat) are the heroes of our youth. What better way to live out your childhood fantasy than to meet them? This panel is where dreams comes true. — Eric's pick
Comics and Beyond with Robert Kirkman — 6 p.m., Main Stage
I am a major Walking Dead fan and I have some questions for the creator, especially with the very controversial cliffhanger ending for the season finale. Because I love the show I started getting into the comics, and I'm glad I did. It's given me much deeper glimpses into some of the characters — a bit more graphic than can be shown on the TV series. — Amanda's pick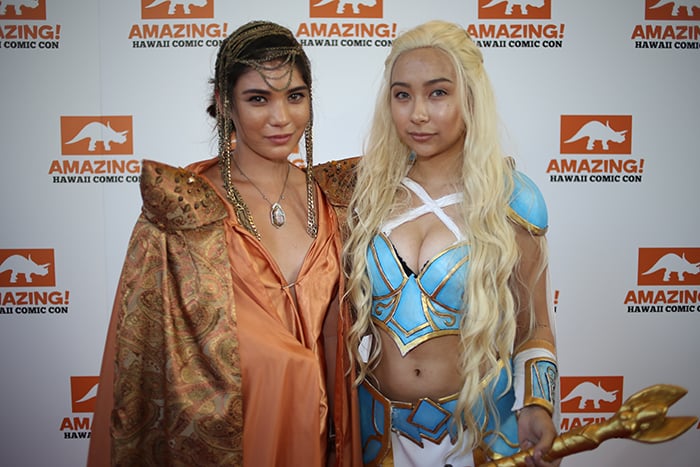 Cosplay Red Carpet featuring Twisted Cuts — 7 p.m., Main Stage
Comics and cosplay. Anime and cosplay. Whatever your taste, cosplay is always a big draw for conventions. Here's where your favorite comic book heroes come to life. You may even see fun twists on costumes, like steampunk Iron Man, gender-swapped Superman or samurai Spider-man. The Red Carpet is where it's at — and the opening act will feature looks by local designer Twisted Cuts. — Eric's pick
– and –
Definitely looking forward to Twisted Cuts. Having worked with creator-designer Nickie Q. over the years, it has been great to see her designs evolve from glam to biker girl to horror. — Amanda's pick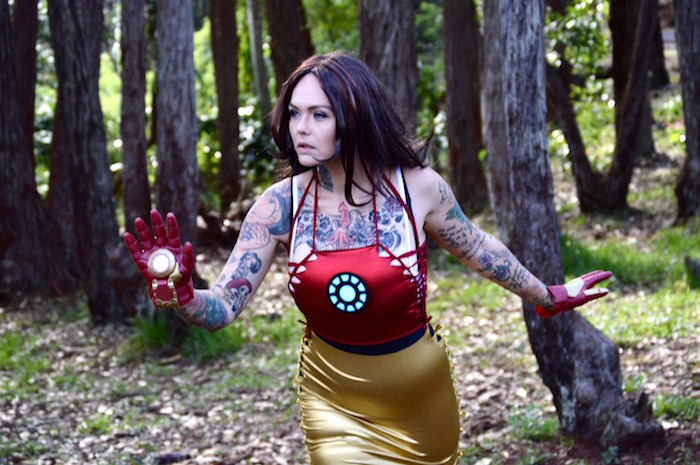 Outcast Advance Screening with Intro from Robert Kirkman and Paul Azaceta — 8 p.m., Main Stage
Kirkman's Walking Dead comic to TV transition was nothing less than brilliant, so I have high expectations for this supernatural horror series about demonic possession that begins airing on June 3. With less than 20 issues released so far, this is a great time to get caught up to see how the comic and TV series play out. Ticket giveaway for the screening is at 5:30 p.m. at the Main Stage. — Amanda's pick
SATURDAY
Jim Lee Drawing Demo — 12 noon, Main Stage
Current co-publisher of DC, founder of Image and his own Studio Homage/Wildstorm, Lee is one of the main creators responsible for the X-Men craze in the early '90s. His redesigns are considered some of the most recognizable, in part because the cartoon uses them as well. He has gone on to publish many of his own creations as well as handling the art for two widely popular story arcs for both Batman and Superman. — Will's pick
Inside the X-Men Studio with Chris Claremont — 1 p.m., Main Stage
Chris Claremont — a pivotal writer and contributor to most of the critical X-men stories since the 1980s — is without a doubt the father of the modern X-Men. Days of the Future Past, God Loves Man Kills, Dark Phoenix Saga, all the way to the '90s launch of the second X-Men book with Jim Lee. Yeah that's right, practically every X-men movie was based on a story line that he wrote. — Will's pick
Over 9,000! A Dragon Ball Z Panel — 3 p.m., Main Stage
My introduction to animated Dragon Ball Z was from a bootleg Chinese dub. Prior to that, my dad came back from Japan once and gave me a bunch of pogs with some cool anime people that I later came to know as the cast of Dragon Ball. Then I got a Dragon Ball Z video game. My brothers and I would make up stories for Goku, Vegeta, Cell and Trunks. We loved mashing the buttons when our Kamehamehas collided. If any of this makes sense to you, then you owe it to yourself to check out this panel with Sean Schemmel (Goku, King Kai), Chris Sabat (Vegeta, Picolo) and Chuck Huber (Android 17, Emperor Pilaf). — Eric's pick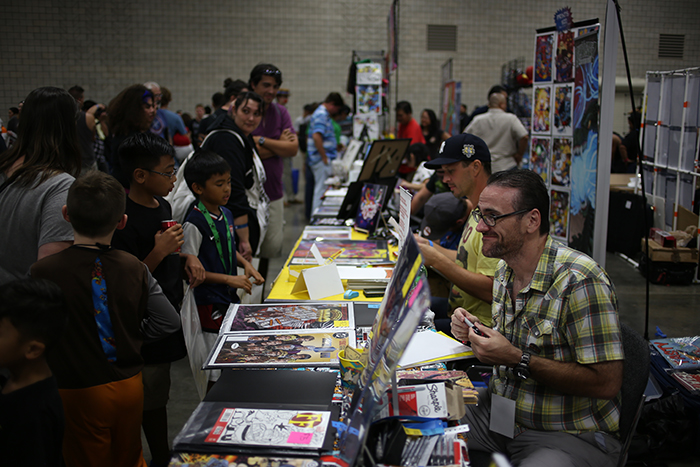 Amazing Comic Con Game Show Experience! — 6 p.m., Main Stage
Alright, it's not really anime-related, but I saw prizes ("the audience can compete for fun prizes!"). Which usually means free. And I don't think there's a cost to play. Other than your dignity. But isn't your dignity worth some cool, free and possibly valuable-at-a-later-date comic con swag? — Eric's pick
SUNDAY
Age of Apocalypse Panel with Chris Claremont and Scott Lobdell — 11 a.m., Main Stage
In the mid-'90s, Marvel decided to kill Charles Xavier and cancel every X-Men-related book for four months. It was called The Age of Apocalypse. Same characters, new stories, new personalities. It was pretty much as crazy it sounds, and it was amazing. Scott Lobdell was in charge of a lot of those stories and now there's a small movie coming out with the same name. Though I doubt it will have much similarity with the original story line. — Will's pick
Jim Lee Drawing Demo — 12 noon, Main Stage
Current co-publisher of DC, founder of Image and his own Studio Homage/Wildstorm, Lee is one of the main creators responsible for the X-Men craze in the early '90s. His redesigns are considered some of the most recognizable, in part because the cartoon uses them as well. He has gone on to publish many of his own creations as well as handling the art for two widely popular story arcs for both Batman and Superman. — Will's pick
Robot v Kaiju — 2 p.m., Panel Room 1
They had me at Robotech. I grew up watching Robotech. It was like no other cartoon: Epic story arcs. Major character deaths. Jet planes that transformed into robots. Themes of war, race and love. All in a cartoon watched by elementary students. This panel with Shogun Knight creator Mat Nastos, Hasbro storyboard artist Rick Hoberg, Ara-Rangers creator Jon Murakami and IDW Transformers artist Livio Ramondelli covers not only mecha, oversized humanoid robots, but Kaiju as well (the scientific term for the likes of Godzilla and King Kong). — Eric's pick

Amazing Hawaii Comic Con
Hawaii Convention Center
Friday, May 20 to Sunday, May 22
amazinghawaiicomiccon.com