Guess who's cooking a Natto Day dinner?

UPDATE: The Natto Day dinner is now full. If you were shut out this time, we'll be back with a new all-natto feast this winter

Natto lovers, never mind that Natto Day is July 10. You're invited to a multi-course Natto Day dinner by Pig and the Lady on July 12. And there'll be dessert!
Where? Lemongrass Cafe, Pig and the Lady's upcoming permanent nighttime digs (don't worry, they're continuing their Wednesday Blaisdell and Thursday Kailua evening farmers'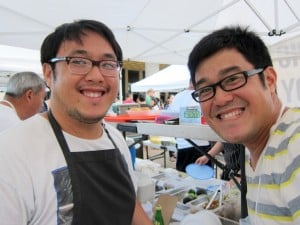 market appearances). That, and the details below, are all I know for now. But I have to tell you, for Pig and the Lady chef Andrew Le, this one's like opening up the secret ingredient basket and finding that one thing he's never cooked with. Le, a product of Chef Mavro's five-diamond kitchen and a starchefs.com Rising Star, is comfortable in elegant French, contemporary Italian, deconstructed Southeast Asian, and of course home-style Vietnamese traditions. But the slimy stinky bean? Loves it, never cooked with it. This will be his first time. So we're in for some surprises.
I'd show you some food pics, but I have no idea what he's doing. So here's Le on the left and his brother Alex on the right, who are together making this happen: course after course of natto delights, the likes of which I can promise you've never seen before.
What: (Belated) Natto Day dinner
When: Friday, July 12 at 7 p.m.
Where: Lemongrass Cafe, 83 N. King St.
Cost: $45pp not including tip
BYOB: Yes
Parking: Municipal lot on Smith Street behind Lemongrass
This (belated) Natto Day feast is open to any and all who love natto, and that's the only caveat: You must eat natto. Sorry to natto-hating companions, but this is the day we revel in the too-much-maligned bean. Please RSVP here, to @nonstopmari on Twitter or message me on Facebook.
And now, as a PSA, some quick natto FAQs.
What's natto?
Soybeans! Actually, soybeans that have been fermented at warm temperatures until they turn pungent and slick, with waving tendrils of slime. There are all kinds of varieties. Natto is rich in vitamin K and is thought to reduce the risk of blood clotting. And while many in Hawaii love it in sushi or on poke bowls, the 70 percent of Japanese who like natto usually have it for breakfast.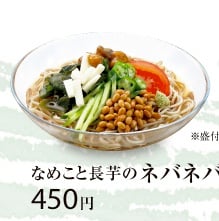 Why is July 10 Natto Day?
In Japanese, 7-10 can be pronounced na-to. They're punny, the Japanese.
What happens on Natto Day?
All over Japan, natto is served. At home, people cook with natto. Check out this midsummer delight that 7-Elevens in Japan featured last year. And somewhere, a Miss Natto handed out 250 packs of free natto.
Video: Nonstop's Un-Valentine Natto Dinner by Grant Kawasaki at Dash Gastropub
Photos: Nonstop's Natto Day Dinner 2012 at Tokkuri-Tei