Growler USA in Hawaii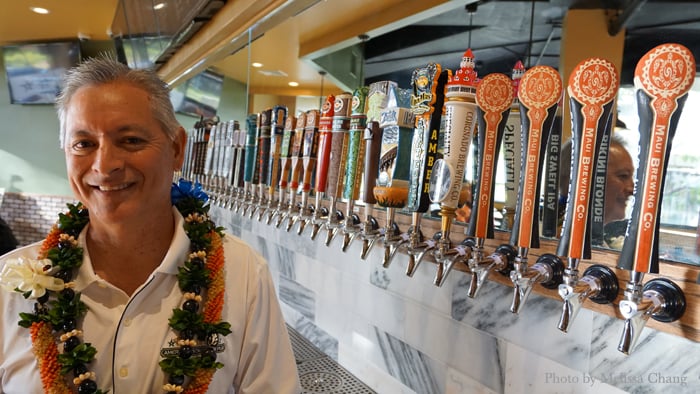 Bill Muneno is crossing his fingers and hoping that his Growler USA craft beer pub opens today at 11 a.m. in the old Hee Hing building on Kapahulu Ave. At this writing, he is pretty sure his doors will open on time.
As you saw in Grant Shindo's preview, there will be about 100 beers on tap, of which 29 are local kegs. Muneno — brother of KHON anchor Kathy Muneno — is the first Hawaii franchisee for this national chain. The official grand opening is set for August 24, but this weekend will kick off Growler's public opening. Most of the food and beer menu is in place, but there are still a few finishing touches (for example, Muneno just met with the owner of Mehana and Hawaii Nui and is working to bring those in).
You've seen the beer. We got to try some of the food items last night at the last of his soft opening events:
Deemed a "pub favorite," the Asian salad is marinated chicken, mixed greens, carrots, peppers, walnuts and croutons tossed with Asian vinaigrette.
No surprises here, just baked white meat chicken fingers with a choice of five sauces. We tried the honey sriracha, which was zesty.
The flatbreads are naan tandoori crusts with various toppings: the bacon chicken ranch is just that, with tomatoes and a ranch drizzle — but you can opt for a Buffalo wing sauce drizzle, instead. The Philly flatbread features slices of beer brat with mushroom, peppers, onions and a Dijon mustard drizzle.
The blackened mahi tacos ($9), another pub favorite, are not photogenic at all, but they are delicious. The southern-style cole slaw and pico de gallo with fresh lime and sour cream provide a medley of flavors and textures in each bite.
Fluffy Bavarian pretzels are toasted for a hearty crust, and served with your choice of mustard.
I didn't get to try the Buffalo chicken wrap, but in case you were wondering: it's chicken tenders tossed in a spicy buffalo sauce, then wrapped with lettuce, tomatoes, cheese and your choice of dressing.
If you think the beer brat mac 'n' cheese is unphotogenic, you should see the one with chicken! But this is a good, unfussy dish of rotini pasta in a four-cheese sauce, topped with beer brat, chicken, or shredded pork. Another pub favorite.
The tater tots, a pub favorite, are good on their own and actually don't need any sauce. We chose the ranch dressing, but you could opt for ketchup or bleu cheese for dipping.
If you're a beginner at beer or just aren't into it, they do offer wines, ciders, handcrafted root beer and kombucha tea. The hard root beer is a sweet, creamy concoction with light alcohol content, while this pre-sweetened cranberry hard cider is very tart and sweet. The hard apple cider, not pictured, straight up tastes like juice.
You can bring your own growler to purchase beer to take home, or you can buy one of Growler's branded containers. If you are buying beer to take home, you get 15 percent off your container price, but pay full price for the beer. The hydroflask-style growler is a popular new concept that is less breakable and easy to carry; the beer purchased has a shelf life of two to three days in these.
If you're a beer drinker, you'll want it served to you in the proper glass. From left: the sampler; red wine glass; pub glass for IPAs, ales and lagers; hard cider glass for fruit beers, cider and lambic; pilsner glass; rounded pub glass for stouts, porters, and nitrogenated beers; Belgian beer glass; and a white wine glass.
Growler USA Honolulu Kapahulu
Hee Hing Plaza
449 Kapahulu Ave. Suite 105
Open 11 a.m. to 11 p.m. weekends, 11 a.m. to 10 p.m. weekdays