Group Forms to Urge Hawaii Legislators to Legalize Civil Unions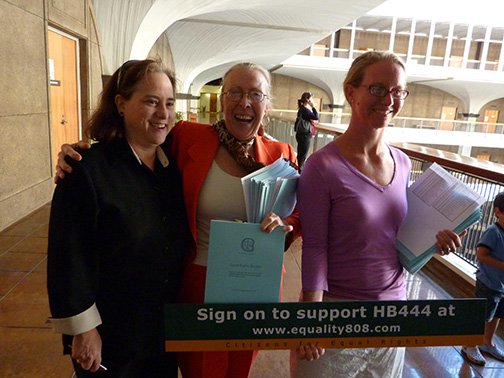 This year's Legislative session may be coming to a close this Thursday, April 29, but that doesn't mean that supporters of House Bill 444, which proposes to legalize civil unions in Hawaii, are giving up.
The fledgling organization, Citizens for Equal Rights (CRER), formed late this month to show that support for civil unions is strong. "Our objective is to show a broad cross-section of society supports this," says the organization's president, Rachel Orange. "This is not a fringe issue."
The group is demonstrating its endorsement of HB 444 by way of photo petitions. Supporters can sign the petition and submit a photo on the organization's website. "We wanted to take another angle and put a face to those who would be affected if this passed," says Orange, adding that CFER also took out adds in the local papers to inspire people to participate.
The petitions and photos were made into a "family portrait booklet," and given to Legislators at the state Capitol yesterday. More than 800 people from Hawaii participated in the first edition, including artist Pegge Hopper, comedian Augie Tulba, former Miss Hawaii Brook Lee and Gov. Ben Cayetano in addition to local attorneys, labor leaders and professors and reverends. Orange says that participants continue to sign up. She hopes to present another round of booklets to Legislators this Wednesday.
The purpose of the petition is to convince lawmakers to force a vote on the civil unions bill before the session adjourns. The bill was last brought up in January, when Legislators voted to postpone it indefinitely.
Orange says the booklets were given to Legislators who have supported civil unions in the past in hopes that they will change their mind and publicly support HB 444. "The booklets show [Legislators] there is a lot of people behind you. There is mainstream support, there are not just protesters against it."
UPDATE 4/30/10: Citizens for Equal Rights, and many others across the state had cause to celebrate yesterday as the Legislature passed HB 444, allowing civil unions in Hawaii. The bill passed 31 to 20. It will now be sent to Gov. Linda Lingle and her decision is due July 6. She will either sign or veto the bill; she has not publicly expressed her opinion on the matter. However, the House fell short of a two-thirds majority needed to override her rejection if she vetoes HB 444.