Grave Concerns: Maureen Andrade Wants to Save a Pearl City Cemetery
The state may take over maintenance of a Pearl City cemetery that's faced declining and sometimes dangerous conditions after more than a decade of legal limbo.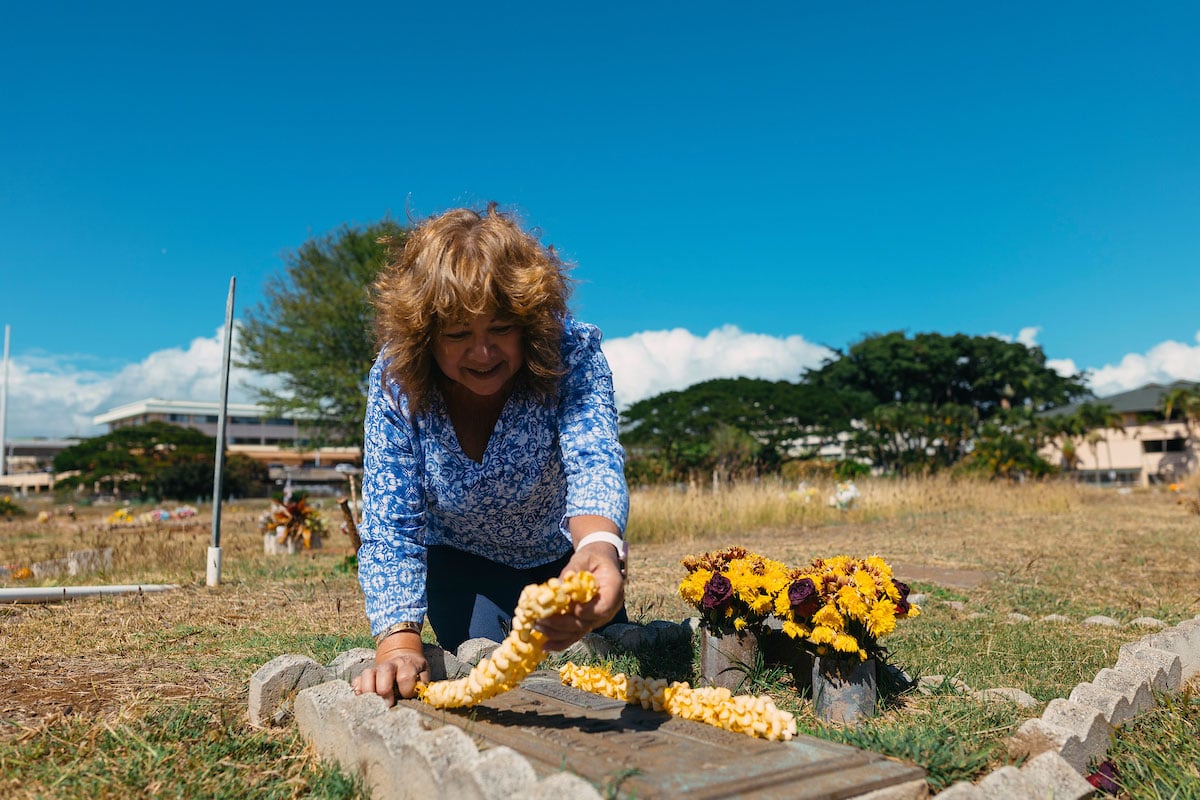 Maureen Andrade visits dilapidated Sunset Memorial park in Pearl City most Sundays to pay respects to three generations of family members buried there. She usually brings flowers and often hauls a battery-powered weed wacker and 10-gallon bucket of water.
She tends to the graves of "my two great-grandmas, my grandparents, my mom and my dad and my sister." Andrade is among the longtime volunteers who have responded to sinking graves, a crumbling mausoleum, thefts, fires, waist-high grass and more.
State Rep. Gregg Takayama, who represents the area near the privately owned cemetery, says it's time for the state to step up. "I think what's been a chronic problem has risen to a crisis," he says. "State action is warranted," especially after three fires broke out there in two years in the debris of a squatters' encampment, including one on Easter Sunday.
Pearl City Neighborhood Board Chair Larry Veray says the problems have festered too long. "It really needs grass-cutting bad; some lady fell in a hole there, because there are places that grass is 2 or 3 feet tall."
Takayama says neighbors worry the fires threaten their homes as well as the century-old graveyard. Officials acknowledge the 5,000-plot cemetery has been plagued by problems and disrepair after the company that owns it involuntarily dissolved in 2006, and the company's owner died in 2011, leaving it in legal limbo.
Takayama notes that the state Department of Accounting and General Services has maintained six cemeteries on O'ahu for decades, including 'Aiea Government Cemetery near Aloha Stadium and Pu'ukamali'i Cemetery in 'Ālewa Heights. He favors the same care for Sunset Memorial. Hawai'i Comptroller Curt Otaguro responded by email that the legal issues are complex. But he says his department "shares the community's concern about the conditions at Sunset Memorial Cemetery and the plight of the families who have relatives buried there and will be working under the governor's leadership to find solutions for the community."
Andrade says that when her dad's headstone started to sink, her family kept bringing garden soil to stabilize it. About two dozen graves have sunk so deep the headstones can't be read. She hopes the state will step in and tap a cemetery trust fund reported to hold more than $168,000.
SEE ALSO: Field Notes: These People Honor the Father of Baseball at an O'ahu Cemetery
In years past, thieves stole copper urns from some graves and police found they'd dumped the ashes and sold the metal containers for $31 to recycling centers. Rep. Roy Takumi, whose district includes the graveyard, says such thefts prompted the state Legislature in 2016 to pass a law making it a felony to steal an urn containing human remains.
To help address the Sunset issues, the Hawai'i Department of Commerce and Consumer Affairs hired a surveyor and set up a public database to document the location of each plot, marker and other information, director Catherine Awakuni Colón says. From February to April, the consultant received 10 responses. Colón says the long-term goal is to settle the uncertain property ownership, "wind down the now-defunct corporation that owns the property, and to transfer the property to a willing and responsible caretaker."
Takumi worries about the future of these aging graveyards. "While I might visit my father's gravesite at Punchbowl, I don't know if my great-great-great-great-grandchildren will do that," he says.
Andrade says she's grateful to those trying to help. "It's sad, but I need to make sure that my family is taken care of," she says.
The state is gathering info at sunsetmemorialparkhonolulu.org from families until July 30.
---
More photos by Aaron K. Yoshino: