Gourmet Breakfast Sandwiches and Flash-Brewed Coffee Pop Up in Downtown Honolulu
Thursday mornings, WeirDoughs Focaccia and Creature Coffee team up at Harbor Court's Hana Kitchens.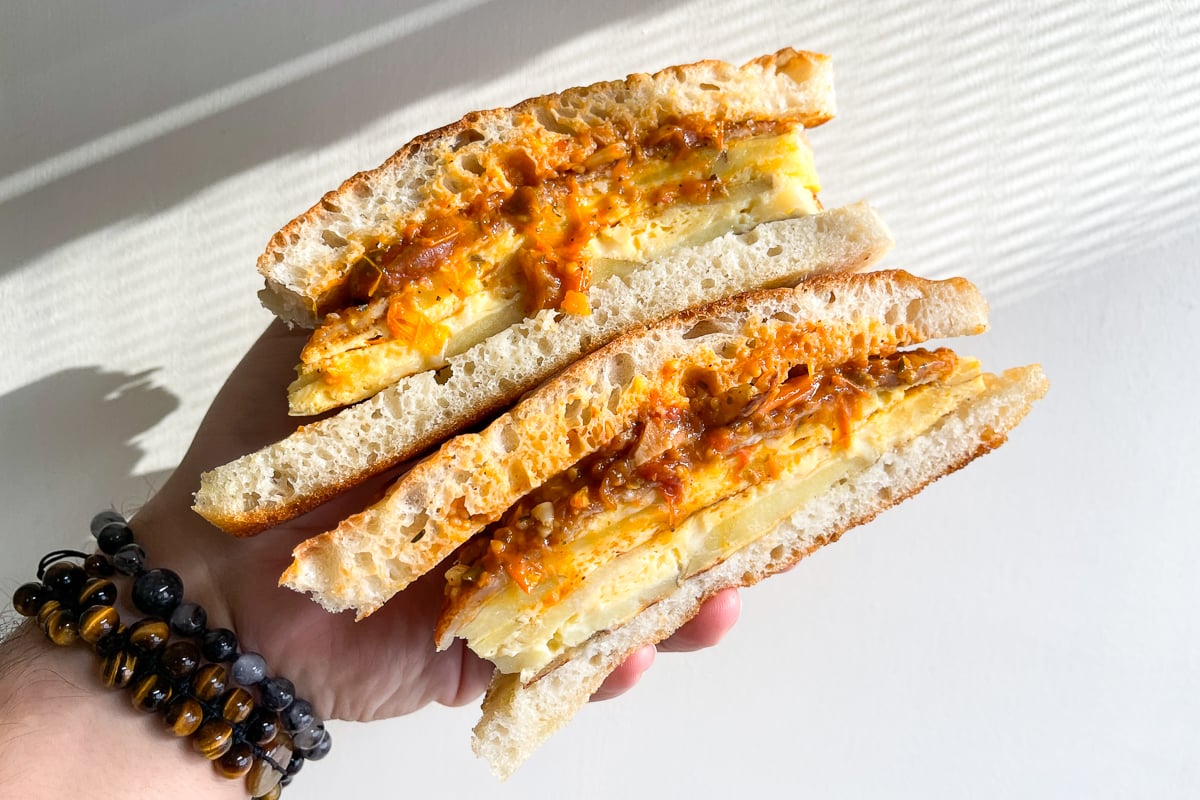 I LOVE bread. Now that I got that (not-so-secret) confession out of the way, I can tell you about one of my favorite bakers: Aaron Biolos, also known as WeirDoughs Focaccia. His pillowy-soft focaccia can be found at weekly farmers markets in iterations from Hot 'n Weird sandwiches stuffed with meat and spreads to square pizzas and thick breakfast sammies. Lately Biolos and his market buddy, Kelli Chun of Creature Coffee, have begun popping up Downtown at Hana Kitchens on Thursday mornings.
As a recovering Downtown worker bee, I can tell you there are never enough options for breakfast. Spam musubi for the third day in a row? I don't think so. Walk up the steps to Hana Kitchens (the old Palomino restaurant in Harbor Court) for this: a beastly breakfast sandwich ($13) with eggs baked with potatoes and mozzarella and smeared with sweet-savory tomato jam. This all, of course, between slices of WeirDoughs' dreamy focaccia. Chun can back it up with one of her flash-brewed iced or hot coffees ($3), a good option because seriously, these hefty sandwiches just might put you to sleep.
SEE ALSO: Two-Minute Takeout in Downtown Honolulu/Chinatown: Tio's Tamales
Equally satisfying is Biolos' weekly lunch box containing a focaccia sandwich, side and sweet treat for $15 (also available a la carte). For the sheer amount of food, it's a deal for Downtown and easily sharable. One week he featured The Local General Store's roast beef sliced thin and piled high with a caramelized mushroom and horseradish mascarpone spread with local arugula. I don't know how I pushed through to eat both halves in the same sitting, but I did.
A cup of kung pao spiced cauliflower accompanied the sandwich along with a rich chocolate chip cookie from The Kuki Man but I was so full from the sandwich, I saved them for dinner. Both were a little too sweet for my liking, but they rounded out the lunch box quite well. Maybe you can barter with your lunch buddy for their chips or fruit.
SEE ALSO: Roll With It: Bombucha Focaccia Sandwiches from a Cute Blue Food Truck
My first taste of WeirDoughs was during Biolos' first pop-up at Honolulu Beerworks (where he was the longtime chef) during the early stages of the pandemic. His muffaletta sandwich, an icon from New Orleans, remains on the brain nearly two years later. If it makes an appearance in the lunch box, I'm dropping all my plans to order it.
If you can't get to the farmers markets, this Thursday-only pop-up might be your gateway to sandwich heaven.
Thursdays from 8:30 to 11 a.m. Hana Kitchens, 55 Merchant St., Suite 20, @weirdoughsfocaccia, lunch box pre-order