Golden Moment: Q&A with Kristi Yamaguchi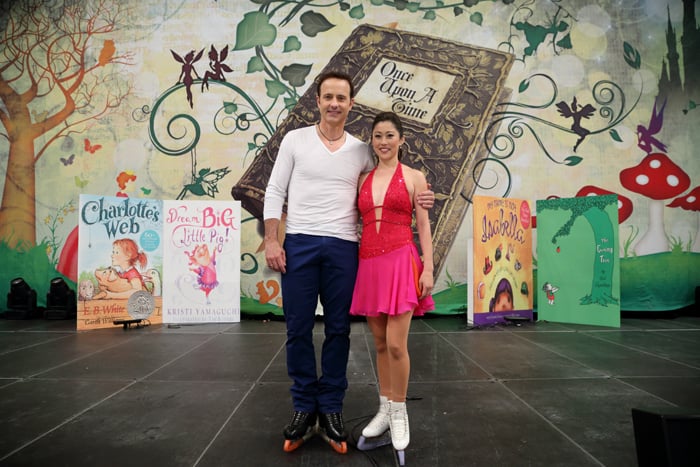 Tickets go on sale today for the first ice show in Hawaii in nearly 20 years, featuring a star-studded cast of figure skating champions. The Blaisdell Arena will be frozen over on November 20 and 21 for "Golden Moment," a skating concert on ice to benefit early childhood literacy in Hawaii, a project of Olympic Gold Medalist Kristi Yamaguchi's Always Dream Foundation (ADF).
Skating fans will be especially excited to hear the lineup of professional skaters: Olympic Gold Medalists Kristi Yamaguchi (Albertville), Brian Boitano (Calgary), Meryl Davis and Charlie White (Sochi), Shizuka Arakawa (Turin) and Katia Gordeeva (Calgary); world champions Kurt Browning, Yuka Sato and Miki Ando; and national champions Takeshi Honda and Jeremy Abbott.
Golden Moment will also feature select skating performances choreographed to live music by Hawaii's own Na Leo and ManoaDNA, as well as an opening performance from the Hawaii Figure Skating Club. Film and television star Daniel Dae Kim will co-host the Nov. 21 performance; local sports media personality Francesca Weems will also share her story. Honorary co-chairs include First Lady Dawn Amano-Ige, Mayor Kirk Caldwell, Duane Kurisu and Mitch D'Olier.
We caught up with Kristi Yamaguchi to find out ab out her, and more about why this show is so important to kids in Hawaii.
First things first: What's your favorite local Hawaii food (and where)?
Shave ice and malasadas. I'm not usually a sweet person but they are so unique to Hawaii! Saimin, Side Street Inn, Roy Yamaguchi's and Alan Wong are special occasion stops — and as you know, Roy has a very good last name! Sam Choy is one of my favorites, too. He once joined us and made poke for us. Also I love Sansei's crab truffle ramen.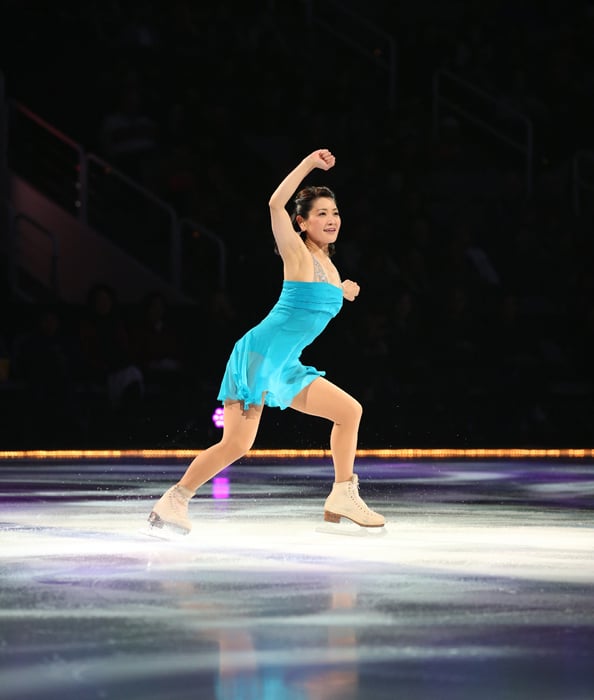 I understand there hasn't been an ice show in Hawaii for more than 20 years.
Hopefully it will be a new experience with champions form North America like Jerry abbott, skaters from Japan, etc. It's a good mix of talent, and their first time all together on ice. We'll also be performing with two groups from Hawaii playing some live music: Na Leo and Manoa DNA. We've done it before in Oakland; the biggest challenge is prep beforehand, like finding music from the artists and skaters that are open to skating to live music. We also have to get the skaters the music in time so they can practice.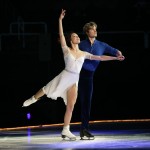 What is your Hawaii connection, and what's your goal for the state?
We were looking to expand outside of California and we had friends and contacts in Arizona and a reader who knew the Arizona area. We have a lot of friends in Hawaii as well. It's kind of became a second home for us. My family has made extended visits out here for the last 10 years or so. We knew there was a lot of need out there and finding areas where we could use our resources would be key. Hawaii fit that profile. And because it's a special place!
The proceeds from this event will stay in Hawaii and expand to more schools. We will be bringing in kindergarten students from participating schools and have a reading incentive program. They have to hit a certain number of minutes of reading and will get up to three tickets to go to the show for free.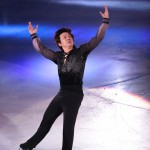 What made you decide to focus on early childhood literacy?
Becoming a mom, reading to my own kids and knowing it was the biggest gift I could give them. I also found a lot of joy in becoming an author, interacting with kids and seeing first hand how engaged they are and sparking a love of books. When we wanted to go into the education space, we wanted to start at the grassroots level to build success for children … put books in children's hands and introduce them to 21st century learning.
What are some tips you can share for parents to get their kids more interested in reading?
It starts at home. Try to make it a routine in the house. In our house, we make it bedtime. It becaome something our kids expect and want. Or my husband reads a special book to them. Maybe it's after school. Or after dinner. Or wherever it fits. Find those times where you can share it … it's only 20 minutes a day. Find something they're interested in: My brother only wanted to read about basketball and Michael Jordan. And that's okay!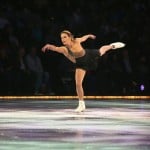 What's your favorite book?
Growing up, I loved Dr. Seuss. Charlotte's Web is still one of my favorites. My kids currently are loving the Percy Jackson series. My older one really loves Seekers, too, and the younger one likes the Magic Treehouse series by Mary Cope Osborn.
What are you reading now?
I'm actually reading an autobiography called "Thomas and the Pencil," on starting a nonprofit.
Golden Moment
November 20 and 21
Blaisdell Arena
Tickets: www.ticketmaster.com, or charge by phone at 800-745-3000, Arena Box Office and all Walmart outlets. Group sales are being managed by Hawaii Opera Theatre at 808-596-7858. For more information visit www.alwaysdream.org.