Gochi Grill to bring upscale bentos to Bishop Street
New bento spot set to open June 4 in the Remington College building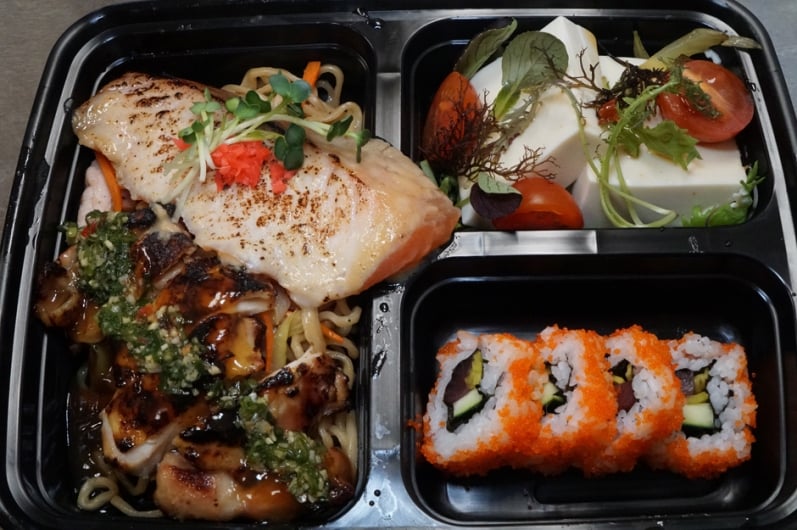 Downtown office workers are eagerly anticipating the opening of Gochi Grill in the Remington College building on June 4. Yes, there are plate lunches and bentos everywhere, but this one promises to be a little different.
Not many people know John Iha, the chef behind the new restaurant, because he's rarely been one to cater to the masses through media. Even when he was the chef at Hiroshi and Sansei, he was content to simply work behind the scenes and do what he did best: create delicious plates. At one point, he felt he had burnt out and took a job cooking at St. Francis Hospital, but that period of convalescing helped him realize that he missed being a true restaurant chef. After searching for a while, he found this space on Bishop Street and it was perfect for the concept he had in mind: local comfort food with a upscale twist, the way he likes to eat at home. He's bringing his skills and is opening with another stealth talent, sous Sean Uyehara, who worked with him at Hiroshi and most recently was at Over Easy in Kailua.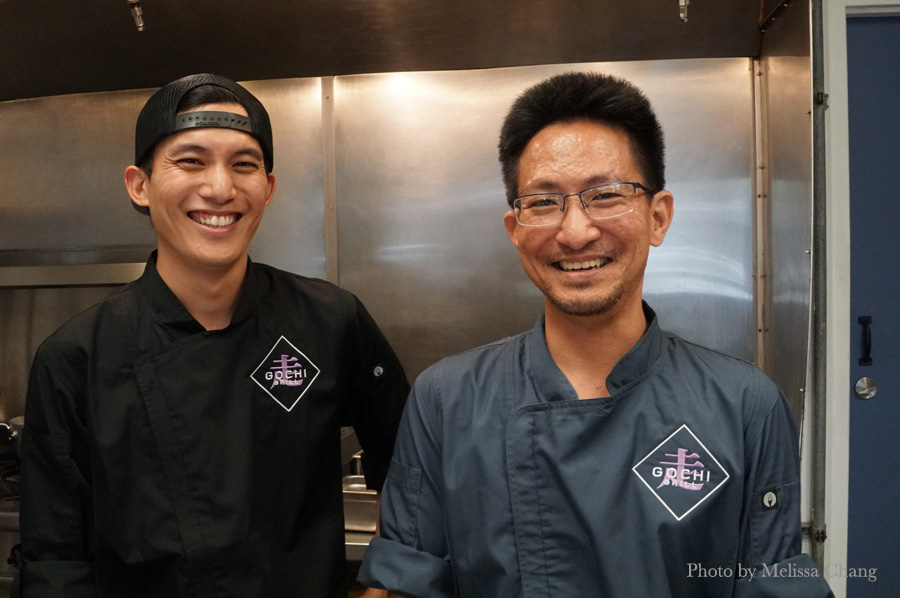 When I say "upscale," I don't mean expensive. Gochi Grill is going to have items ranging from $5 to $13.50, with the average item at $10.50. As you'll see below, the presentation and ingredients are pretty straightforward and simple, but Iha adds a little fancy element to each that brings the flavor up a notch. Here's a preview in my predicted order of favorites: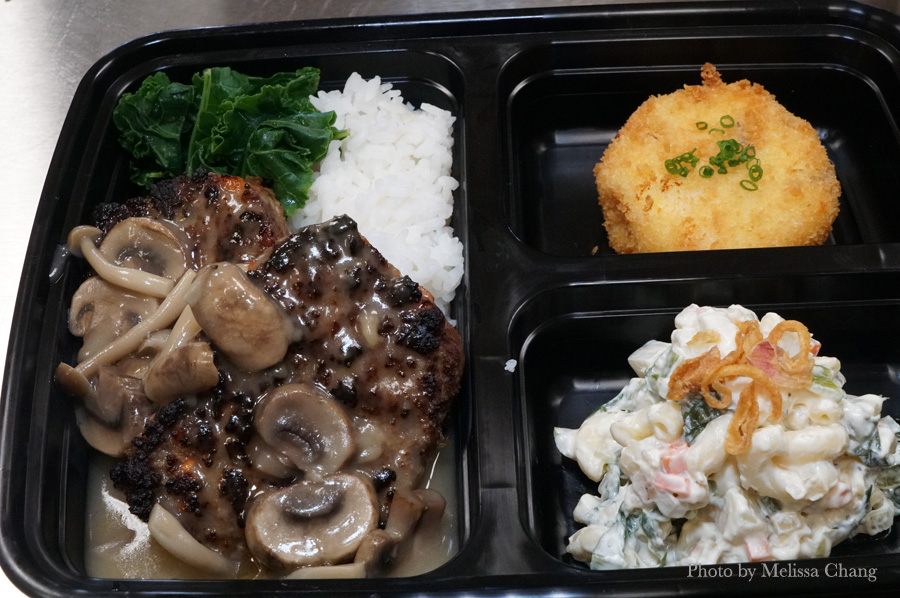 One of my favorites at Gochi Grill coming out of the gate has got to be the meatloaf, which is slow roasted and seared. This is probably the ultimate in comfort, and that truffle gravy fills your mouth with umami. The croquette is tender and slightly savory inside, but freshly crunchy on the outside. It's probably the best croquette I've ever had.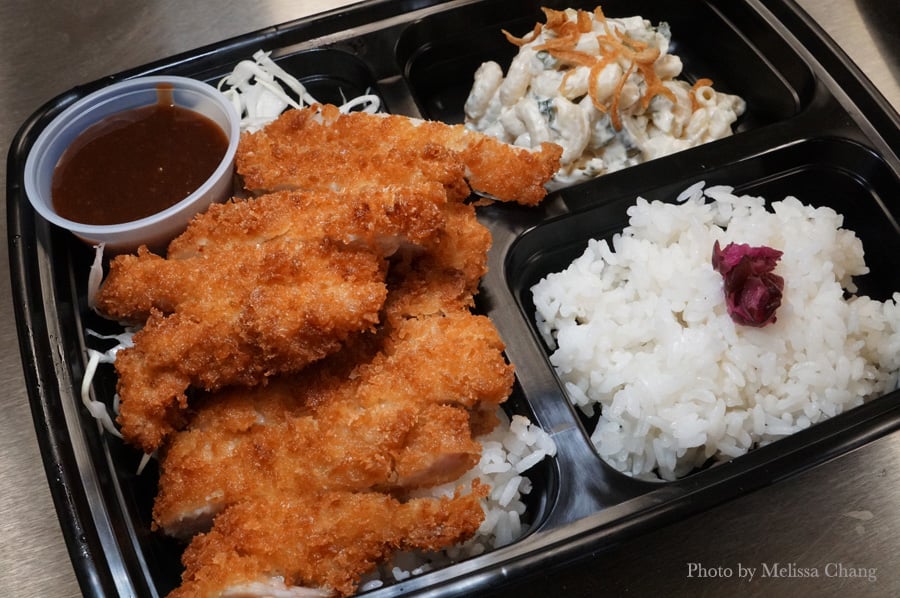 Like the croquettes, the katsu is freshly crunchy on the outside. The meat is super moist, too, since they use thighs and brine them. Here's where Iha and I differ on opinion, though: I took leftovers home and had this with plain katsu sauce instead of his fancy one, and thought that made the quality of the katsu shine through. I felt like the fancy pants katsu sauce, although really good, detracted from the fact that the katsu is MEAN! I prefer it with plain katsu sauce. You be the judge!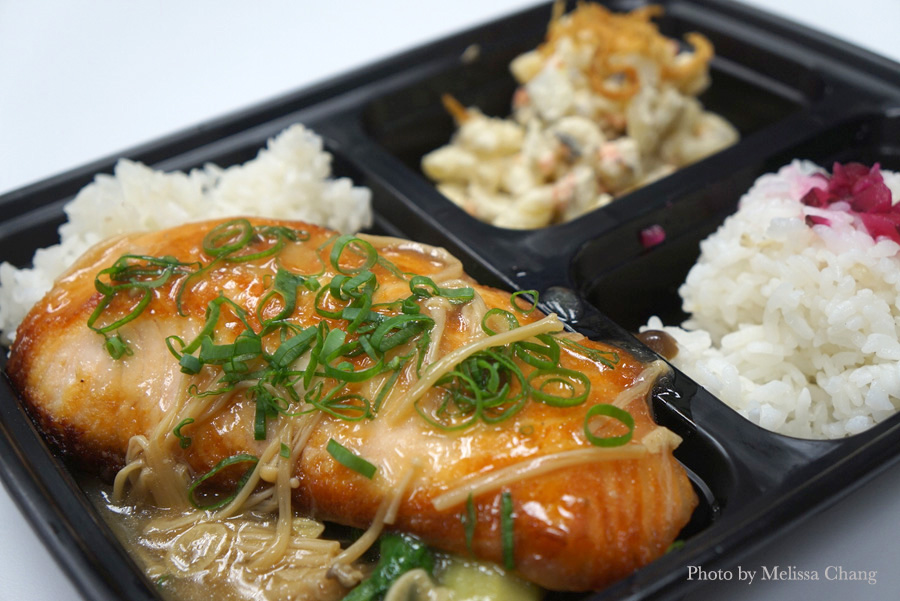 When I first tasted this salmon with FNG (fish-n-ginger) mushroom sauce, I swooned and thought it might be their signature dish. But then I tasted the other two, above, and that went out the window. It's still good, though. The sauce is full of butter and garlic, and the salmon just makes it taste even more buttery. I originally named it Iha's "love sauce," because I loved it so much, but all the guys in the room felt uncomfortable with that, so it was renamed FNG sauce. It's so good that you'll be dredging that second scoop of rice through it to get every last bit.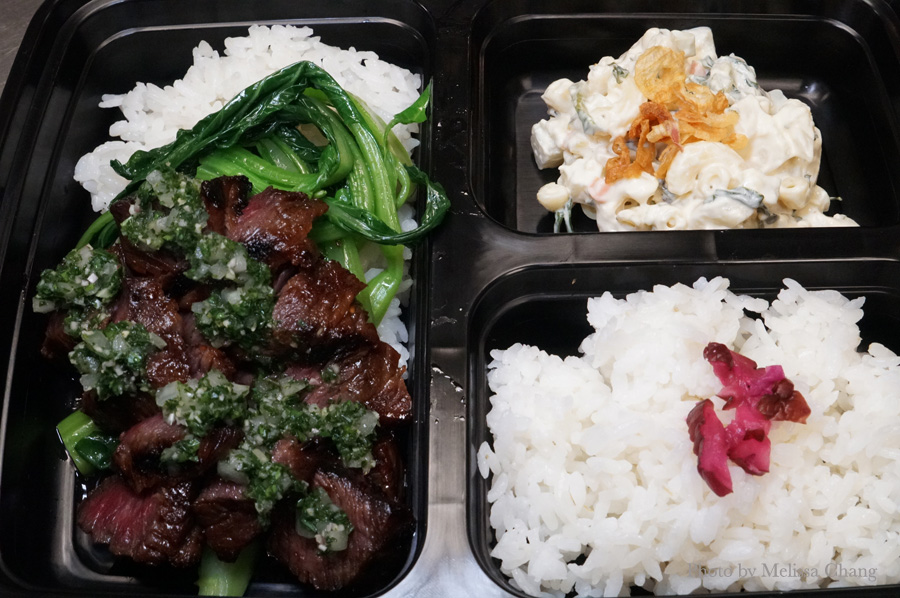 My next favorite is their boneless kalbi, served with lemongrass chimichurri, choi sum, rice and mac salad. The meat is firm but tender, so it holds its shape but is very easy to eat. And while it has that sweet-salty kalbi flavor, that lemongrass chimichurri gives it a fresh, east-meets-west boost.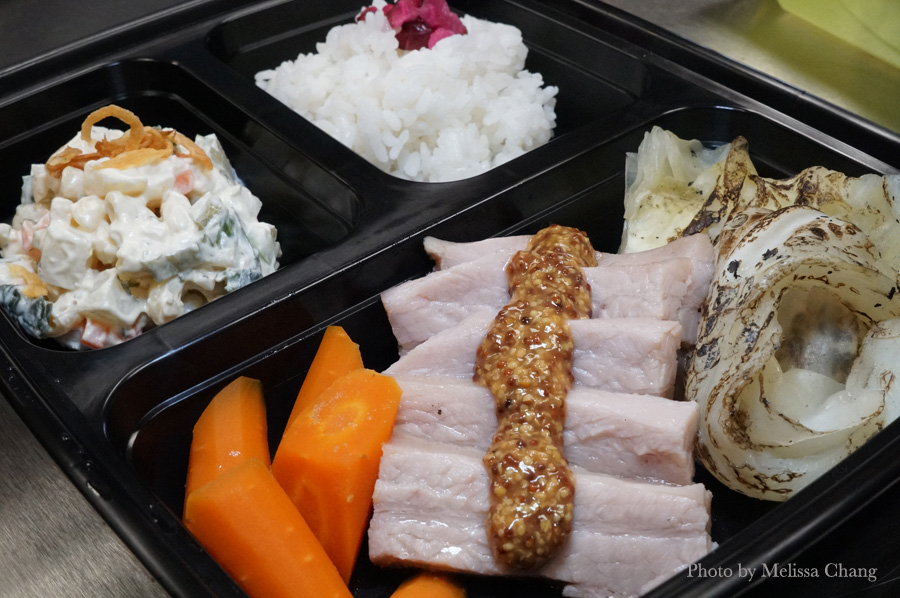 Not corned beef…corned pig! Gochi Grill takes pork belly and serves it with charred cabbage for a completely different take on an almost-familiar flavor profile. Look at how moist that pork is, you can practically drink it. The smokiness gives depth and complexity to an otherwise bland cabbage.
Speaking of moist, the lunch set (above) is also one of the early crowd favorites due to the tender chicken and super melty fish. Gem Nishimura of Hawaii Mom Blog, who is a picky eater, dug into the lunch set and started yelling about how good Iha's food is.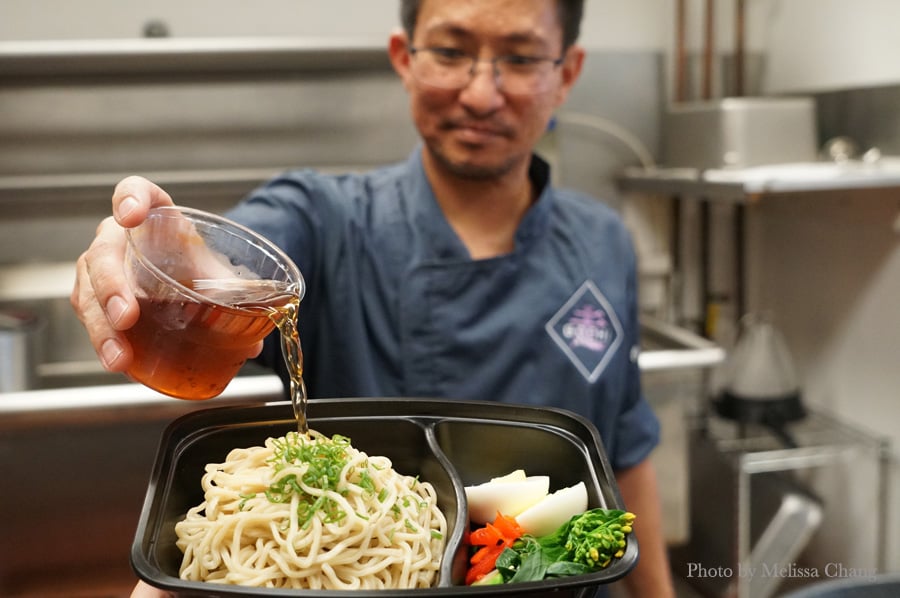 And not zaru soba, but zaru saimin! Gochi Grill gets fresh Okahara saimin, a hard-boiled egg, choi sum, tsukemono and green onion together, then you pour cold truffled tsuyu (which is a little spicy) over it. This is very refereshing, but heavier than the usual somen or soba, so it fills you up.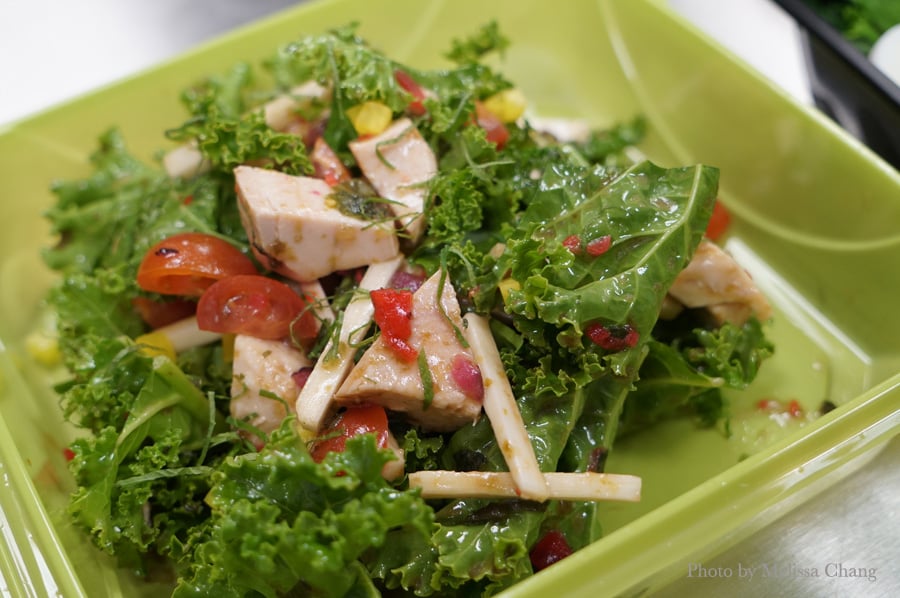 For the healthier eaters, Gochi Grill does have salad. This one features slow-roasted chicken breast with nori vinaigrette, kale, mixed greens, tsukemono, cherry tomatoes, heats of palm, and Japanese cucumbers. I think because of the hearty kale, this does fill you up and sticks with you.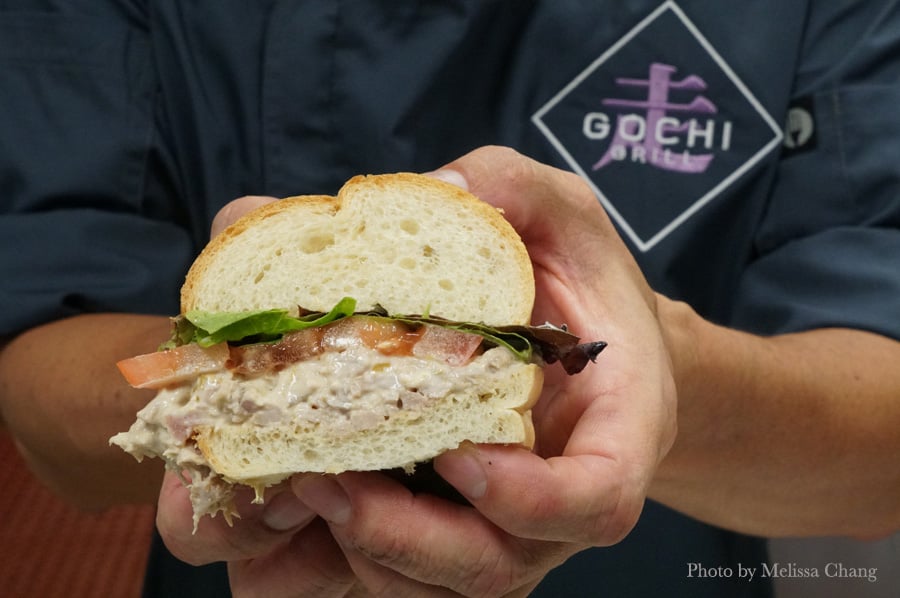 This is a far cry from the canned stuff. Gochi Grill takes fresh local ahi and mixes it with lemon nori aioli, mixed greens, tomato, chiso, and kizami wasabi, then puts it on a baguette and serves it with French fries. It definitely has a homemade quality to it, with bright pops of flavor due to the chiso and the lemon nori aioli.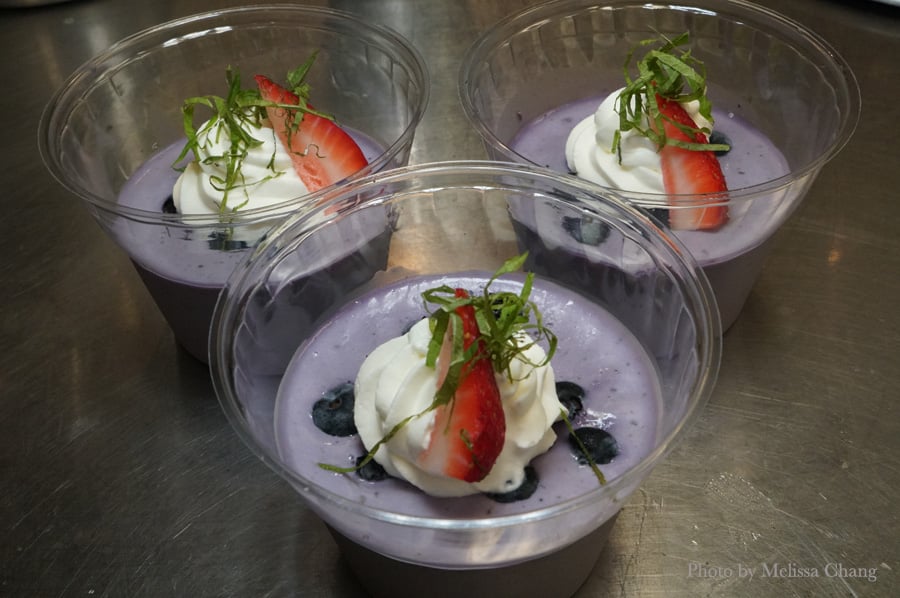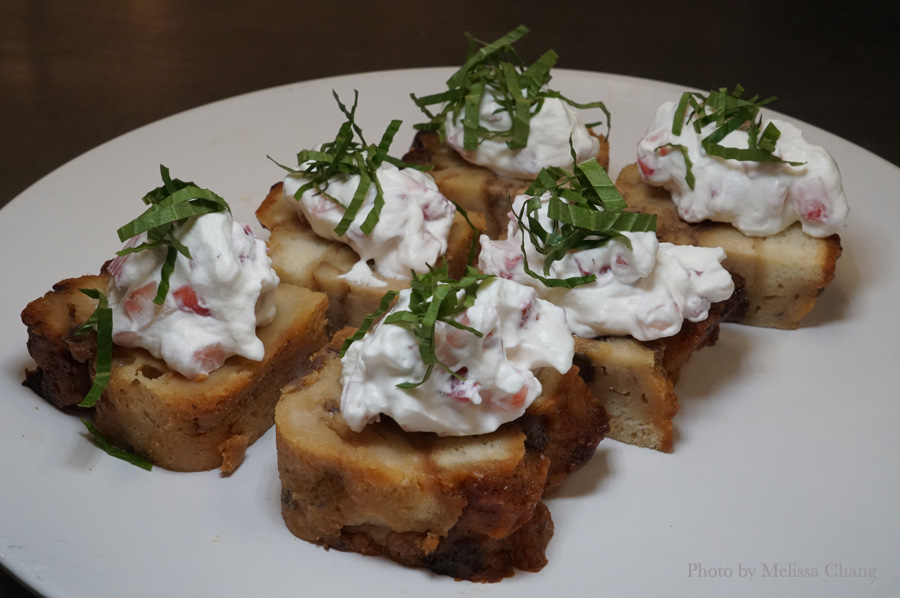 And if you're not too full, you can get dessert, and even that is fancier than it looks. The panna cotta is blueberry-infused Italian cooked cream topped with fresh berries and whipped cream. The bread pudding is comprised of Jameson-infused banana, peanut butter, and chocolate, then topped with whipped cream, strawberries, and shredded basil. It's a pretty guaranteed kanack attack.
Given their restaurant experience, the guys at Gochi Grill are doing things right. They've had a couple of test runs to make sure they can keep up with the pace and don't run out of food on their first day. My best advice to people who have been asking me what they should order there? Order what you like, because the lunches are all meeeeaan. It almost makes me wish I still worked downtown.
Gochi Grill
1111 Bishop St.
Opens June 4