Gluten free baking with kiawe flour: chocolate chip cookies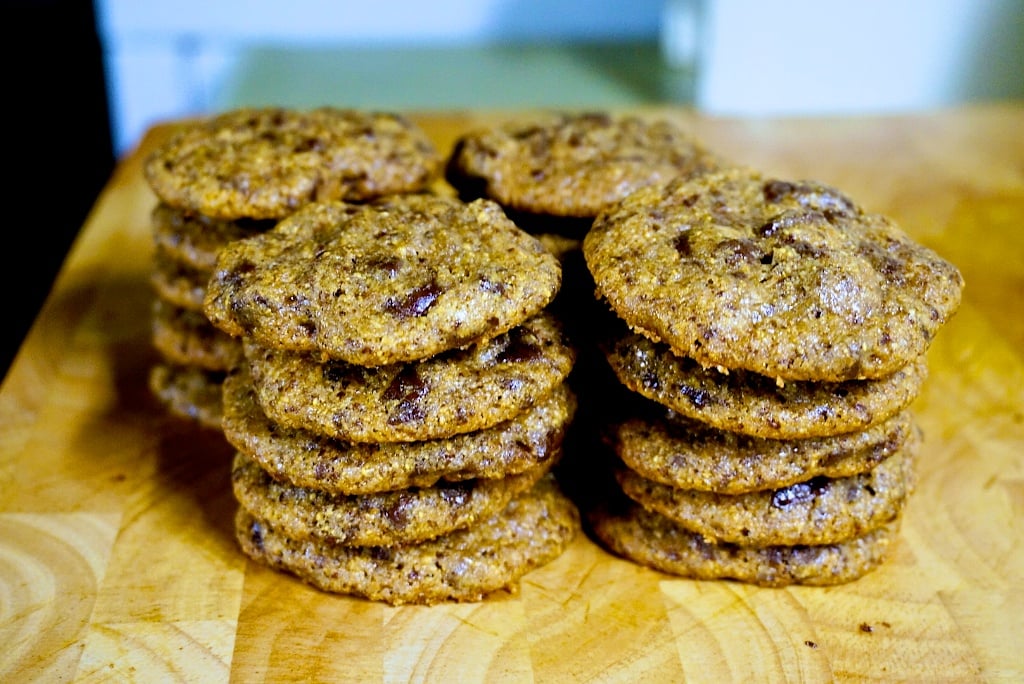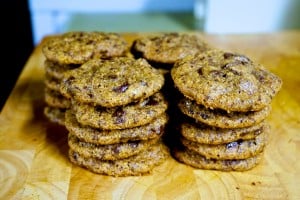 There was a time when "gluten free" meant baked goods that resembled the flavor and texture of cardboard. However, gluten free baking has made several major strides in recent years, with gluten free ingredients readily available in most major markets.
A somewhat recent newcomer on Hawaii's gluten free market is Wai'anae Gold kiawe flour.
I was first introduced to kiawe flour at Green Wheel Food Hub's pop-up store a few months ago. One of their partners, Tante's Bakery, was there with samples of bread made with kiawe flour.
Always looking to use and support local food products, I became intrigued by the kiawe flour and set out to acquire some with the intention of seeing what I could do with the ingredient.
It took me a few weeks, but thanks to Kealoha Domingo from Papahana Kuaola, I was able to get some kiawe flour from the producers at Wai'anae Gold.
Wai'anae Gold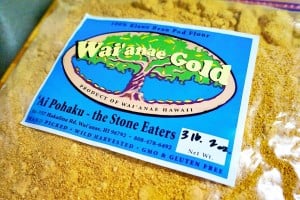 The Wai'anae Gold flour is made from the dried pods that grows on kiawe trees.
Vince Kana'i Dodge (father of Mana Ai founder Daniel Anthony), has been experimenting with ways to utilize the kiawe tree, an evasive species, for years.
Just as health conscious as he is an environmentalist, Dodge found that aside from being gluten free, the pods have a low glycemic index, which make them good for mitigating diabetes, heart disease and colon cancer. This meant that the pods could be used for more than just cattle feed, so Dodge started looking into products that could be brought to market for human consumption.
Recognizing the health benefits of the pods, Dodge started experimenting in 2009 by making a tea that has been described as having a malty flavor.
He then traveled to Argentina to research how natives there used the beans traditionally in their diets, and came upon the practice of milling the dried pods into flour.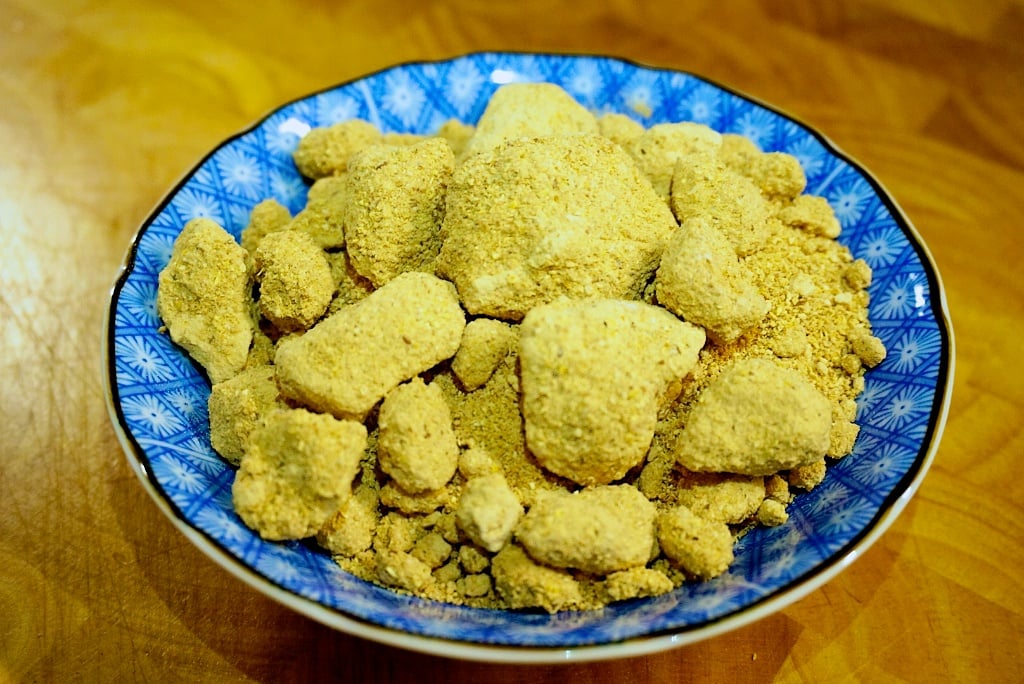 Upon opening the bag, I experienced a pleasant aroma that hinted at the woody sweetness of the flour, which I found to be similar in flavor (and visually) to graham cracker crumbs.
As for texture, I would describe the kiawe flour as having a course grind that is slightly softer than cornmeal.
Kiawe Flour Cookies
Although I was eager to bake some bread (maybe next post), I figured that since Tante's was already doing this, I may as well experiment with something different. Therefore, I decided that my first test batch would be chocolate chip cookies.
Due to the kiawe four's coarseness I decided to use it the same way I would use cornmeal, so it would serve as flavoring instead of the primary binding ingredient. Since the Kiawe flour had a tendency to clump, I sifted it together with equal parts of gluten free all purpose flour. I then scaled this mix into my cookie recipe as I would regular flour.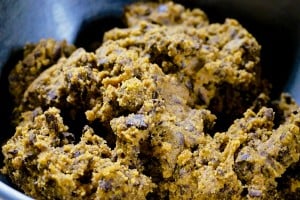 Based on the sheen of the dough and it's slight tackiness, I immediately noticed that the sugar content of the recipe was off. This was no doubt a result of the innate sweetness of the kiawe flour.
The cookies baked with no problem and looked exactly the same as if I used regular glutenous flour.
Thankfully, the added sweetness of the flour did not effect the spread of the cookies during baking. However, I found that the cookies tasted noticeably sweeter than my normal recipe, which means that I will have to slightly reduce the amount of sugar in next time.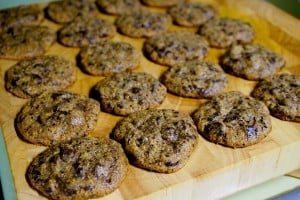 Texture was a different matter. The course grind of the kiawe flour left fibrous bits in the cookies that would get stuck in your teeth. A problem that can be easily remedied by placing the dry ingredients into a food processor for a minute or two to get a finer grind.
The best part about using Wai'anae Gold in my cookie recipe was that the cookies retained the aroma of the flour. The added sweetness of the kiawe mingled with the chocolate to yield a great cookie smell that I can only describe as baking cookies in a kiawe wood-burning oven.
With several pounds of kiawe flour remaining, the question now is what shall I make next?