Glenn Chu on Indigo's closing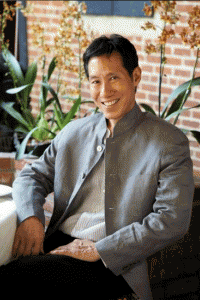 Last week, after 19 years in business, Indigo closed its doors. Things had been troublesome for chef/owner Glenn Chu, 61, for some time. In December of last year, he was hoping to sell Indigo—he had stepped down as executive chef after an accident in which he hurt his back, and the restaurant was operating at a loss. Then the fire in March happened, and it seemed like maybe it was a good time to close. But then Chu got a second wind (or, perhaps, simply had bills to pay), and he brought in new chefs—David Cruz, Robert McGee and Ricky Goings—to revamp the menu. There was even talk of a completely non-alcoholic bar (Indigo had lost its liquor license at the end of June). This, coming from the institution popularized by its $2.75 martini hours!
But it wasn't enough.
Here, Chu talks with us about starting the restaurant that launched the Chinatown revival, the good days, the mistakes made and his future plans.
What's next for you?
I'm sad that Indigo closed, but I look forward to doing new things. I think that what I set out to do, I did. Opening Indigo, I think, has helped to open up the whole Chinatown area and make Honolulu a destination, a place where you can go for entertainment in the evening … There are more districts like Chinatown that can benefit from a resurgence by tapping into different forms of culture or entertainment.
Do you want your next project to be in Chinatown?
Maybe, possibly. I've been thinking about another restaurant, a smaller restaurant, doing food that I like to eat. Food that has a little sassiness to it. Food that is spicy, a little bit citrusy.
Sassiness?
When you do things to food, salt and heat and sweetness add that dimension of sassiness. It's not in a bad sense. It's in a sense that it makes you look up and acknowledge it and say, "Hey, that's something!" Like a good slap in the face. … When we first opened, the flavors were very aggressive. When we ended, we became a lot more subdued.
What were the highs and lows throughout your tenure in Chinatown?
I think the real high of Indigo was watching the development of other businesses around us. For a time, when we first opened, Indigo was new and exciting. But, as the years grew on, people had already been there twice, three, four times. So it's a lot of work to keep Indigo fresh. And it's very difficult to do after 19 years of being in business. When the fire broke out, I really did not know if I would reopen or not … [But] I thought it would be a good opportunity to do the things I wanted to do in the past, to change the menu, to change the way Indigo would be perceived, to polish it up a little bit. But I lost my roots when I did that. I lost the soul of the business.
When we did reopen, we reopened to a new menu, new chefs. But I did not realize that people who enjoy Indigo really just wanted Indigo. They wanted to have Indigo back to what they thought Indigo was. That, I will always regret.
So they didn't want a new menu.
They didn't want a new menu. We tried to go away from the buffet, and they wanted the buffet back. [People asked] "What happened to the chicken sticks with the peanut sauce, what happened to the pork medallions?" It was a difficult lesson, but a lesson that I think other restaurateurs should think about. When you're established, change does not match perception.
We tried to reinvent ourselves. And it wasn't accepted. And I think it's quite unfortunate. The food we served was good. I was extremely proud of the chefs that worked with me in developing the menu. But it did not pass the test of popularity on the customer side.
How much time will you take off before the next venture?
My wife is urging me to take at least four weeks off. There are still a lot of loose ends to tie up. I have thought about restaurant ideas. I have thought about working for someone else. I'm not quite sure; I'm still dealing with the closing of Indigo. Just because the doors are closed doesn't mean that everything has stopped. What I do next, I don't know. I hope to be able to surprise myself. I hope to be able to think about what's happened in the past year. The choices that I've made and the choices that I will make.
Why did you close when you did?
We closed because it was pretty much time to close. When the fire happened, we were at a loss of income. The landlord made a commitment to move on and put another venue in our space.
[Note: a new tenant has not yet been announced.]
What originally convinced you to open Indigo downtown?
It's that spirit of adventure, of trying to do something. When Dave Stewart and I looked around, what we saw wasn't very pretty. The nicest feature was the water feature. The first thing we did was open up the space, we tore the mezzanine down and opened up the doors to see the outside. That was sort of an epiphany, of the place feeling not as it was in the '90s, but in the '30s and the '40s, with a little bit of romanticism, the feeling that even if you're in downtown Honolulu, you could have stepped into a James Michener novel. It was very good while it lasted.
Some people think because of the development of Kakaako, or for whatever reason, Chinatown is stalling a bit. What do you think?
It certainly feels that the energy moves, is constantly moving. Like feng shui, you feel the energy move from area to area.
When the energy moves, whether it's in Kaimuki or Kailua or Kakaako, it's because of people with open spirits and open minds, bringing new ideas and innovation into the area. It's going to happen, how can it not happen? Again, there are always younger people to take over, to take on the torch of moving into an area, of having that area open up, brighten up.
That seems hard as a business owner: if your brick and mortar can't move, is it frustrating to see that energy move away?
It's very hard, very hard. Yes. To see us when Dave Stewart and I opened up the Green Room, the Opium Den, the amount of money we were making then, it was incredible. Those days were long gone. It's difficult to say, well, what did we have then that we don't have now?
And that's part of life. That's part of aging. We want to follow the new trend, that's what I think what we want in our society.
Do you think you might be done with restaurants?
Yeah, this is time for me to take some time off, to read. Gives me an opportunity to stay still, read some good books, think about what I would like to do.
Finding another space, finding money to open up another space is not hard to do. There have been many people who have come to me and said they would like to do something with me, but right now it's too early for me to think about. Right now there's much more of a cleansing that I need to do. It's sort of a revitalization of myself and we'll see where that leads.