Girls Got Game @ Hawaii Food & Wine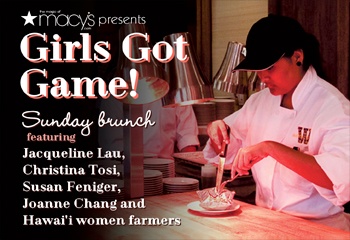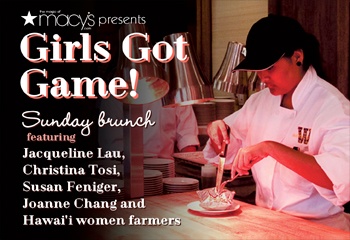 There are lots of amazing events scheduled for September's Hawaii Food & Wine Festival. One unique event with considerable buzz is the newly added Girls Got Game brunch, on Sunday, Sept. 9 at the Hyatt Regency.
Women chefs from around the country will be teaming up with women from Hawaii's farms and local food industry, including Chefs Jackie Lau from Roy's Restaurants, Joanne Chang from Flour Bakery+Cafe in Boston, Christina Tosi of Momofuku Milk Bar in New York City, and Susan Feniger of STREET in Los Angeles and "Two Hot Tamales" fame.
During interviews with them, chefs Chang, Tosi, and Feniger all shared how eager they were to utilize Hawaii's locally grown produce.
"We were inspired by the bounty of wonderful tropical fruits in Hawaii," says Chang, who is looking forward to working with locally grown mangoes, papayas and pineapples while at the festival.
Tosi knew going into the menu development process that she wanted to find a way to use coffee, pineapples, farm fresh eggs and some local greens in her dish. "We love to make homemade English muffins at our bakery and serve them with warm runny eggs," she says. "Coffee milk, we typically make with Stumptown Coffee beans. People go crazy for both, but I think we're easily the most excited about eating our own dishes in Hawaii."
Of anyone interviewed, though, Feniger was by far the most enthusiastic. "I went through the list of farmers they sent me," she says, "So there's Ho Farms, which has long beans, squashes and cucumbers that might be interesting in the the dish. There's Twin Bridge Farms asparagus that might be cool. I didn't really see melons on the list, but the Kamiya Gold papayas might be good in the Burmese melon salad with the coconut, peanuts and lime. That should be pretty delicious. Then the skirt steak is from Kuahiwi Ranch. I saw that they had beef so I wanted to utilize that."
Joining the chefs at the event will be women from our local food industry:
-Courtney Bently from Honolulu Coffee Company
-Michelle Galimba of Kuahiwi Ranch
-Lesley Hill of the Wailea Agricultural Group
-Shin Ho of Ho Farms
-Nicole Lueker of IL Gelato Hawaii
-Monique van der Stroom and Sabrina St. Martin of Naked Cow Dairy
-Janice Stanga of Hamakua Mushrooms
-Candy Suiso of Makaha Mangoes
What makes this event different from the other Hawaii Food & Wine Festival events is the more relaxed brunch setting, which will likely give attendees an opportunity to engage with the remarkable chefs and farmers.
Don't miss out on what is sure to be a great event. Seating is limited to 200 people. Tickets are $85 (plus a $5 online fee) and can be purchased at hawaiifoodandwinefestival.com.