Girl Power
The Sacred Hearts Academy Advantage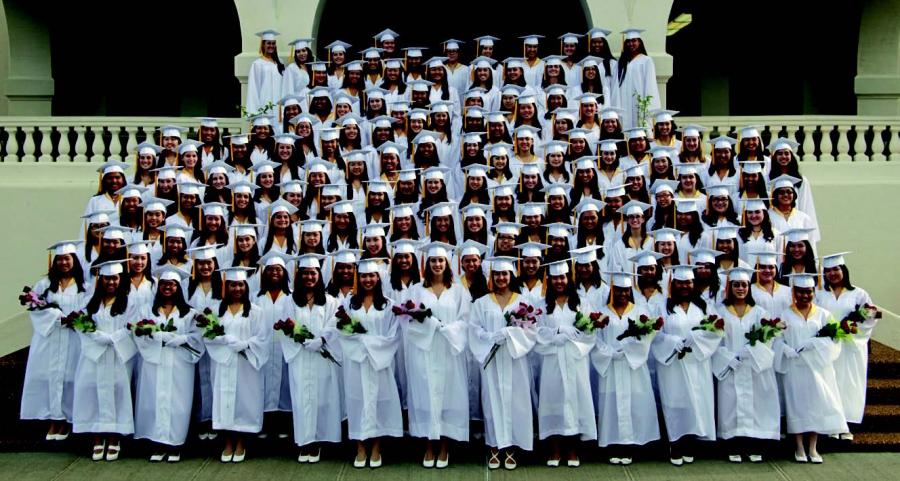 Why choose an all-girls school?
Research shows girls who are enrolled in single-gender schools gain more confidence, are more inclined to take risks, have more opportunities to learn leadership skills and develop more interest in math and science than their counterparts in coeducational schools.
Educate Hearts and Minds
Sacred Hearts Academy students lead and serve on The YWCA Youth Networks. Students tackle Hawaii's current issues to reach common goals of peace, justice, freedom and dignity.
From junior kindergarten to grade 12, a tradition of spiritual guidance is ex pressed through 60,000 hours of community service annually. "A Sacred Hearts education, steeped in Catholic values, welcomes students of all faiths to instill intellectual growth, character development and commitment to community service," says Betty White, head of school.
Experience the Difference
Visit a physics classroom and you will see every hand in the air and feel the positive energy.
Students are afforded a robust, college-prep curriculum with an emphasis on math, science and technology—challenging students to be independent thinkers—resulting in 100 percent college matriculation, National Merit and Commended Students, a U.S. Presidential Scholar, a National Science Foundation awardee and a top 10 national robotics scholar. Taught by teachers trained in the way girls learn and develop, stu dents are likely to pursue careers they might never have dared consider before and, in the words of Thoreau, "to step boldly in the direction of their dreams."
Teamwork on and off the Field
Check out the volleyball court and watch a 15-year-old girl spike the ball and motivate her teammates to a championship. On the athletic field and in the gym, girls compete in physical feats—part of a gender-neutral learning environment in which girls learn discipline and perseverance and embrace a healthy lifestyle. Sacred Hearts Academy athletics instills teamwork, goal-setting and the pursuit of excellence in performance—all critical skills necessary for success in the workplace.
Impress a National Audience
Open your hearts, eyes and ears and you will witness students singing at Carnegie Hall, marching in the New Year's Day Parade in London or preparing a newsfeed for the Public Broadcasting Service (PBS). A new state-of-the-art "home" for performing and visual arts and a vibrant selection of artistic courses—from band, choir and dance to woodworking, glass art and ceramics—give the girls opportunities to express themselves in personal interests or discover hidden talents. Sacred Hearts girls believe in what they can do and in how they choose to do it.
"A typical Sacred Hearts Academy student is a girlwho lights the Bunsen burner in chemistry class, editsthe school newsfeed, heads student government,leads the debate team and designs robots," saysBetty White.