Get Hawaiian food at Oahu Grill in Kaimuki
Wow, lau lau! A second spot for Hawaiian grinds has opened in East Honolulu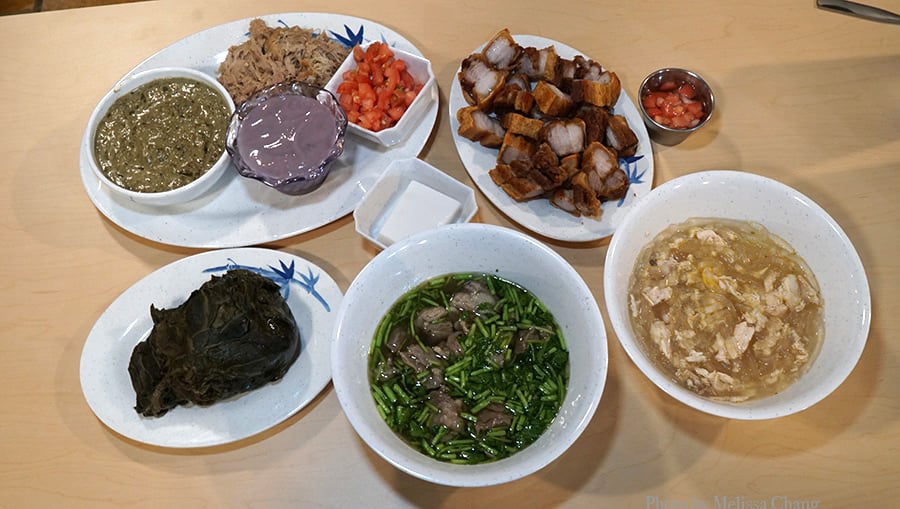 Wow, laulau! Now that Oahu Grill is open in Kaimuki, East Honolulu residents have two reasons to be happy that they don't have to make a special trip to Kalihi or a long trek to Kaneohe to get good Hawaiian food any more. This is the second Hawaiian food restaurant to open in the last year; Kuhio Grille opened at the other end of Waialae Avenue last August.
You know the food here is done right, since the owner, John Adolpho, learned the ins and outs of the old school backyard luau from his relatives while growing up on Molokai. After graduatioin, he became a natural helper when his uncle Calvin Hoe needed help at Waiahole Poi Factory.
Now that Adolpho has his own place, he brings all of that experience to the table with his own riff on local favorites. Don't get me wrong, the food at Oahu Grill is good, and craveable. But don't go in thinking it's going to taste exactly like Waiahole Poi Factory. After you've dined here a couple of times, you can get a feel for Adolpho's personal style that helps set him apart from other Hawaiian restaurants in town.
See also: Kuhio Grille's one-pound lau lau is now in Kaimuki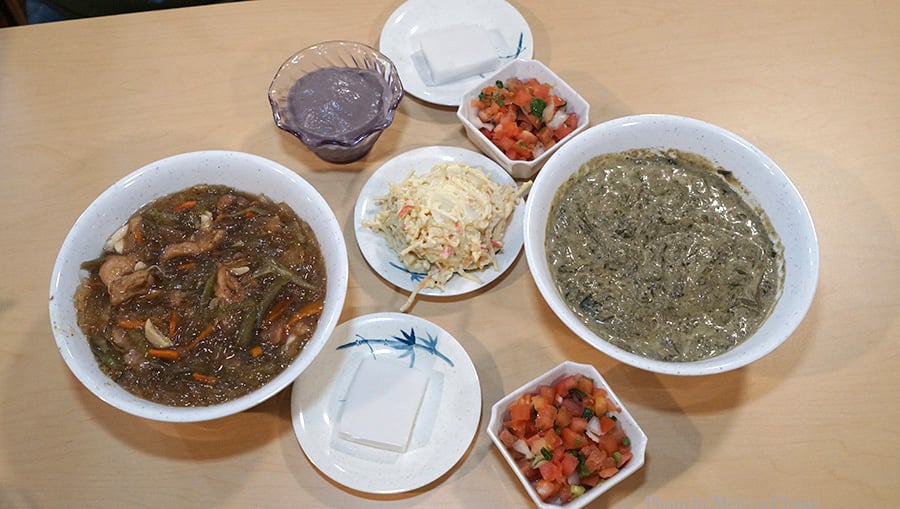 The best thing is to order a plate, which comes with lomi salmon, haupia and two scoops of rice or poi. In the photo above, we ordered the chicken hekka plate ($12) and the squid luau plate ($13). I need to point out that each time I've eaten at Oahu Grill, the size of the entrees varied. These are a little larger on this evening because it was late and they happened to make a lot of food that day, so we benefited from that.
I like the balance of salty, sweet and coconut in Oahu Grill's squid luau — so much that I've ordered it three or four times now. It has a little more coconut milk, so it's a little on the soupier side, but not too much (just enough to keep it loose).
See also: Local food is back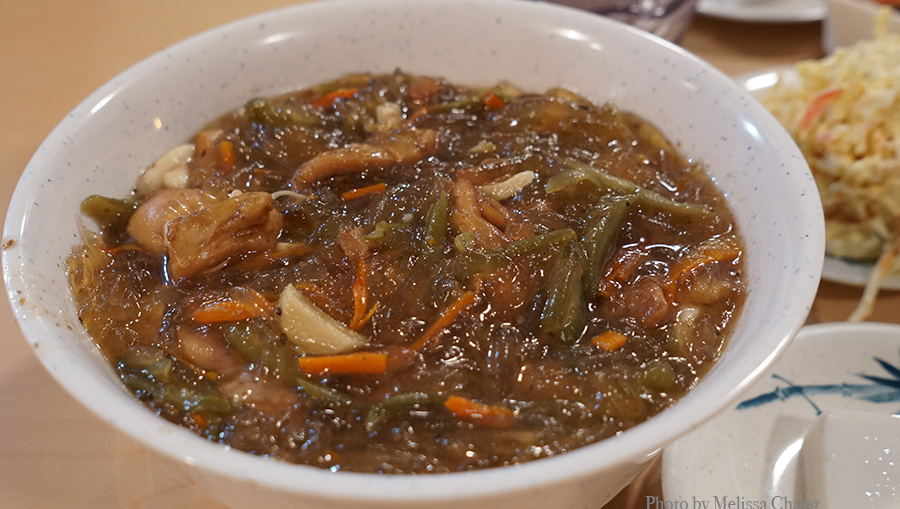 There are daily specials, and on this Tuesday night, we ordered the chicken hekka, which I actually crave. Usually, chicken hekka is very soupy, and it's hard to grab the noodles. Or if you do get some noodles, they splash all over, am I right? At Oahu Grill, it's not as watery, and the noodles are cut short so it's way easier to eat. And instead of a simple broth, the bowl is chock full of a variety of vegetables like carrots, onions and green beans in addition to the chicken, so it's got more substance in each bite. I'm also a big fan of the shoyu-sugar flavor. Is it still chicken hekka with all of these edits? I say yes! And I wish my parents had made it this way!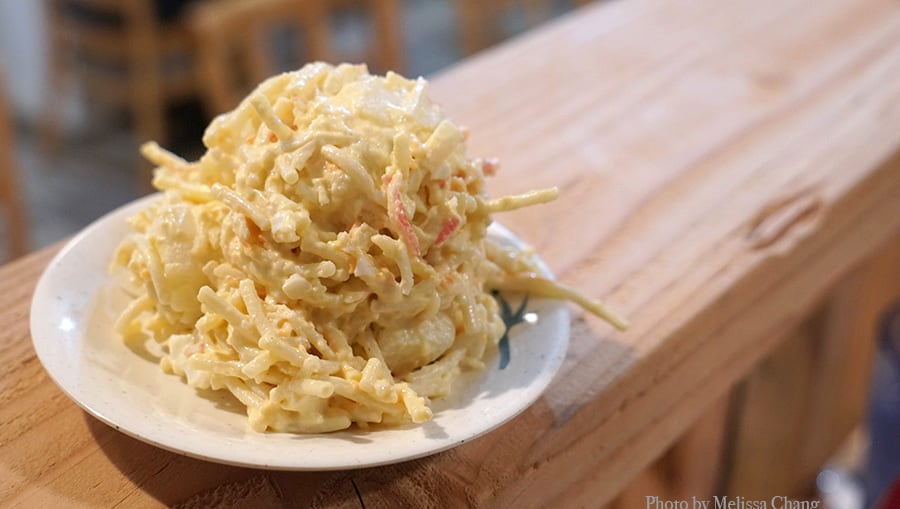 Very few places make potato-macaroni with spaghetti any more, so I appreciated the nod to old-school cooking at Oahu Grill.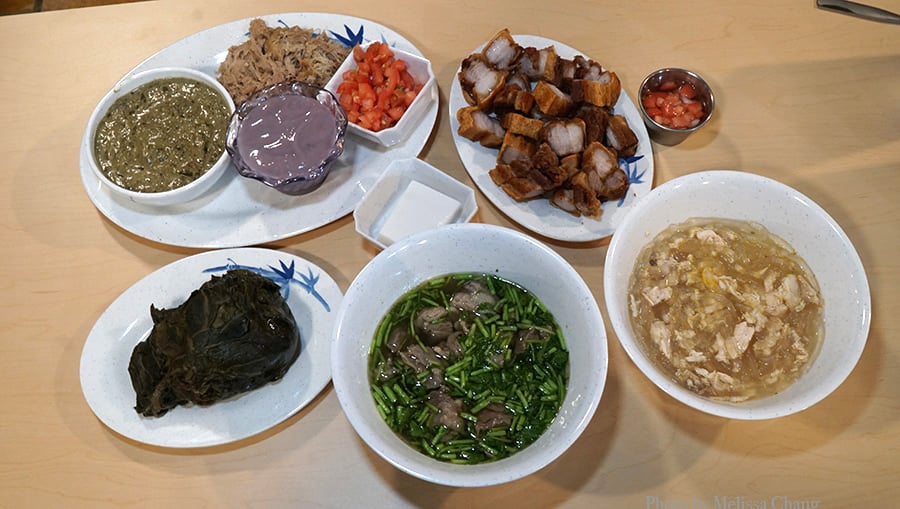 On another night, we ordered many luau basics, like lau lau, chicken long rice, kalua pig, etc. If the basics are what you want, these are good, solid options. A one-choice plate is $12, the two-choice plate is $18, and the three-choice plate (which is what we got) is $22. The entrees a la carte are $8 to $10 — here, we got the chicken long rice on the side ($9), which is why the portion is larger than the ones on the plate. We also got the salt meat and watercress and lechon on the side, which I will tell you more about in the next two photos.
See also: Old-school diners we love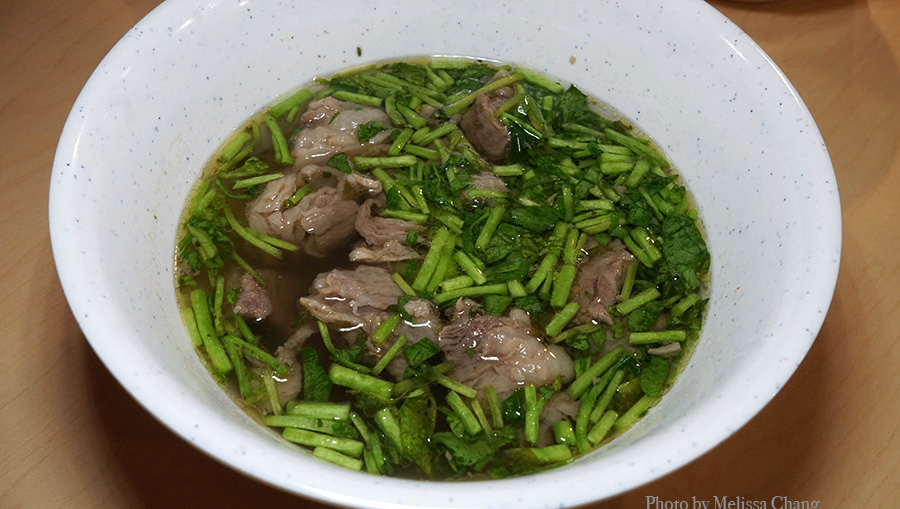 When I was a kid, I didn't care as much for salt meat and watercress. It wasn't just because I didn't want to eat watercress; I didn't see the point of a bowl of broth with some watercress stems and flecks of meat. But at Oahu Grill, Adolpho makes it an actual meal! Like his chicken hekka, the bowl is chock full of ingredients. You can see that there is a notable amount of tasty, tender salt meat — large chunks of it — and the watercress is cut into bite-sized bits so you're not trying to fish longer stems out of the broth, potentially splashing yourself before wrestling it into your mouth. I get it. The dining experience here is made so you can just keep plowing through your meal without struggling. Or splashing. I appreciate that.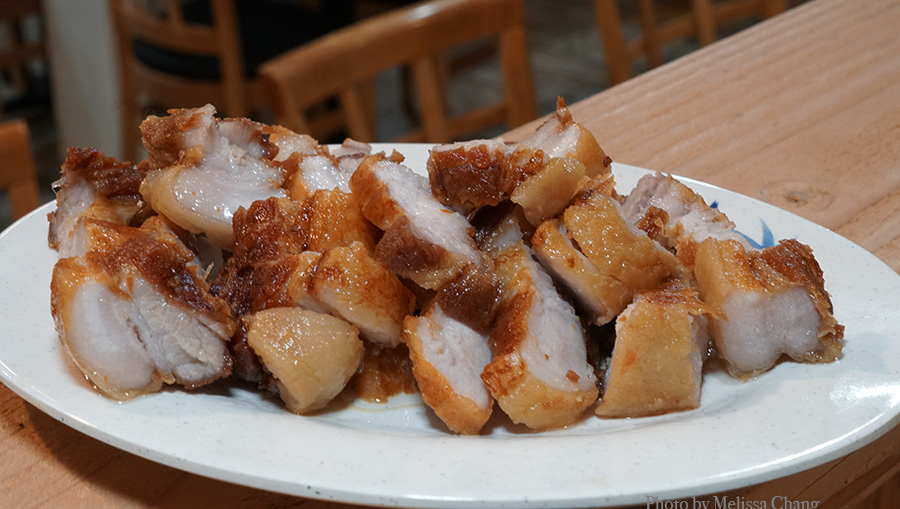 The lechon kawali (crispy fried pork) is served with chopped tomatoes and onions in Oahu Grill's secret sauce. When the restaurant first opened, it seemed like there may have been problems with consistency as it was sometimes juicy, sometimes dry. But they must have worked that out, because my business partner's wife orders it all the time and raves about it. Ordered a la carte, it's a pretty big plate, so it's great for the table to share.
See also: Best loco mocos in Hawaii: Our Top 5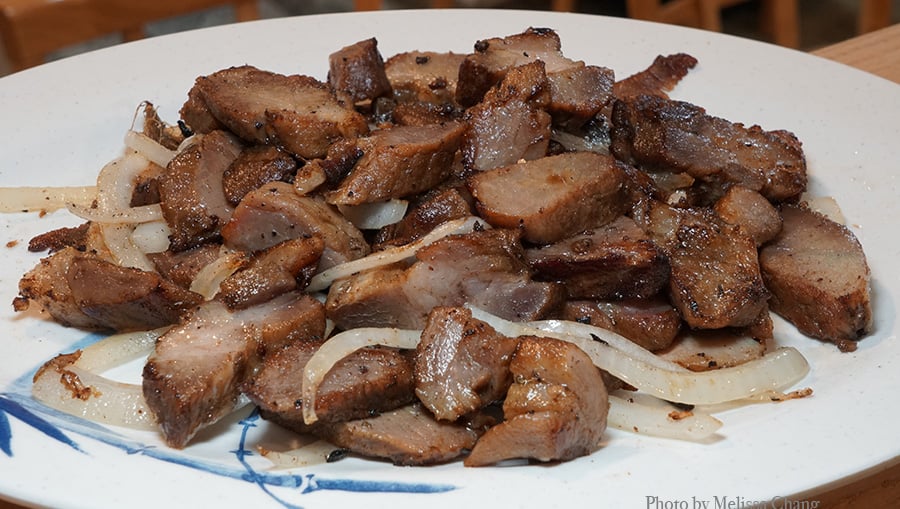 I'm more about smoked meat, myself. I usually order a side of the sweet-salty smoked meat served with lightly sauteed onions for a nice contrast in flavor and texture. The marinade isn't too strong, which I like, because then I can just pick at it from the plate and don't need to chase it with rice unless I want to. Gotta cut back on those carbs, ya know!
Would I go back? I already have. My office is nearby, so Oahu Grill is one of the first few places we think of when we want a treat for lunch at our desks. It's nice to be able to quickly satisfy that craving when we're ono for Hawaiian food. Happy aloha Friday!
Oahu Grill Kaimuki
1137 11th Ave.
762-0130