Generation Green
Kokua Hawaii plants seeds of change among Hawaii's youth.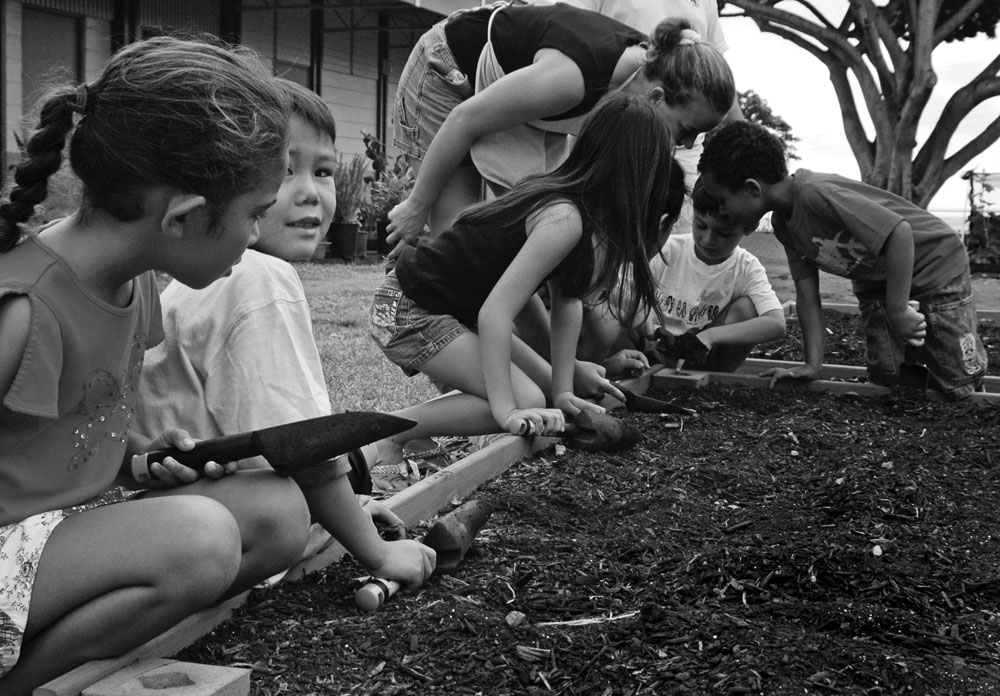 In 2002, while the battle for curbside recycling was just heating up, musician Jack Johnson and his wife, Kim, were thinking of ways to give back to the community. "I remember thinking at the time, gosh, we live on an island and we can't get recycling together," Kim recalls. So the couple combined their backgrounds in the arts and education to create the Kokua Hawaii Foundation, an organization supporting environmental education in the schools and communities of Hawaii.
"We felt that if we wanted to create long-lasting change, we had to start with the kids," Kim says. Unlike adults, who are often set in their ways, educating children on how to recycle at an early age helps form good habits that they can carry on for the rest of their lives. In 2003, the 3R's Recycling Program kicked off at Sunset Elementary School (Jack's alma mater). Since then, a long list of Oahu public schools has joined forces with Kokua Hawaii to reduce, reuse and recycle with easy in-class recycling and school-wide collection. The foundation provides all the necessary materials and pays for the bi-monthly pickups by Oahu Community Recycling. Fundraising drives, art contests and classroom visits from Jack keep it fun.
Program director Kaliko Amona has seen the impact children can have on the lives of those around them: "They can have a profound influence on families. In our experience, we've found that parents are much more likely to make changes in their lives if their kids ask them to get involved."
To complement the recycling program, the foundation has since created two other programs: the Environmental Field Trip Assistance Program and AINA in Schools (Actively Integrating Nutrition and Agriculture in Schools) initiative. Each gets children out into the environment for hands-on learning activities. On field trips, students visit places such as Hoa Aina o Makaha, a five-acre community farm in Makaha, to better understand and appreciate where they live. Executive director Gigi Coquio calls Kokua Hawaii an "inspiration," saying "The foundation is creating something that will leave a mark in the hearts and lives of each one of the children. To take care of the land is to create solid foundations in their lives."
The AINA program in particular aims to connect the children to their land and encourage lifelong stewardship by incorporating environmental education into the academic curriculum. At the end of this school year, the first group of five elementary schools will complete the two-year pilot period of AINA in Schools. Several schools hope to follow in their footsteps with nutritional education, garden-based learning, agricultural literacy, healthy school lunches, solid-waste management and family and community outreach.
For more information or for educational resources, visit the Web site www.kokuahawaiifoundation.org.