Geek Ride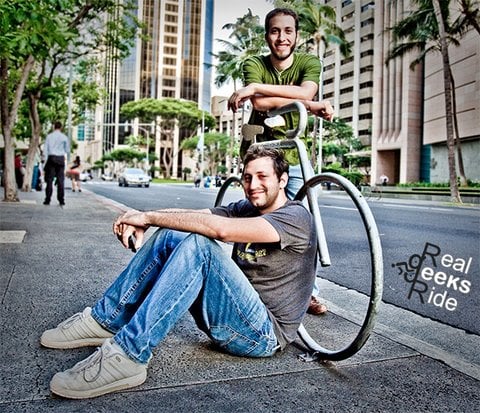 I feel virtuous when I manage to bike from town to Hawai'i Kai and back. But a pair of Honolulu guys are gearing up to ride bikes all the way across the continental U.S., from New Jersey to Oregon.
Carlos Urreta and Joe Philipson are billing their project as "Real Geeks Ride," saying their goal is to inspire 1,000 geeks to bike to work. As they explain on their website, "We are not avid cyclists. Our calves and forearms look quite similar to yours. This site is the story of our transition from 'geeks' to 'geeks on bikes.'"
The two are planning to start the ride on May 20th, and you'll be able to track their progress on their site in real time. It looks like they're still putting it all together, and are soliciting hosts along their route as well as sponsors.
Sounds like a great adventure in the making. Good luck, guys.
(Favorite part of the site, so far? The bottom section, where you'll find "Pages," "Recent Comments" and "Zombies.")