FUUD: Stanley's Chicken Market on Ward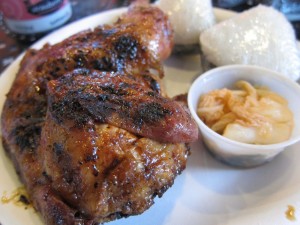 There's nothing like chicken right off the grill.
And I particularly love the local-style huli-huli chicken, which you hardly see around anymore.
While some places — like Koala Moa on Nimitz Highway — offer a variation of the trademarked chicken, nothing has really come close.
Until I tried the chicken at Stanley's Chicken Market on Ward near Sports Authority.
I couldn't believe that this roadside stand has been here for 16 years. The original business had been around for 65 years, selling chicken mostly wholesale. But for nearly two decades, Stanley's has been grilling up chicken on this corner most Saturdays.
How had I not known about it this long?
A huli-huli chicken connoisseur I know invited me to have lunch with him here, at his favorite Saturday spot. (He brings his own wet wipes and cup with ice.) Here's what we ate:
Stanley's Chicken Market
Stanley's Chicken Market, 1020 Auahi St. near Sports Authority. Phone: (808) 593-9989